This Post May Contain Affiliate Links. We earn a commission if you click this link and make a purchase at no additional cost to you.
Years ago, having a DVD storage system wasn't all that difficult. You usually stored them in your entertainment center or even on a DVD stand. But now that the world is going digital, you may be tired of looking at all those DVD's taking up space in your living area. I know I was. But I wasn't sure how to get rid of all those ugly DVD cases, without getting rid of my DVD's too. Until I found this genius DVD storage idea that literally cuts the amount of space your DVD's take up in half!
Check out how we organize and store our DVD's!
How to Simplify Your DVD Storage System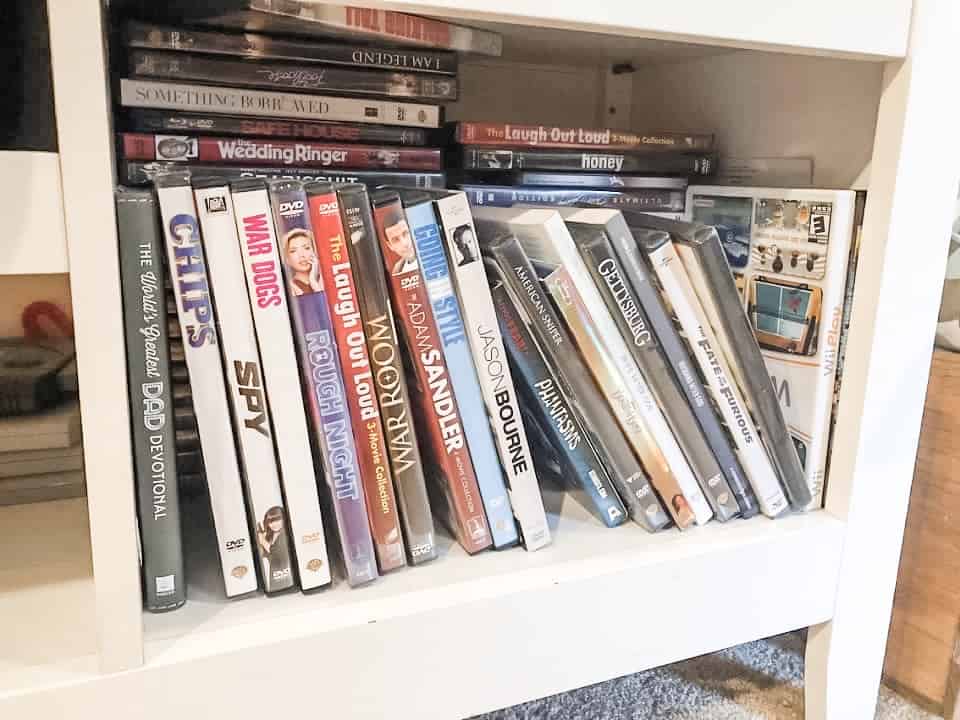 Before looking for DVD storage ideas for our entertainment center, our DVDs looked like the picture above pretty much daily. And we had so many DVDs that there really wasn't a good way to stack them on our shelves.
They were ugly to look at, and having so many made it hard to find a movie to watch.
But for the most part, I just dealt with it for years because I didn't know there was a better way to store DVDs.
But then once our little boy started walking and found it so entertaining to knock the DVDs off the shelf, I knew we needed a better way to store and organize our DVDs.
After looking around for some ideas, I came across these Atlantic DVD Sleeves. They come in a package of 25 for less than $15 and they have great reviews!
They were on sale when I bought them, and I only needed 4 boxes for our 100 DVDs, so we decided to try them out!
For around $40 dollars, we were able to eliminate two shelves of DVD's and condense them down to one small basket!
And I must say, they are the best decision we have ever made for storing and organizing our DVD collection!
Using DVD Sleeves to Store DVDs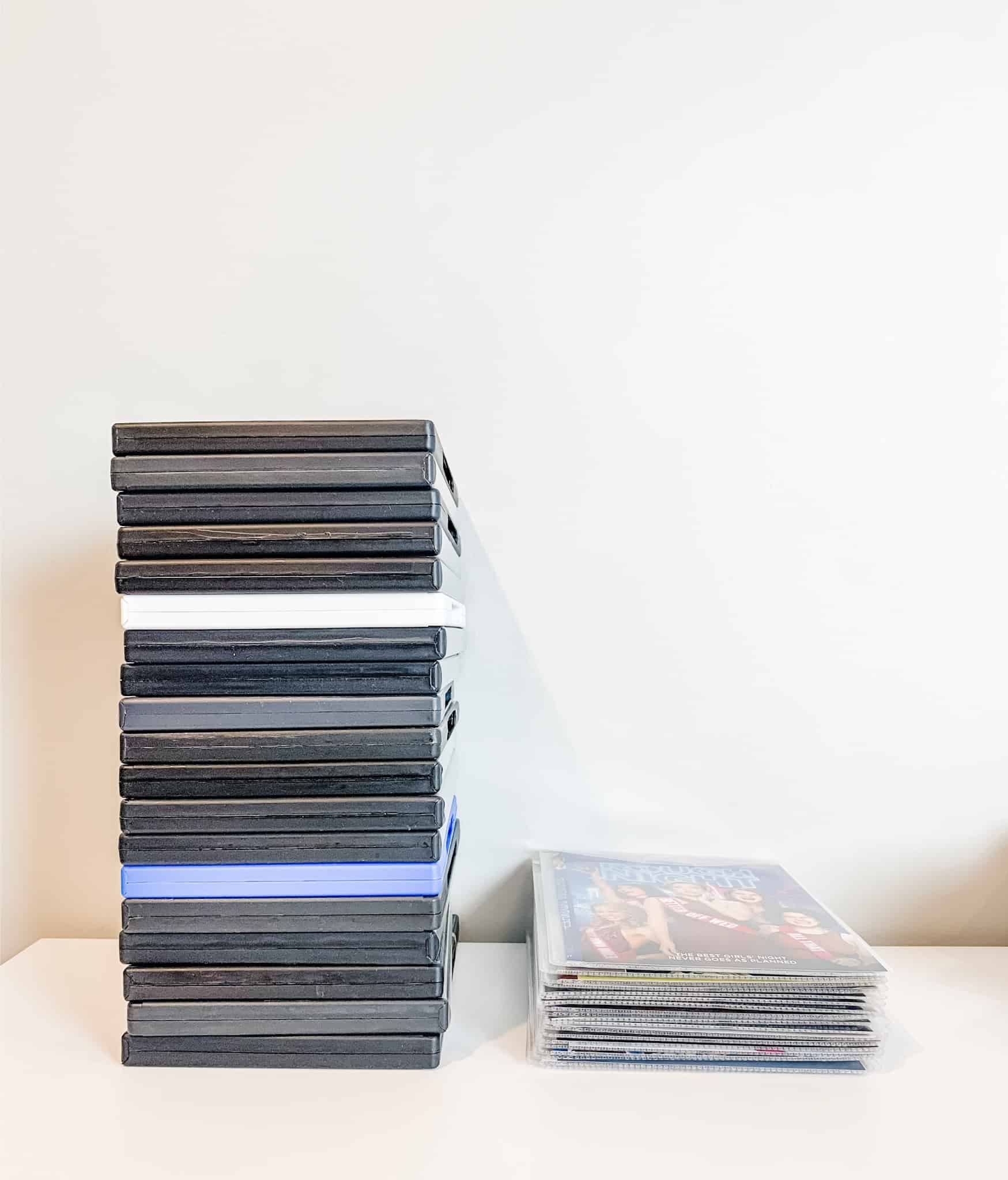 Using DVD sleeves instead of the boxes DVDs come in is a great way to free up tons of space in your entertainment center or living room shelves! We had about 100 DVDs on our entertainment center and they took up so much room! Plus they were hard to keep organized.
Now, we store our DVDs in DVD sleeves and keep them in a small wicker basket!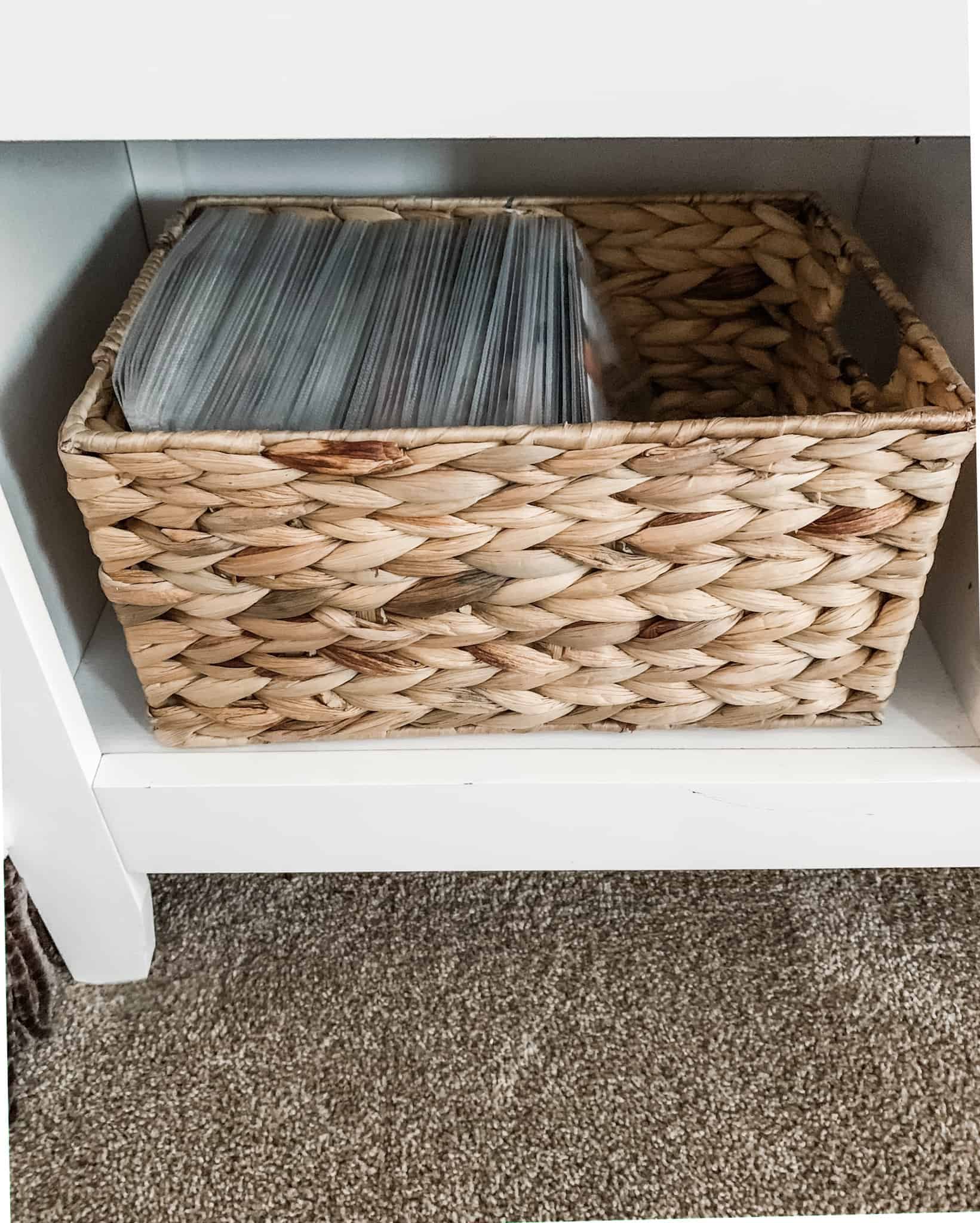 Can you believe there are almost 100 DVDs in that basket?
Transferring Your DVDs to a DVD Sleeve Storage System
Transferring your DVD's from their original box to a DVD sleeve couldn't be any easier with these
DVD Sleeves from Amazon
!
Just follow the following steps.
Step 1:
Remove the DVD from the box.
Step 2:
Remove the DVD Cover from the outer sleeve of the DVD box. It should slide right out.
Step 3:
Fold the DVD cover in half by meeting the edges and folding a new seam.
Step 4:
Slide the DVD cover into the DVD Sleeve
Step 5:
Place the DVD in the separate DVD holder.
Step 6:
Side the DVD holder back into the DVD Sleeve.
Step 7:
Use a basket, bin, or photography box to store your DVDs.
Hiding Your DVDs In Decorative Baskets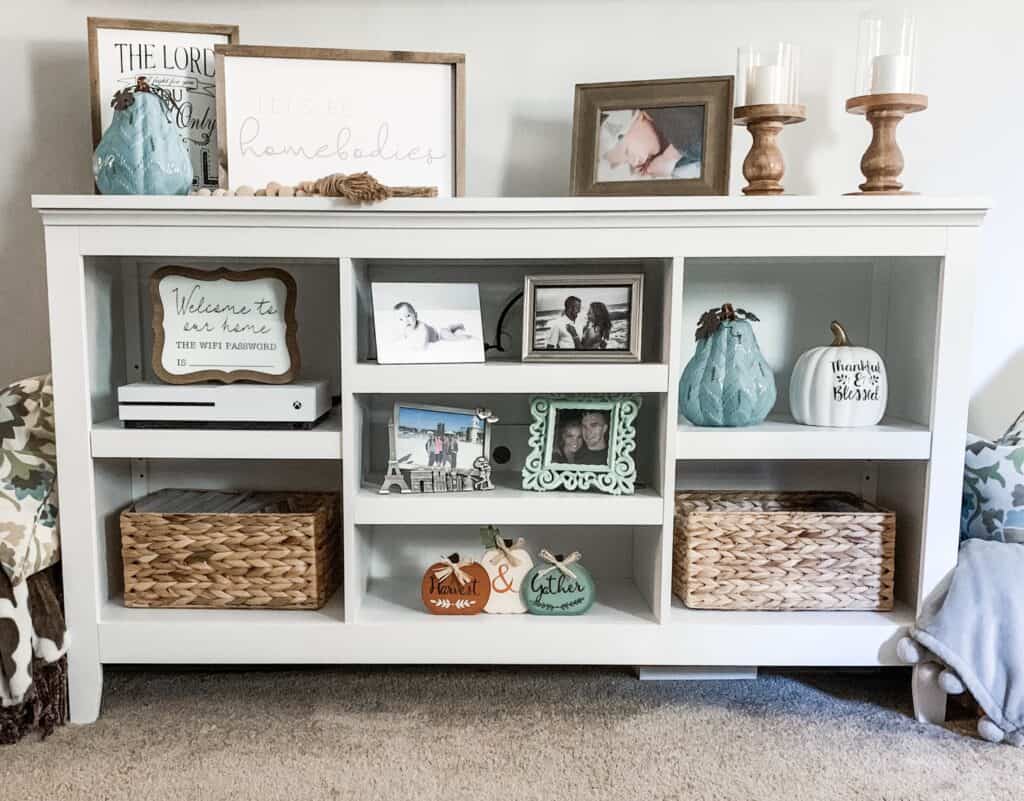 Transferring our DVDs into sleeves and storing them in a basket made our entertainment center look so much better! Not only from a design standpoint but also just the fact that our entertainment center is now less cluttered and stays organized all the time!
Would storing your DVDs in sleeves be a better DVD storage system for you or your family?
If you're tired of looking at those ugly DVDs and are ready for a less cluttered family room, grab these DVD sleeves from Amazon and start organizing your DVD collection!