This Post May Contain Affiliate Links. We earn a commission if you click this link and make a purchase at no additional cost to you.
It's hard to believe it, but my little boy's nursery quickly went from being full of rattles and play pins to cars, trucks, and trains. Like all little boys, he loves Matchbox Cars, Hot Wheels and Thomas The Train. We quickly went from only having a few toys, to having little cars and trains everywhere. Storage bins were overflowing with cars that he never played with because he couldn't actually see what he had. I knew there had to be a better way to organize Matchbox cars and Hotwheels so that our little boy could actually see what he had to play with.
See how we did it below!
How To Organize Matchbox Cars & Hotwheels Cars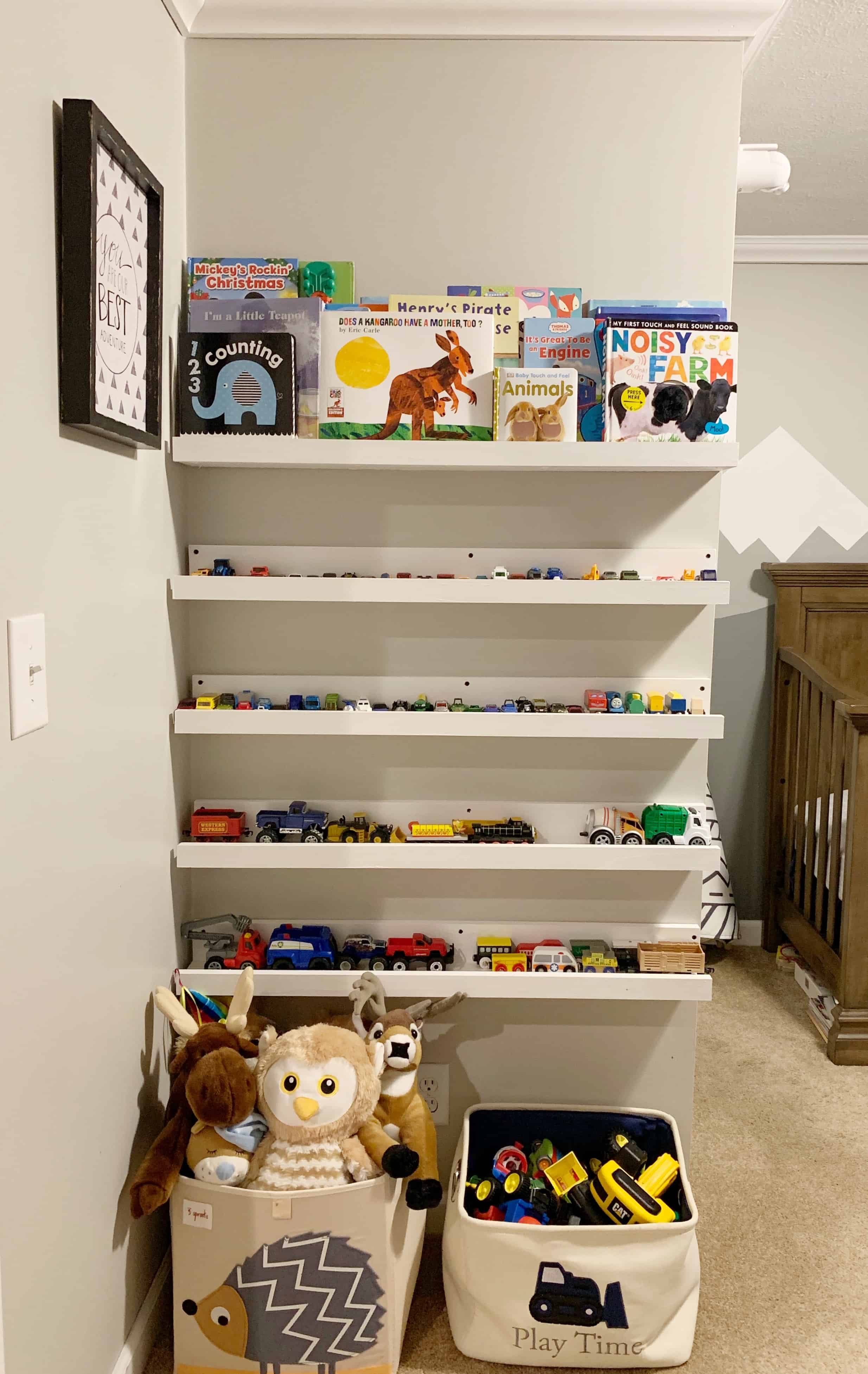 If you have little boys in your life, then you know how cars accumulate like crazy! When they're only $1 you can't help to buy one or two from the store. And then all the sudden you have 100 cars and you wonder how it got to this point, right?
And how are you supposed to keep them all organized and tidy?
We used to use storage baskets, but then I realized, once the cars went into the baskets, they never came back out (or they all came out at one time…sigh). And it wasn't that he didn't like or want to play with those cars. It was just the simple fact that they were out of his sight and out of his mind.
And instead of playing with cars he already had, we just kept buying more. Not a good strategy!
I really wanted to find a way to organize Hot Wheels & Matchbox Cars so that our little boy could see them and easily play with them.
Using Shelves To Organize Matchbox Cars & HotWheels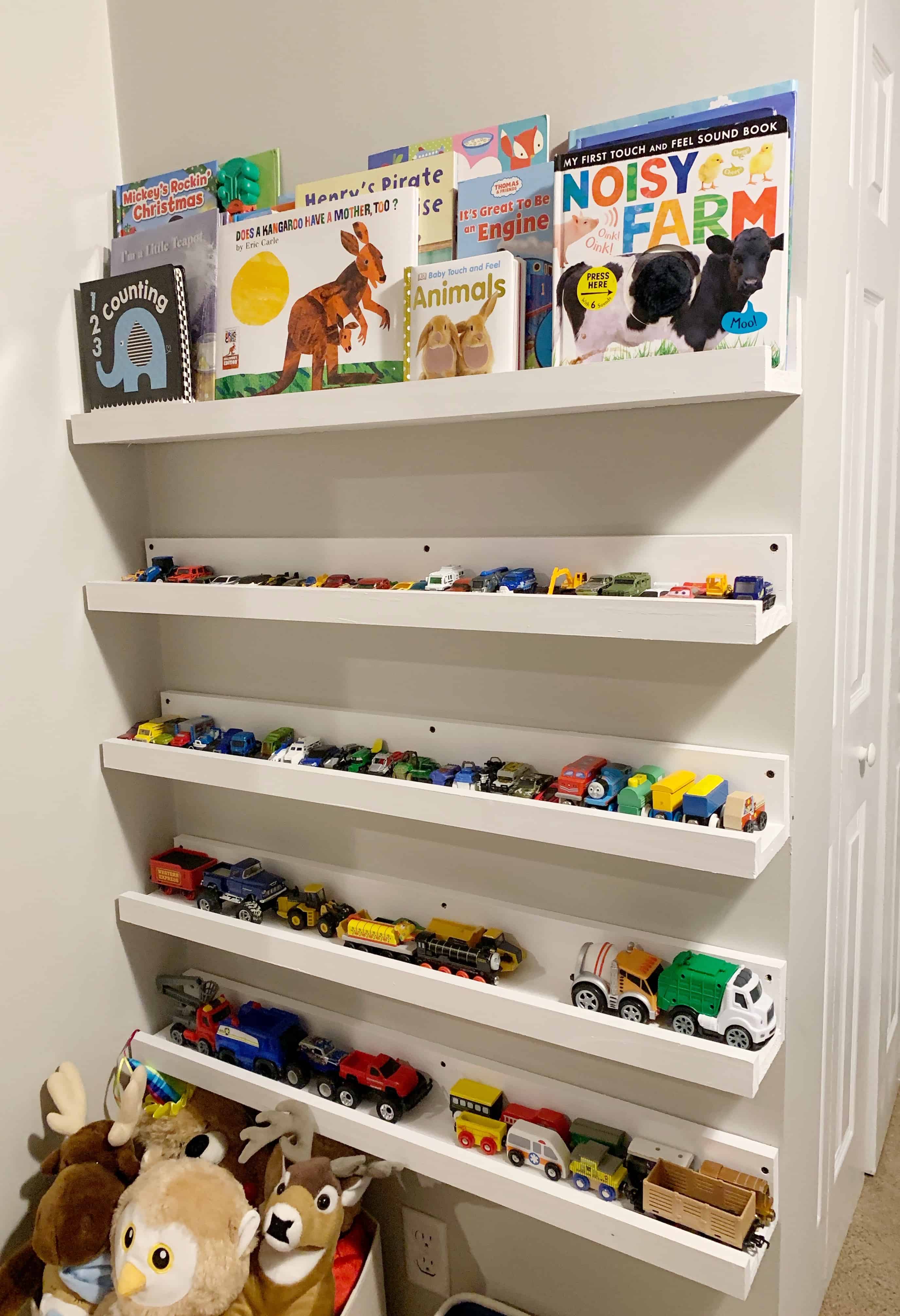 After tossing around some ideas, we came up with the idea to build and install picture ledge shelves on a small wall in his bedroom to organize Matchbox cars and Hotwheels. It worked out perfectly!
Picture ledges have a small lip on the front of the shelve to keep your photos from falling off. And it works the same for cars. The lip on the front of the shelves keeps the cars in place.
We build our shelves to be 36″ long to fit the wall we installed them on. However, if you don't want to build them, these would also work great.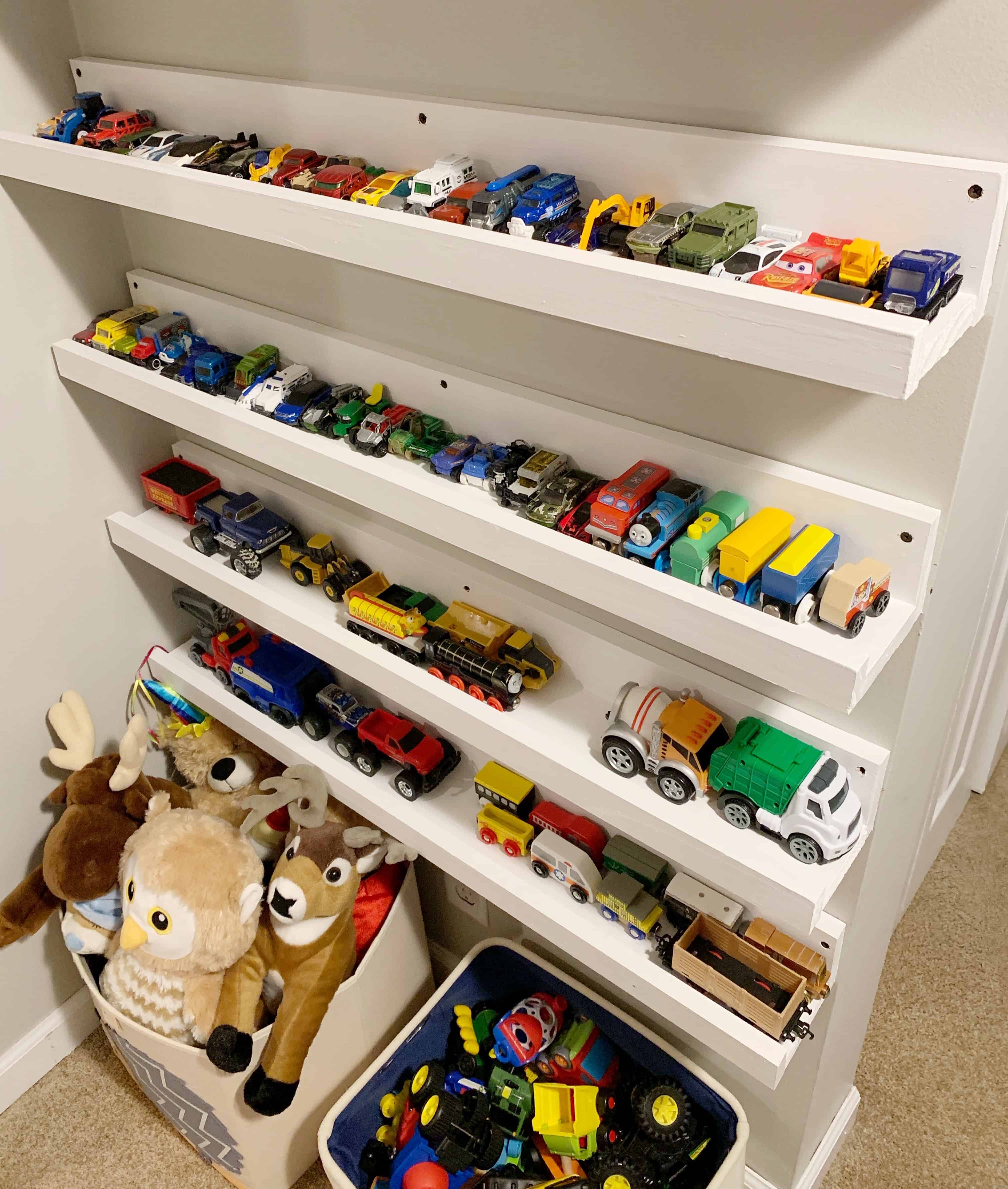 The shelves that we built are 36″ long and 3.5″ wide. They hold matchbox cars, trains, and larger trucks, making it perfect to store a lot of cars in a small space! We built 5 shelves and stacked them so we would have room to grow. We also found that the top shelf would be a perfect place to keep our little boys favorite books!
I love how these shelves turn out and how they work so well to organize Hot Wheels & Matchbox Cars.
Wanna copy my idea? Grab a picture ledge here and get started organizing!