This Post May Contain Affiliate Links. We earn a commission if you click this link and make a purchase at no additional cost to you.
Are you wondering where all of your money is going each month? Or do you know that you need to use a budget, but you just haven't found the perfect one for you yet? Look no further, because our monthly budget template is exactly what you need to help you get in control of your finances.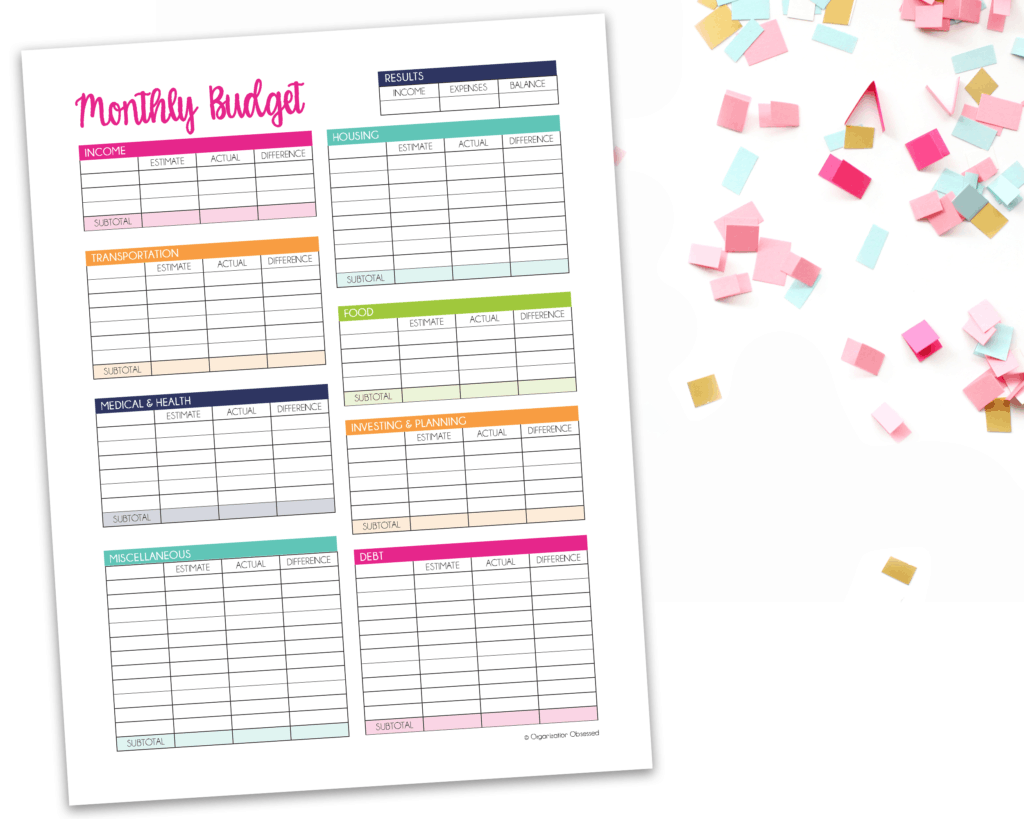 Monthly Budget Template
Our monthly budget template, from our Budget Binder, includes places for you to budget for your:
Income
Housing Expenses
Transportation
Medical & Health
Food
Investing & Planning
Debt
& Miscellaneous Expenses
These categories within our monthly budget template will help you track all of your major expenses.
Monthly Budget Template Categories
When categorizing your monthly expenses, here are some examples of expenses you can add to each category.
Income
Here you will want to include income that you make from your day job for yourself or anyone you share expenses with. You can also add income from side hustles here.
Housing Expenses
In the housing expenses category, you will want to add expenses like your house payments, rent, electric bill, gas bill, water, sewer, insurance payment, cable & internet, Netflix, etc. You may even have expenses like lawn care, garbage pickup, home furnishings, home improvements.
Transportation
Here is where you will want to add expenses such as your car payment, car insurance, gas, oil changes, etc. Or if you don't have a car, you can use categories such as bus tickets, subway tickets, Uber & Lyft charges, etc.
Medical & Health
There are a lot of different expenses that can be categorized under medical & health. This could be your monthly insurance payments, medication expenses, copays, medical bills, gym memberships, or health supplements.
Food
One of your biggest expenses each month is probably food. And to keep track of where you are spending money at for food, you could use categories such as grocery budget, fast food budget, restaurant budget, and quick snack budget such as gas stations or vending machines.
Investing & Planning
If you are investing in the stock market, this is a great place to track how much you are putting towards your retirement each month. It's also a great place to track how much you add to your savings accounts.
Debt
It should be our goal to have no debts but in reality, most of us do. Here you can add categories such as credit cards, personal loans, or any other debts you may have.
Miscellaneous
You will always have expenses each month that don't fall into a certain category. And that's why having a miscellaneous category is the perfect place to add in all your monthly expenses that are random. Maybe you have to buy a birthday present this month. Or this is a great place for your monthly clothes budget!
Free Printable Monthly Budget Template
This monthly budget is perfect for your budget or your family's monthly budget. Get your free printable monthly budget template by clicking the button below!