This Post May Contain Affiliate Links. We earn a commission if you click this link and make a purchase at no additional cost to you.
Keeping your kids organized while they are in school can be hard work! Between homework, student activities, and the endless amounts of paperwork it can get disorganized and cluttered really quickly. That is why being organized and intentional about it is so important! These back to school organization ideas and year round school organization ideas are brilliant! These ideas will keep your kids organized and make your life so much easier!
DIY Dry Erase Checklist
Do you kids have trouble remembering their daily tasks? Make it easy for them with a dry erase checklist! You can grab this free printable at The 36th Avenue! Having checklist will help your kids complete all their daily task and keep them motivated to do so!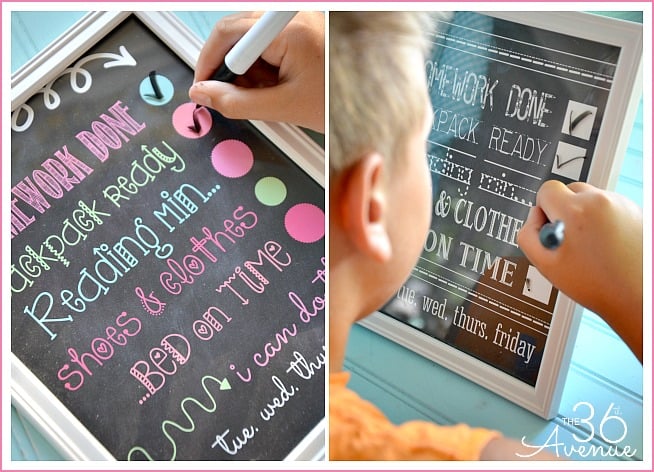 Tip & Image Credit: The 36th Avenue
School Command Center
Are school supplies scattered all around your house? Combat the clutter by creating a specific area to hold all your kids' school supplies. I love how A Bowl Full Of Lemons used a kitchen cabinet to hold her kids' school supplies. If you are fortunate enough to have an empty kitchen cabinet then this would be a brilliant idea to try!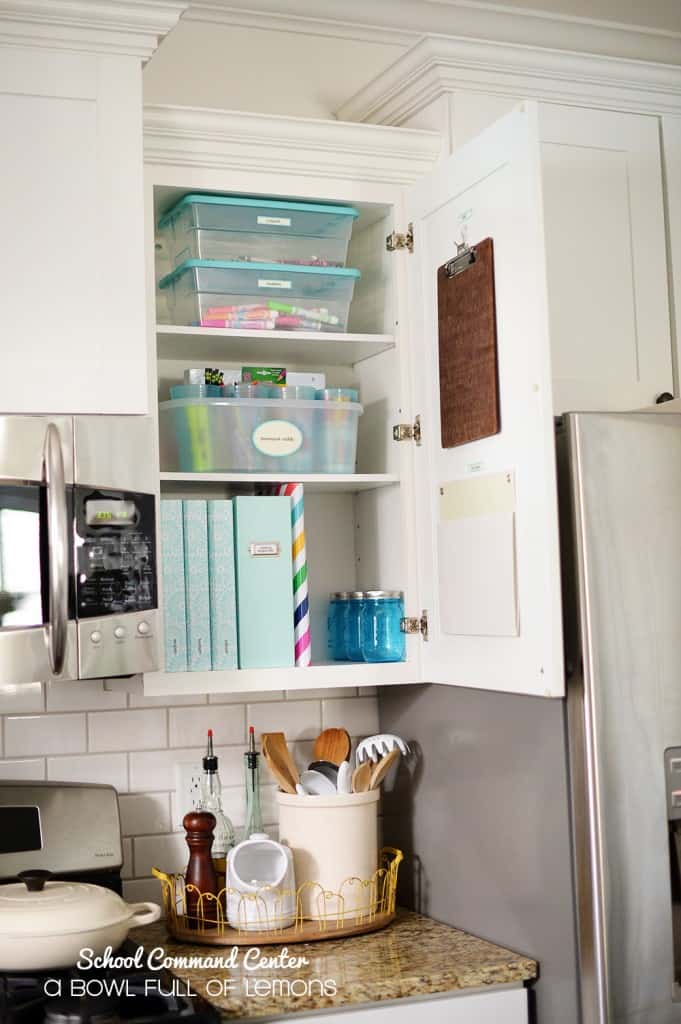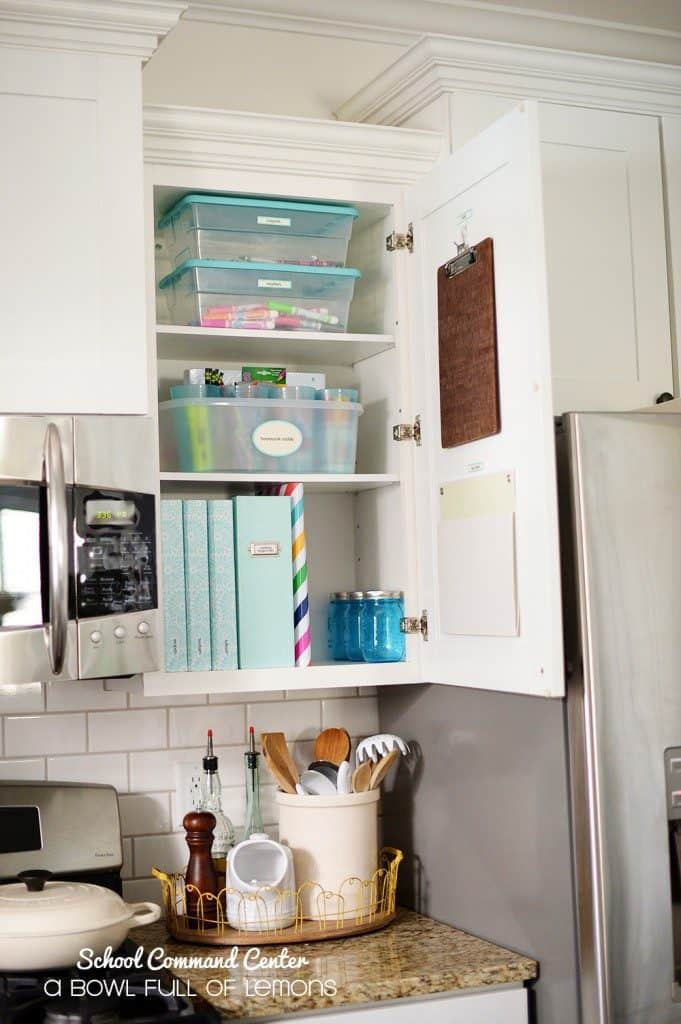 Tip & Image Credit: A Bowl Full Of Lemons
Homework Caddy
Isn't this homework utensil caddy so cute and colorful? Using a caddy is a great way to keep school supplies organized and one place! Plus having a caddy makes it easy to transport your kids' school supplies anywhere you need to! I love this caddy from InterDesign!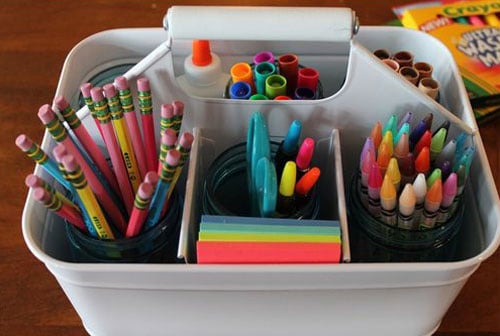 Tip & Image Credit: Clean Mama
DIY Homework Nook
Creating a homework nook is a great way to keep all your kids papers, backpacks, supplies all in one place. You can use a cart with drawers to hold pencils, markers, scissors, paperwork, etc!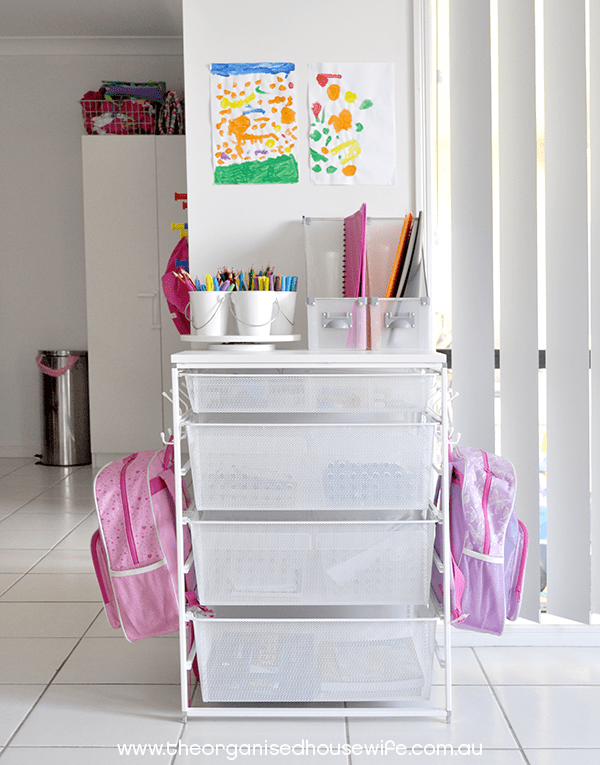 Tip & Image Credit: The Organised Housewife
Rolling Homework Cart
If you don't have a stationary place for a homework cart then grab a rolling homework cart! Your kids can take their supplies with them! Whether they do homework in their rooms or on the kitchen table, your kids can be organized and have all their school supplies in one way! Such a great idea for back to school organization! You can get a cart here!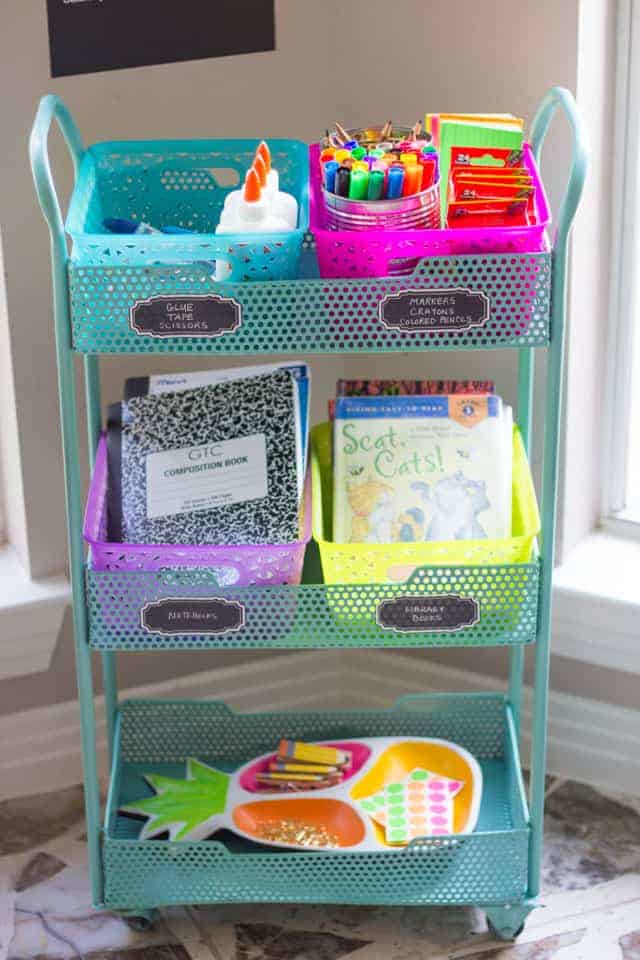 Tip & Image Credit: Design Improvised
DIY Homework Lazy Susan
Lazy Susans are so functional and Home Stories A To Z created such a cute homework lazy susan with paint cans! Using a lazy susan turntable and empty paint cans you can make this yourself! Check out how they did it here!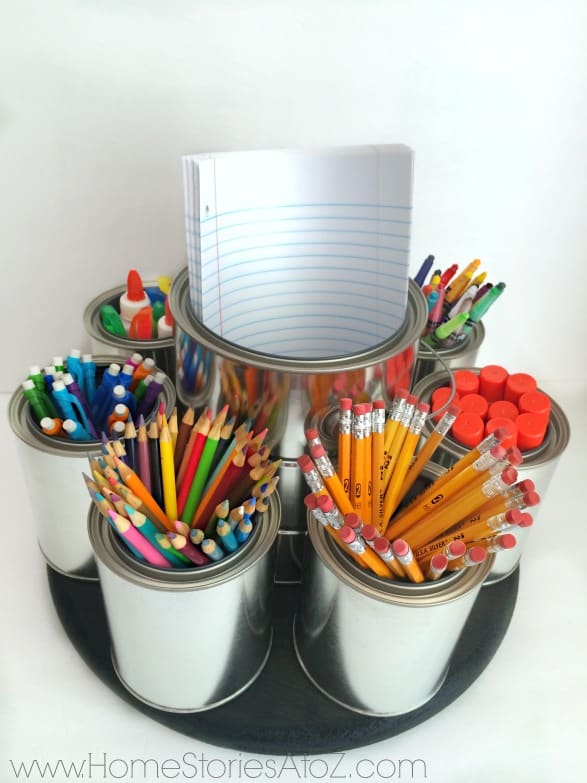 Tip & Image Credit: Home Stories A To Z
Clothes Organization System
Make your mornings go a little smoother by sorting your kids clothes by day of the week! You could do this on Sundays and have your kids clothes organized for the whole week. One great tip to make going to school a little easier!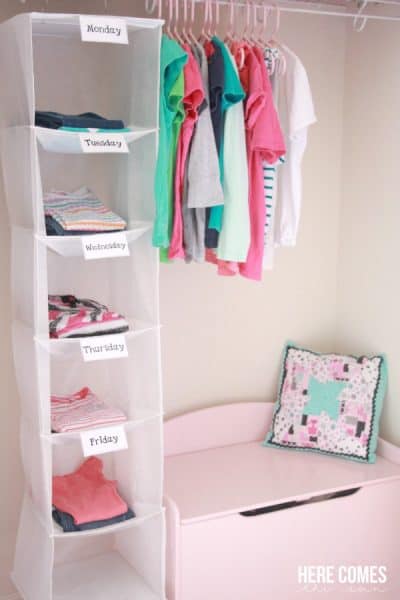 Tip & Image Credit: Here Come The Sun
Need To Sign All In Once Place
Do your kids come home and unload a pack of papers that need to be signed on the kitchen counter? And then they get lost in clutter from the day? Elimate the stress of losing papers that need to be signed and create a designated need to be signed organization station. A magazine holder is such a great way to do this and they are super cheap! Find one here!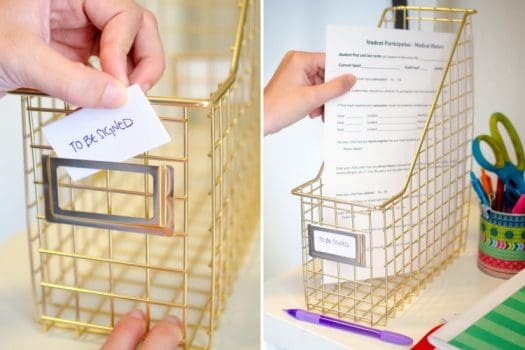 Tip & Image Credit: The Krazy Coupon Lady
Refrigerator Command Center
Help your family keep track of the schedule by creating a refrigerator command center. This is a great way to plan out each week, stay organized and keep school supplies in one place!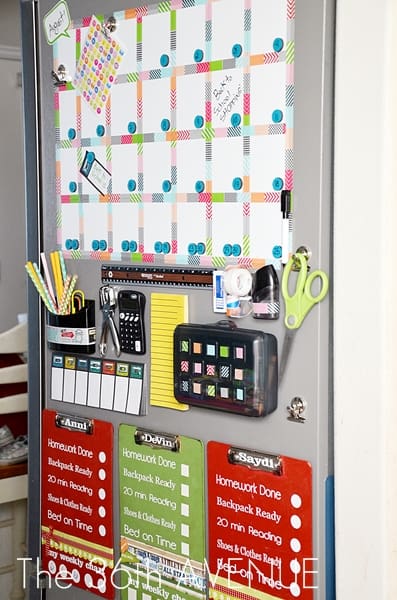 Tip & Image Credit: The 36th Avenue
School Supplies Shoe Organizer
Need a cheap and easy way to organize school supplies? Use an over the door shoe organizer! An over the door shoe organizer will give you tons of pockets to store all your kid school supplies you need. And since most over the door shoe organizers are clear it will be super easy for your kids to find exactly what they need!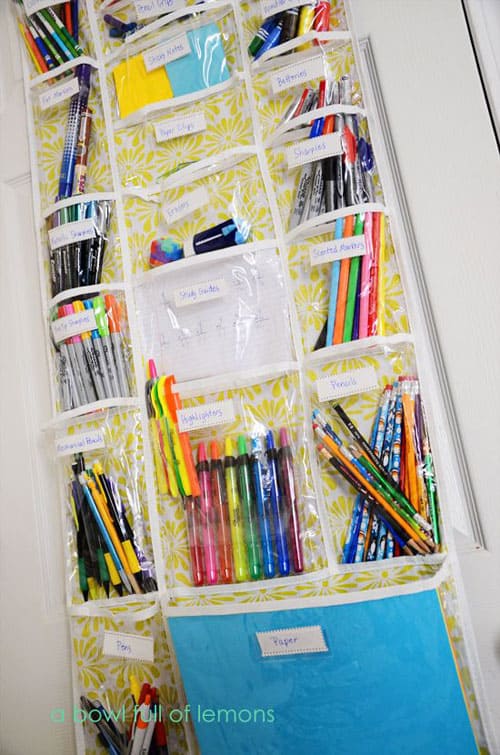 Tip & Image Credit: A Bowl Full Of Lemons