This Post May Contain Affiliate Links. We earn a commission if you click this link and make a purchase at no additional cost to you.
Decorating for Valentine's Day is always so much fun! But after spending a lot of money on Christmas decorations, you may be looking for some Valentine's Day Decorations that are a little more budget friendly. Well, it doesn't get much better than free, and this free Valentine's Day Printable art is just what you need!
Free Valentine's Day Printable Art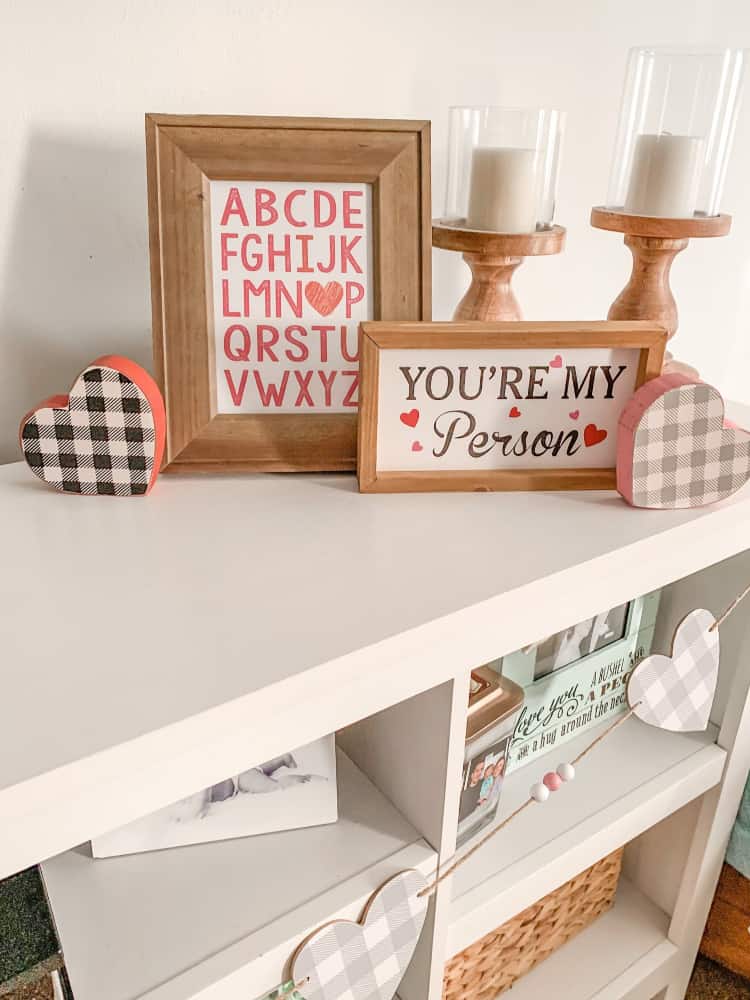 Usually, I'm not one to decorate for Valentine's Day. But this year, I wanted to make my home a little more festive for this romantic time of year. But there was just one problem. I didn't want to spend a lot of money on decorations. So what do you do when you don't want to spend a ton of money on Valentine's Day Decorations? You make your own Valentine's Day Printable Art!
After picking up some cute and cheap buffalo plaid Valentine's Day decorations from Hobby Lobby, I still thought my Valentine's display could use something else. I already had an empty frame, so I thought why not add a super cute Valentine's Day Printable!
And I wanted something really simple that I knew I could use year after year. And something that I knew you would love too. So why not the alphabet!
For my Valentine's Day display on our entertainment center, I used a 5×7 frame. But I also created this Valentine's Day Printable in an 8×10 so that you have multiple options when decorating your home!
This Valentine's Day Printable is such a fun and cheap way to decorate your home for Valentine's Day! All you need is a frame and a printer! And if you don't have a printer, you can have your local print shop print this for you!
Get your free Valentine's Day Printable Art Here!
You may also like: Valentine's Day Ideas for School Parties