This Post May Contain Affiliate Links. We earn a commission if you click this link and make a purchase at no additional cost to you.
Ikea has become the hub of all things organization. If you're as organization obsessed as I am then you may be wondering how you can use some of these brilliant Ikea organizing hacks in your own home. Look no further!
We have compiled a list of the top 12 Ikea organizing hacks for you to adapt into your home and your life. We have compiled some of our favourite ones from around the web for you below. Take a look and don't forget to Pin your favorites!
Make Your Own Pantry
If you are short on kitchen space or wish you had a pantry and don't then give making your own a try! The first of our Ikea organizing hacks creates additional space in your dining room for those extras you have no cupboard room for. The Billy bookcase is transformed into a freestanding pantry and looks bespoke and chic!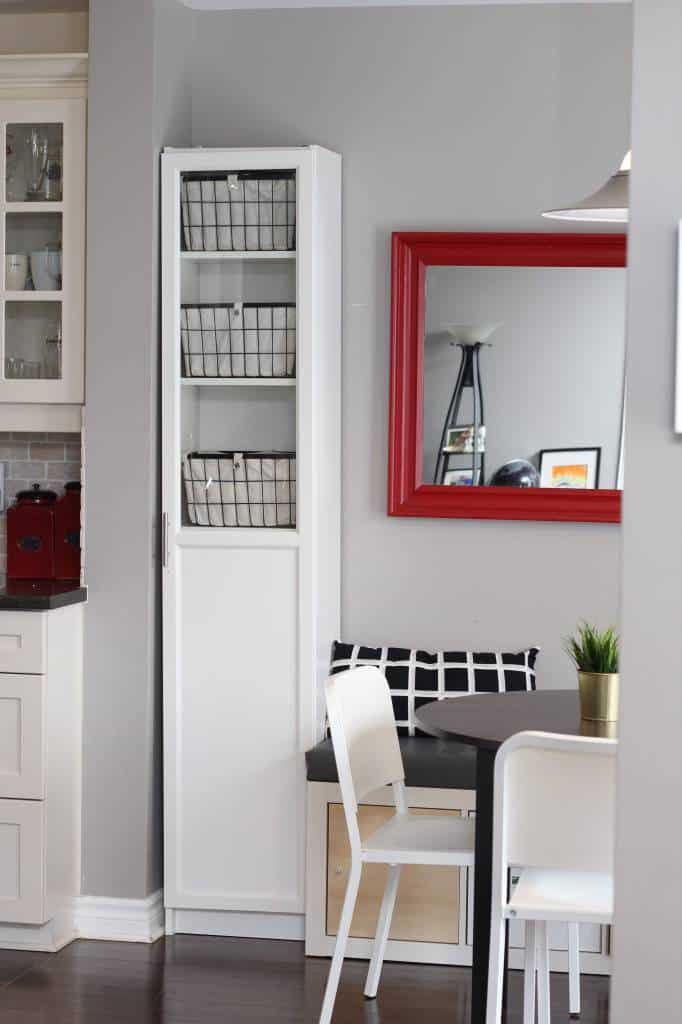 Tip & Image Credit: Feeling Nifty
Bespoke Laptop Station
There are many uses for the Raskog cart from Ikea, but one of the most unique ones is as a laptop station. Use a shelf to keep your cables in order and prevent the cord chaos. Organize your documents, notebooks, stationary, or whatever else you need to have close to your laptop.
Not only can you wheel everything you need around but you can charge your laptop right on the station and prevent it from overheating with the ventilation grids.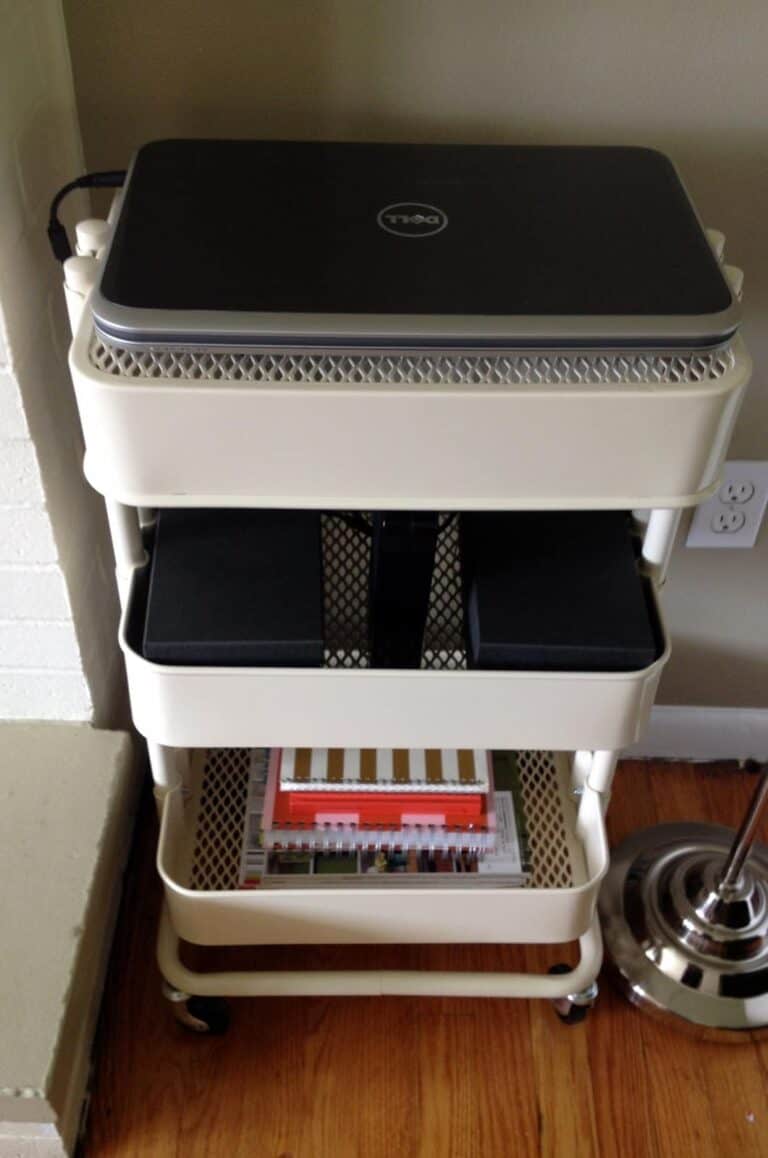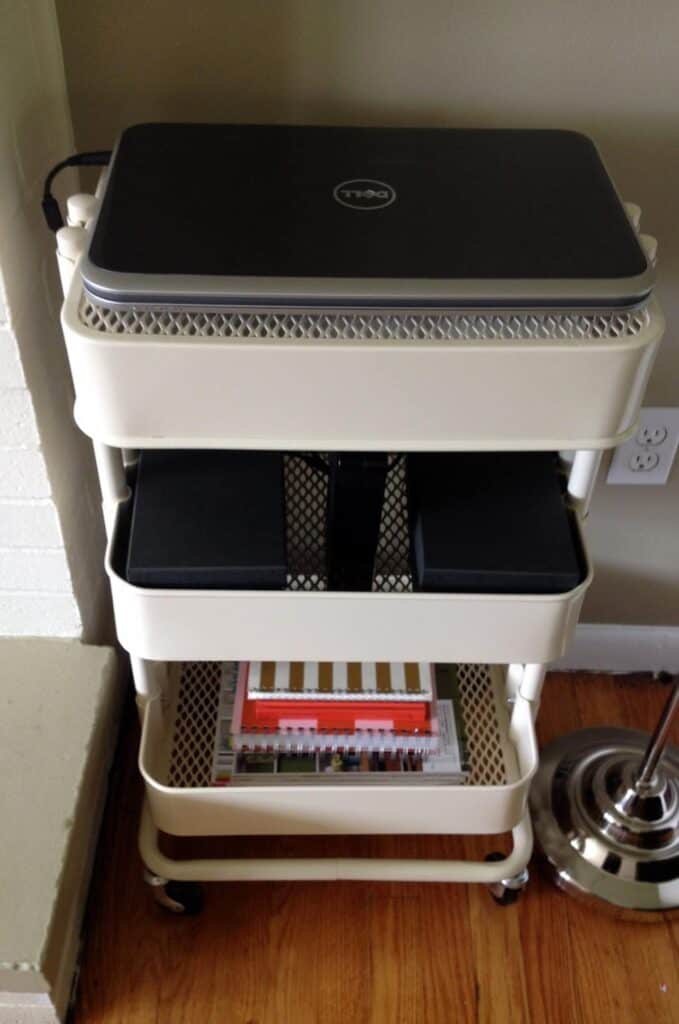 Tip & Image Credit: Three Girls Three Cities
Two Tier Jewelry Stand
Am I the only one who finds that my jewelry seems to occupy every room of my house? From finding an earring in my handbag, to a bracelet under the bed it happens more than I would like to admit. This fantastic, and affordable Ikea organizing hack takes 2 cork coasters and a dowel rod and turns them into this 2 tiered jewelry stand.
You can keep it as is or add a bit more colour by using some paint to give it a personalised finish. Not only will your jewelry be organized (or any other bits and bobs you want to keep here) but you'll have created a unique piece.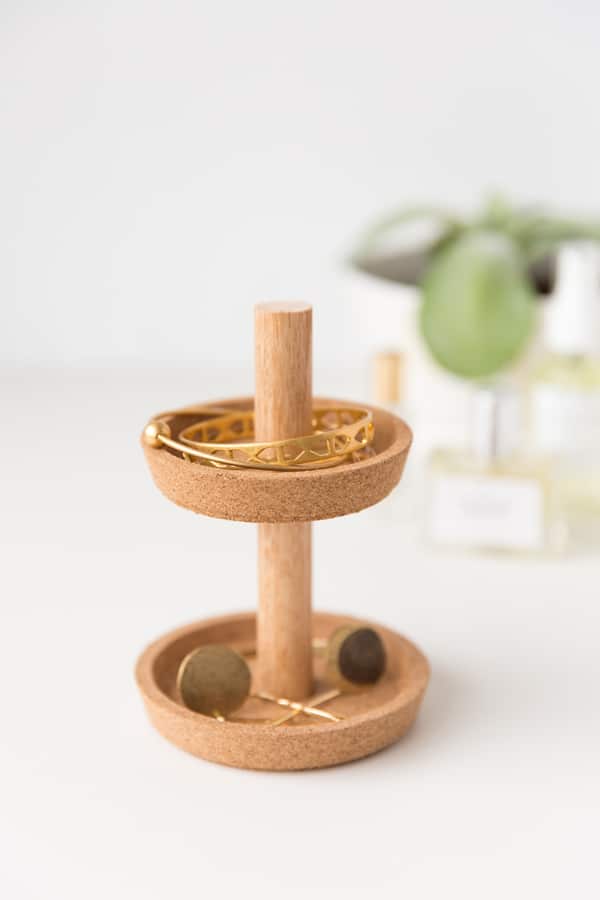 Tip & Image Credit: Paper & Stitch
From Spice Rack to Wall Mounted Shelf
If your kid's books are taking over then why not use a modestly priced Ikea spice rack and turn it into a wall mounted bookshelf? This Ikea organizing hack has been making the rounds on Pinterest for quite some time now, but I can see why, it's so simple even beginner organizers can give it a go!
If your kids have way too many books then use the shelves to showcase their current favorites!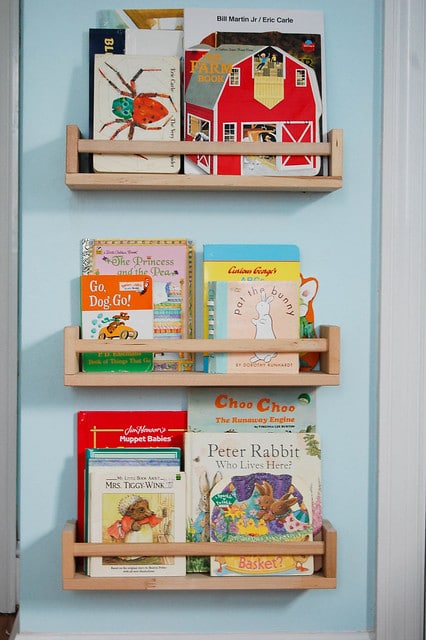 Tip & Image Credit: Domestic Simplicity
Create More Space for Hanging Clothes
If you have a lot of clothes or just don't have a closet space big enough then this storage idea from Ikea themselves is a breeze. Flip some Ekby Lerberg shelf brackets upside down hang clothes on them. From taking advantage of a small nook or cranny in the back of your closet to putting your favorite scarves on display in a dressing room give this a go!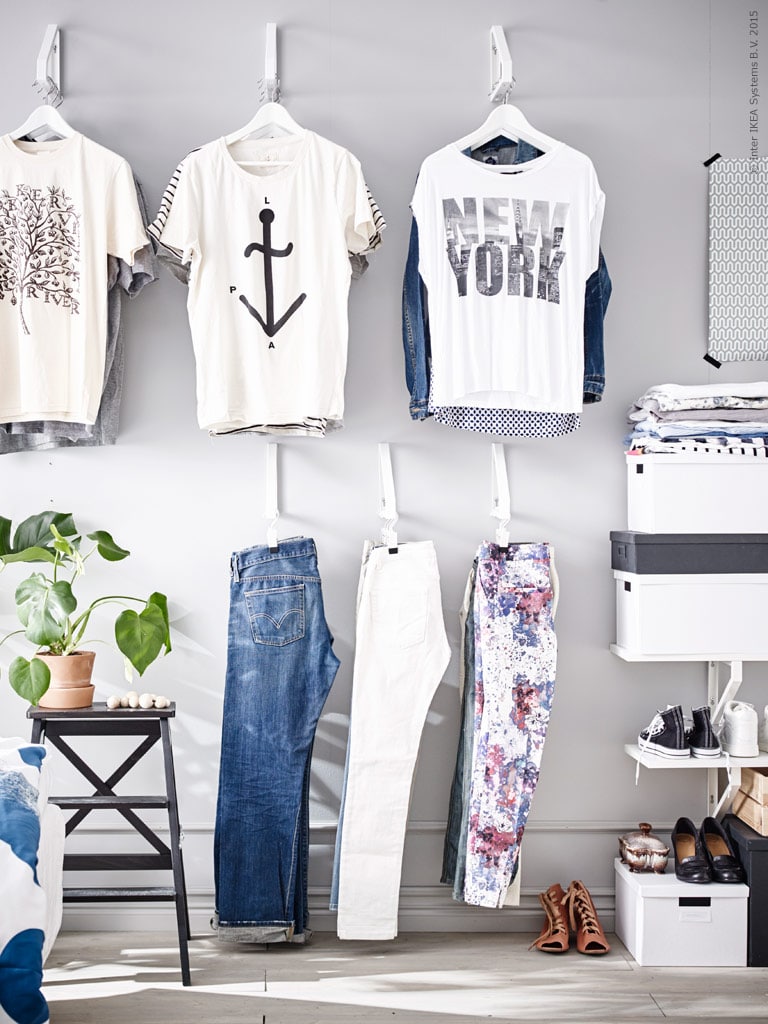 Tip & Image Credit: Ikea
Organize Bathtime Toys
The Variera trash can is a great addition to your family bathroom. If your kids bath toys are taking up too much space around the bathtub then this handy (and affordable!) little trash can is the solution. Chuck all of the toys in there and let them drip dry until the next time your little ones are ready to play with them.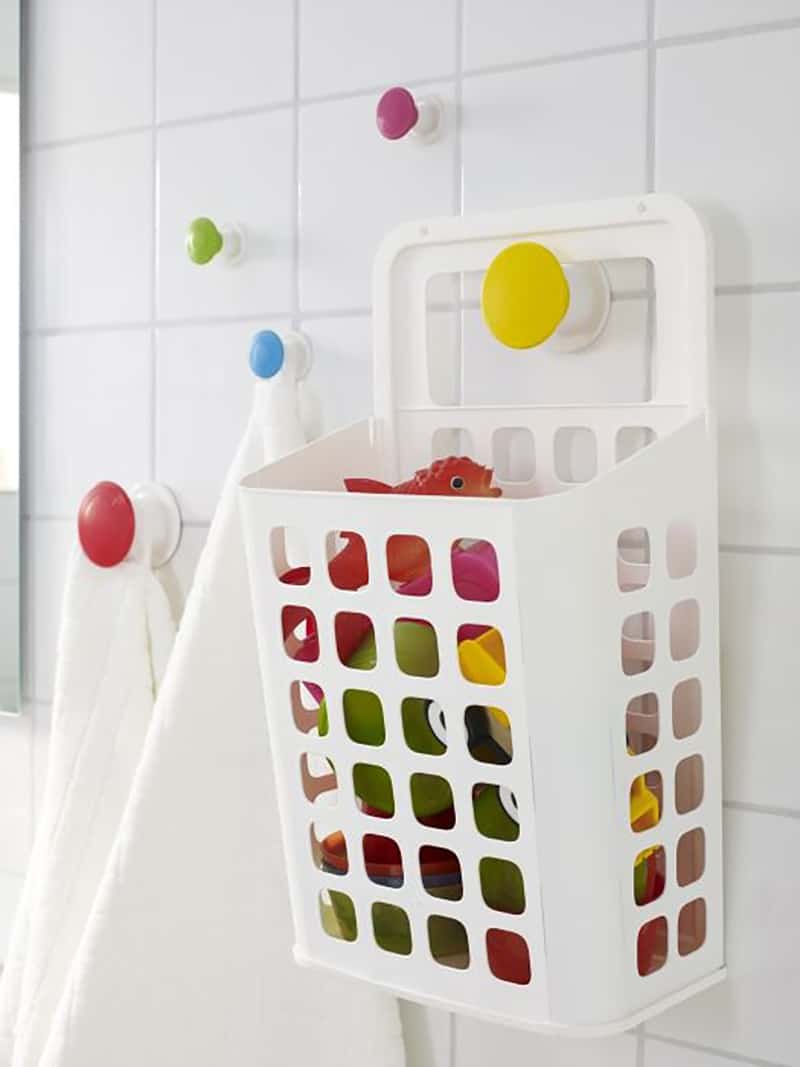 Tip & Image Credit: The Cottage Market
Use Bins Throughtout
You can use bins for pretty much anything and everything in the home. For this tip, use the Variera box in the bathroom to give a very used space of the home that organization that it needs.
The best thing is that you can also find them in different colors. This can help you choose the right box for your decor. You can even forgo labels altogether and color coordinate based on family member.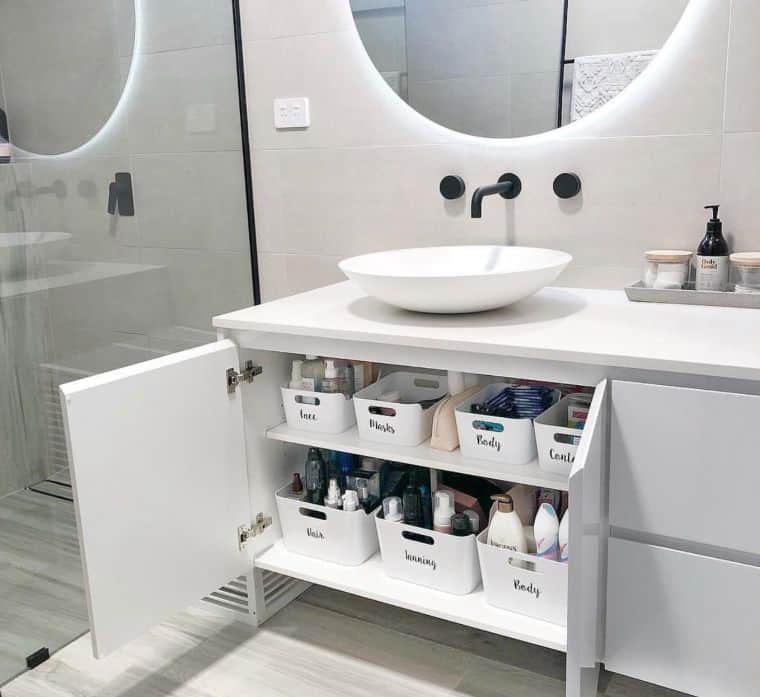 Tip & Image Credit: Just Another Mummy Blog
Tackle The Paper Trail
If you have papers and documents all over the place then this tip is for you! Repurpose the Ikea Trones shoe storage organizer and corral all those papers that you just can't seem to find a place for. This is also a great way to create a simple command center or to manage incoming and outgoing mail. Not only does this help you keep things under control, but you will also keep things out of sight.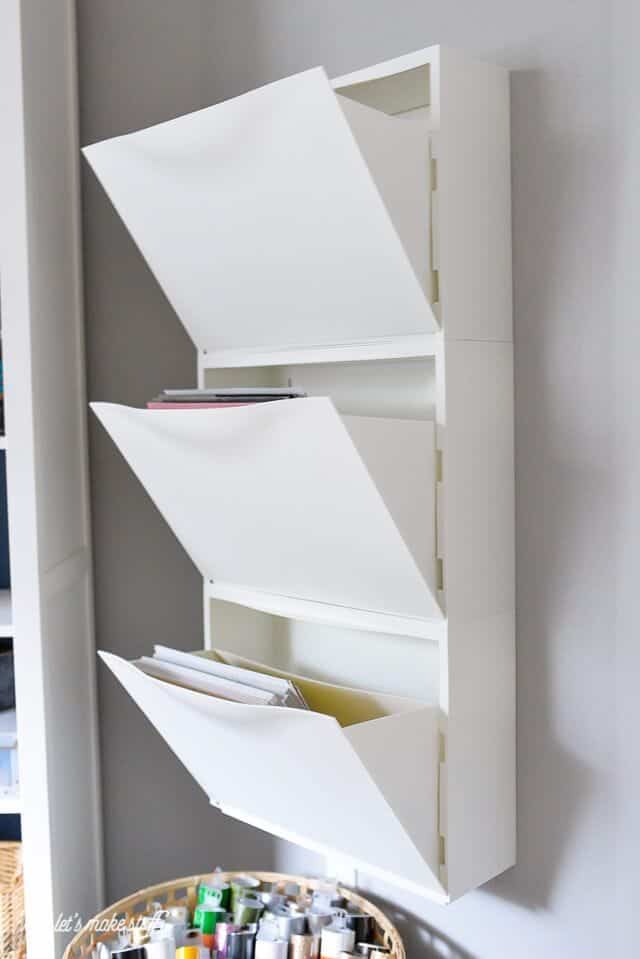 Tip & Image Credit: Hey, Let's Make Stuff
Tidy Up Your Drawers
Keep drawers organized and in control with the Ikea Skubbs range of drawer and wardrobe organizers. These handy (and affordable) organizers are a great addition to any room.
In the example below you can see them in action in a nursery to keep diapers and other baby necessities at hand and tidy. But as with other Ikea products the only limit is your imagination.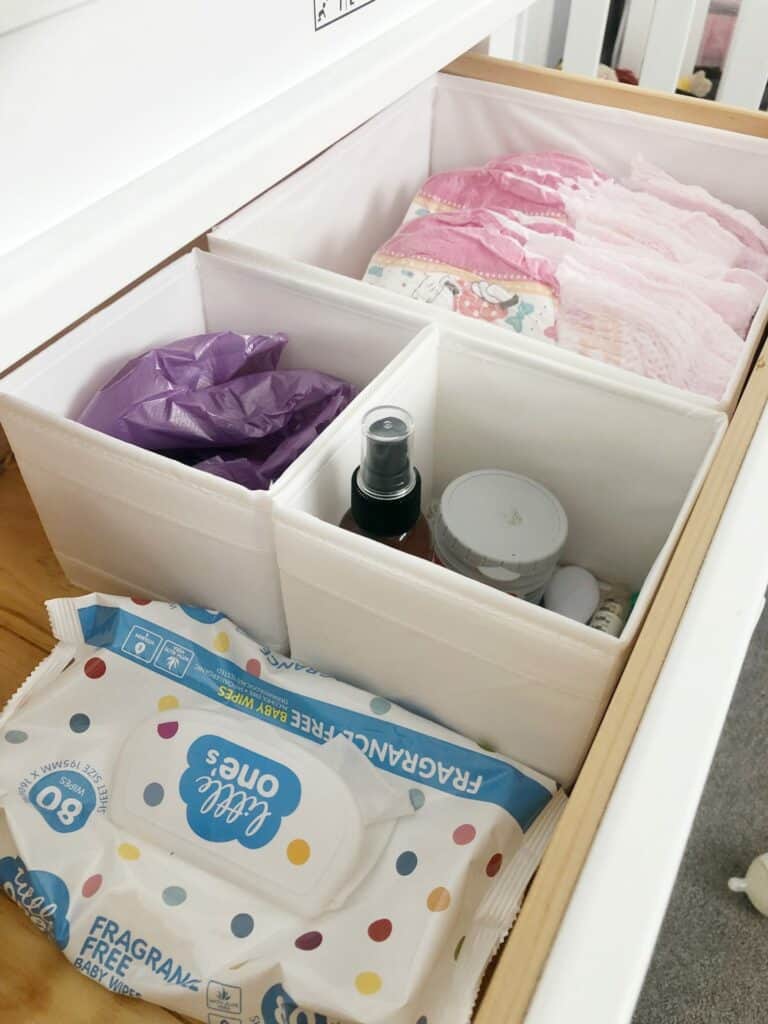 Tip & Image Credit: Just Another Mummy Blog
Organize Your Pantry
Pantries and kitchen cabinets can get chaotic with boxes and wrappers galore. If you're tired of sifting through the numerous cereal boxes only to find a tiny bit of product left then organizing with the Ikea 365 clear dry food jars is just what you need!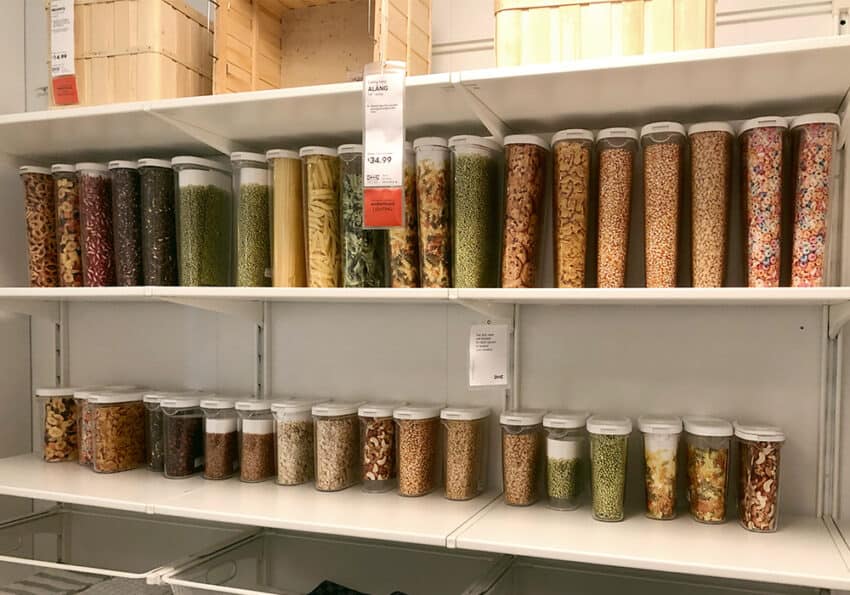 Tip & Image Credit: I Heart Planners
Go Vertical
The Ikea Sultan Lade slatted bed base is given a new lease of life by being put to use vertically instead of horizontally. Use this slatted bed frame along with hooks to create a storage and organizational area in the bathroom or any room of the home that is lacking in space.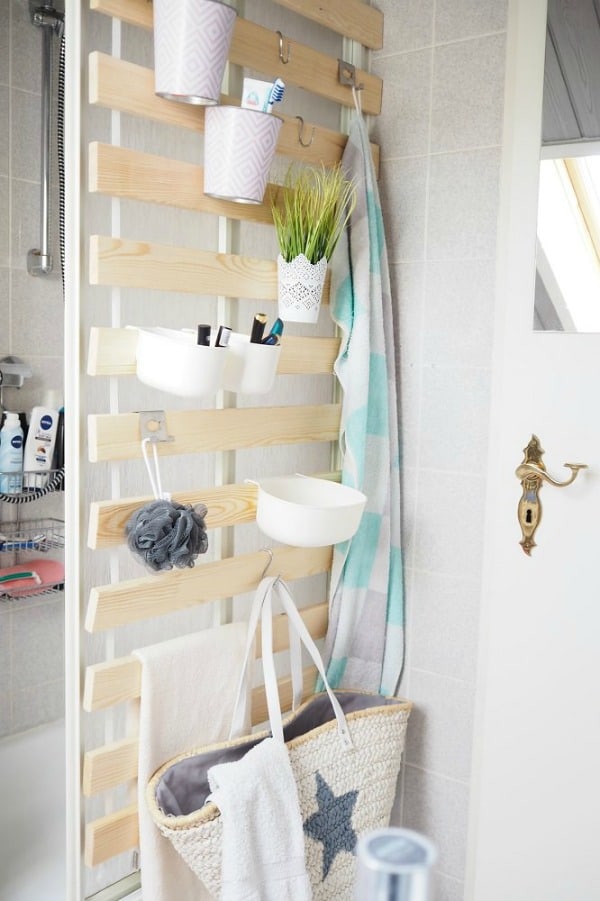 Tip & Image Credit: Vorstadt Leben
Use Floor Space
Make use of underbed storage without breaking the bank (or your back!) by adding castor wheels to the Algot mesh baskets. This simple DIY is a great organization idea for anyone that needs to make use of any spare inch of space. Use it under the bed or even under a cabinet that isn't down to the ground to make the best use of space.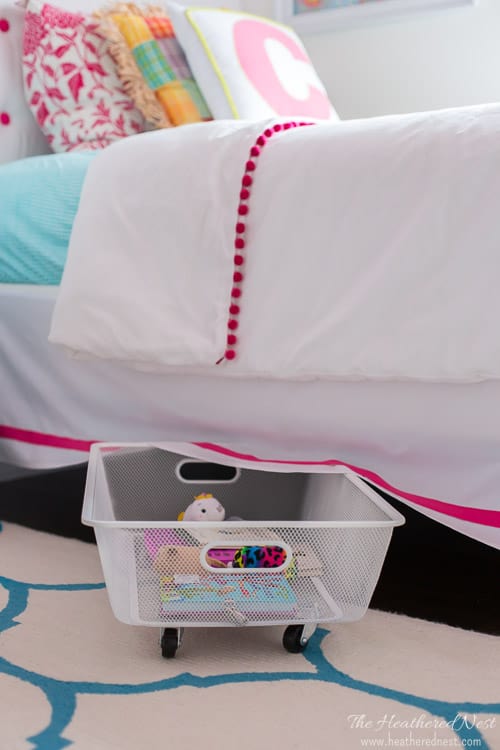 Tip & Image Credit: The Heathered Nest
Have an awesome Ikea organizing hack? Leave your tips below!