This Post May Contain Affiliate Links. We earn a commission if you click this link and make a purchase at no additional cost to you.
Looking for some cheap gifts that your family or friends will love? Look no further than this Christmas Gifts In A Jar! Making your own Christmas Gifts In A Jar is a brilliant way to give a great gift and spend very little money! From a Shaving Kit for your Dad or a Movie Night for your cousins, you will be sure to find a gift idea that you will love giving and they will love receiving!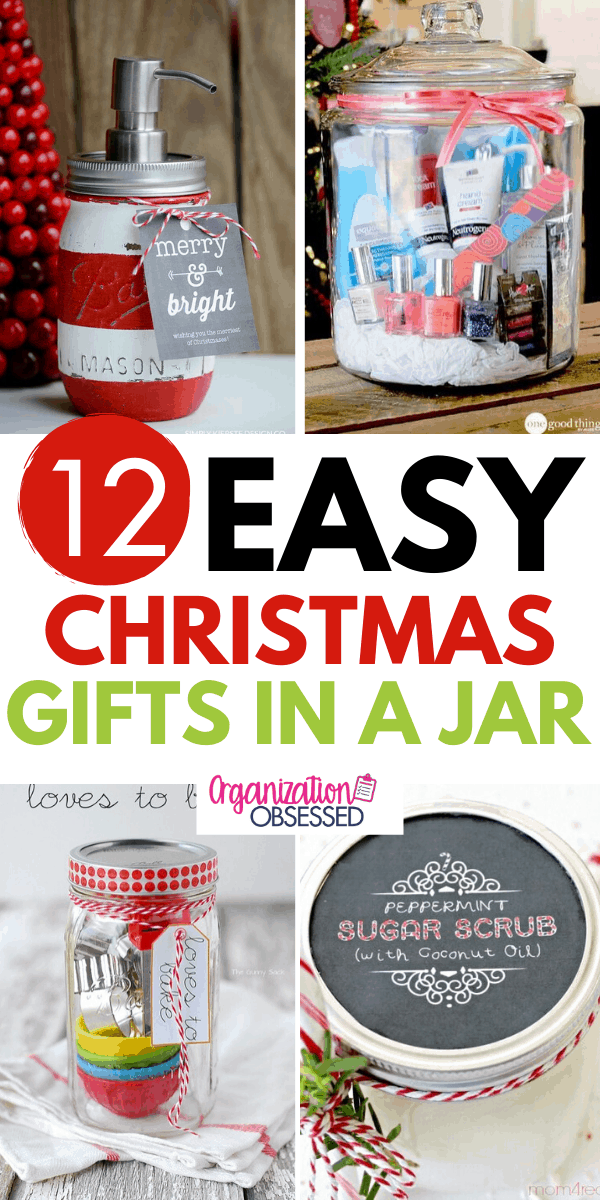 Christmas Mason Jar Soap Dispenser
Do you need to give a cheap gift to your coworkers or neighbor? The will love a Christmas themed Mason Jar Soap Dispenser! These are so easy to make. Just grab a mason mar, soap dispenser lid, and red and white paint. Paint the stripes on the mason jar and once dried, screw on the soap dispenser lid. You could give this gift without any soap in it or pour in a Christmas Scented soap like Mrs. Meyers Peppermint! And don't forget to grab the absolutely adorable printable tab from Simply Kierste!
Christmas Present For Your Mailman
Your mailman delivers your mail on time every day, all year long (hopefully!) The least you could do is get them a small Christmas gift to show your appreciation! This is such a cute gift idea that you could quickly and easily make for your mailman! They will love snacking on the candy while their out delivering mail. Simple As That even includes these adorable cards to show your appreciation!
Christmas Spa Day Gift
Every woman loves a spa day! And every woman in your life will love this gift! Just grab a large apothecary jar and add all their favorite things! You could include nail polish, hand creams, and lotions, bath bombs, makeup, etc! Any woman in your life will be thrilled over this gift!
Crafting gifts in a jar
Do you have a crafter in the family that you need to buy a gift for? Or is one of your friends a scrapbook fanatic? Then they will love this crafting gift in a jar! Grab a mason jar and fill it with craft supplies like washi tape, glitter, stamps, etc!
Baking Supplies Gift
Does your coworker love to bake? Or what about your neighbor? This little gift would be perfect for them! Grab a large mason jar and add some cookie cutters, measuring spoons, measuring cups, etc! You could even go all out with this and make a larger jar with cookie dough mix, oven mitts, spatulas, or a whisk!
Movie Night In a Jar
My inlaws would love this gift! They are big movie fans! But this would also be perfect for anyone that loves a good movie night! Get an apothecary jar and add a few movies, popcorn, and candy! It is a simple and easy gift, but your recipient will love it!
DIY sugar Scrub Gift
I have received this gift for Christmas many times and have loved it! It is a great little gift you can give to anyone! Click below to find the recipe!
Pampering Gift In A Jar
Any Woman or teenage girl would love this gift! It is easy to make and the perfect gift for those that need pampering. Just take a mason jar and add things like nail polish, nail clippers, lotion, etc. You could even add a spa gift card to make it extra special!
Pork Rub Gift For Men
I'm pretty sure any man would love this as a Christmas gift! I know my husband would! Click below to find the recipe!
Comfy and Cozy Gift Christmas Gift In A Jar
This gift makes me want to curl up by a fireplace and watch a good Christmas Movie! And I'm sure anyone you give it to would feel the same way! Create this comfy and cozy gift in a jar with an apothecary jar, a cute mug, hot cocoa & chocolate. And then add fun cozy things like yoga pants, slippers, or a cute toboggan!
DIY Caramel Apple Gift In A Jar
Such an easy an fun gift, because who doesn't love caramel apples! These would be such cute favors for your Christmas party!
Toiletries Gift For The Men In Your Life
Men can always use new toiletries! Make this easy gift with a mason jar, razors, after shave, etc! Its a great way to give a good gift to then men in your life!