This Post May Contain Affiliate Links. We earn a commission if you click this link and make a purchase at no additional cost to you.
This post may contain affiliate links.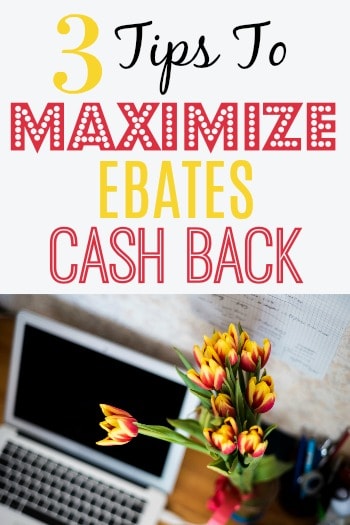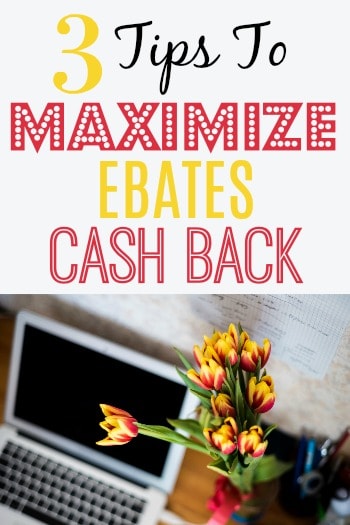 If you read my last post on how to make cash back with Ebates, you have come to the perfect place to learn how to maximize those earnings. Or if you didn't read it I am still so excited to teach you how to maximize your Ebates cash back.
I do about 80 percent of my shopping online. Rarely do I actually go to the mall or even the grocery store. All of my shopping is done online, which means that I earn cash back on almost everything I buy!
Awesome right? I think so too.
So now that you are all excited about earning cash back with Ebates, let me teach you how to maximize your profits.
Install the Ebates Cash Back Button On Your Browser
It is so easy to start browsing the internet, find something you want to buy and then make a purchase. Its also very easy to forget to start with Ebates. Sometimes I go looking for something to buy and sometimes I stumble across something I want to buy and I do not remember to start with Ebates. That is why the Ebates cash back button is so great! When I am in a cart ready to checkout, the Ebates button will popup and remind me to apply cash back before I check out. No more forgetting to claim free money!
Bonus: The Ebates popup also offers coupons you can apply to your purchase. Make money and save money at the same time!
Ebates Refer A Friend Bonus
With the Ebates Refer A Friend Program you can earn even more Cash back. This program offers a huge earning potential for you. Refer your friends by email or post a link to your social media profiles. For each friend referred you will earn $25 dollars and they will earn $10. That's free money for both of you!
If you refer all your friends and family not using Ebates just think how much money you can earn. Free cash for very little effort!


(Please note Ebates Refer A Friend program is subject to change at any time and their cash back amount may be different than what was offered at the time this post was written.)
Download the Ebates App and Earn Cash Back In-Store
Ebates has now partnered with retailers to offer in store cash back! Download the app to your smartphone today and start earning! It is so simple. Before you go shopping add a credit card or debit card to your Ebates account, Link In-store cash back offers to your card and then use your card in stores to earn cash back.  Most cash back offers are less in store than they are online but hey its still free money!
Are you ready to start getting paid to shop? Why wait! Sign up for an account now with Ebates and instantly earn $10 dollars after your first $25 purchase!
– Happy Earning!
P.S. Leave a comment and brag on how much you've earned!
Related Post: How I Made $254.23 in Cash Back With Ebates!