This Post May Contain Affiliate Links. We earn a commission if you click this link and make a purchase at no additional cost to you.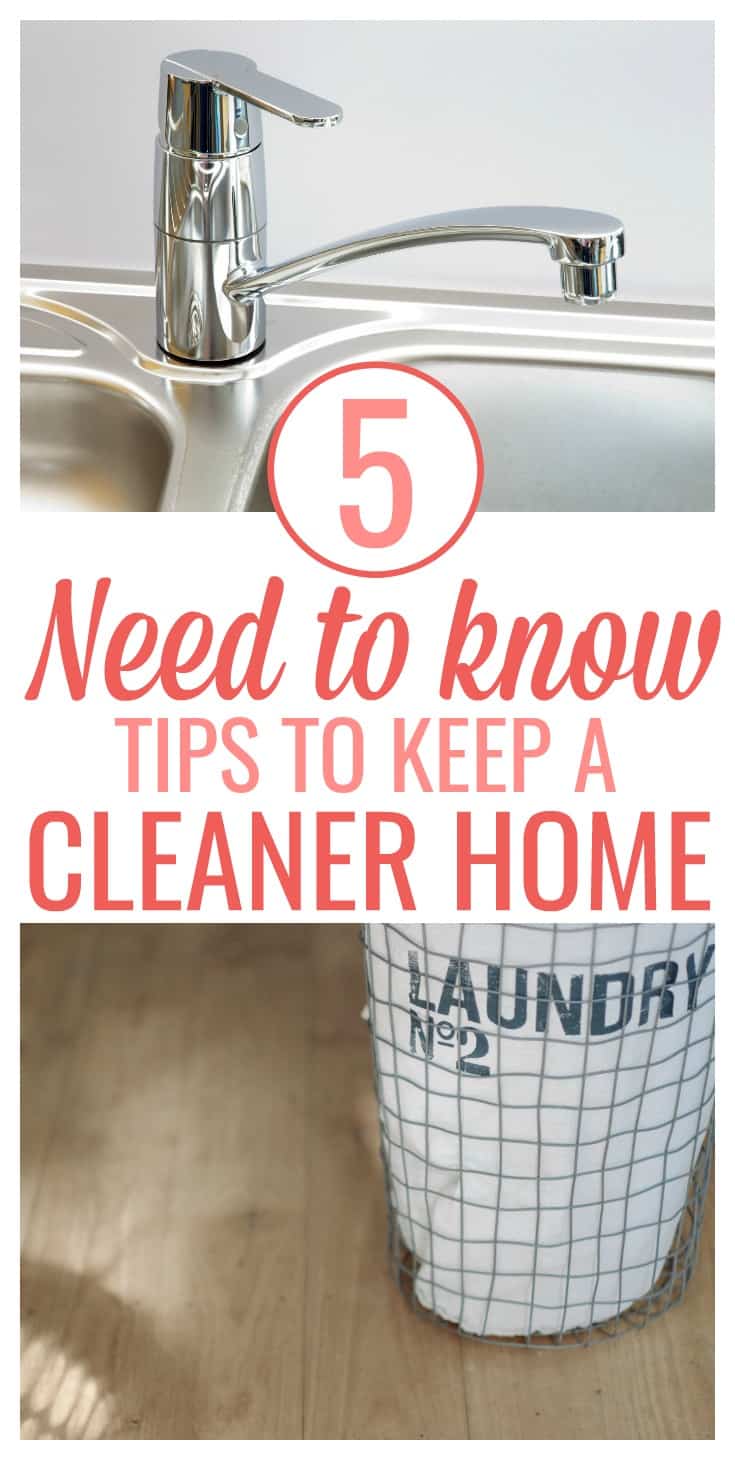 My house is always dirty.
That is a common consensus you hear from Moms. Most of the time we are so tired that by the time the kids go to bed we don't feel like cleaning the house. But when you have a home it's really important to keep it up. Not just so you have a clean home but for your sanity. 
Before my husband and I implemented these 5 strategies to keep our home clean, our house was always filthy. And I was always stressed about it.
We would come home exhausted from work, spend time with our baby and then crash on the couch, leaving the dishes for another day. Then Saturday would roll around and I would spend the whole entire day cleaning. Not a very good way to spend your weekend huh?
So now I implement these strategies daily and it has completely transformed my home and the time I spend cleaning it. "A little work every day saves a lot of work on one day."
Make It A Habit To Put Things Away
Make it habit to put things away instead of just sitting them down. It only takes a second longer to put a dish in the dishwasher instead of the sink. Same with your coat and shoes when you get home. Hang up your coat and put away your shoes instead of letting them sit on the floor. If it takes an extra few seconds to complete a task then finish it. It will save you time later and your home will be cleaner.
Wipe Down Your Counters
It is very easy to let soap scum and toothpaste take over the bathroom sinks. It seems like right after you clean the sink it is filthy again. To combat this keep a cleaning cloth on your vanity and teach your family that every time they brush their teeth or wash their hands they need to wipe down the faucet and sink. This will keep your faucet shining and your vanity from looking like toothpaste exploded on it!
Sweep Everyday
I am obsessed with vacuum lines (I know that's weird.) There is nothing better than relaxing in the evening knowing my floors are clean and being able to see where I vacuumed. Its also relieving to know that when my baby is crawling all over the floor that it is clean. Try to vacuum and swiffer all your floors at least every other day. Your shoes track so much dirt into your home. Sweeping regularly will keep your house cleaner and keep germs away.
Do The Dishes
I know this is a hard one. After cooking a meal for your family the last thing you want to do is the dishes. But if you don't do them each night you will have even more tomorrow. My husband and I team up. He will do the dishes and I will clean up the kitchen and pick up around the house. After about 30 minutes of work, we can both set down and relax.
Do A Load of Laundry Every Day
Laundry sucks. There is no getting around it, you have to have clean clothes. But it's not fun to do at all. Laundry is one part of homemaking that I typically fail at. Sure I can wash clothes, put them in the dryer, hopefully. But it is very rare that I actually get them folded in the same day. I blame how long it takes to wash, dry & fold (not a good enough excuse.)
So I came up with a plan to makeover the way I do laundry! My washing machine has this handy little button that lets me delay the wash. I can throw a load of laundry in before I go to work, set it to wash before I will get home, and then once I'm home I will throw it in the dryer. Washing the clothes while I am at work gives me enough time in the evening to fold a load before heading to bed. Hopefully your washing machine has this function too!
Another step I am trying to implement is teaching my husband to sort his clothes before he throws them in the laundry basket. Think of all the time that will save! There are laundry hamper sorters that have individual sections for each color of clothing or you could just have 3-4 laundry baskets!
What routines do you have to keep your home cleaner? Comment below!
Related post: 6 Kitchen Organizing Essentials