This Post May Contain Affiliate Links. We earn a commission if you click this link and make a purchase at no additional cost to you.
When my husband and I bought and remodeled our first camper, I had no idea it would be like furnishing another house. Even though we made many trips to Walmart, ordered boxes and boxes from Amazon and became best friends with Camping World, we still had to make a Walmart run on our first camping trip! Needless to say, there is a lot that goes into owning a camper or RV and everything you need to start camping.
I wish I would have had a comprehensive list of absolutely everything I needed before we started camping! Now that we have become camping pros, I thought it would be a brilliant idea to provide you with a list of absolutely everything you need to start camping. From the necessities to the fun extras, below is a list of all the must have items you need to start camping in your RV or Camper!
Everything You Need for Your Camper or RV
While you could probably say we "glamp" more than camp, most everything on this list is a necessity! I have also found that Amazon is cheaper than shopping at Camping World. Here is everything you need for your camper or RV!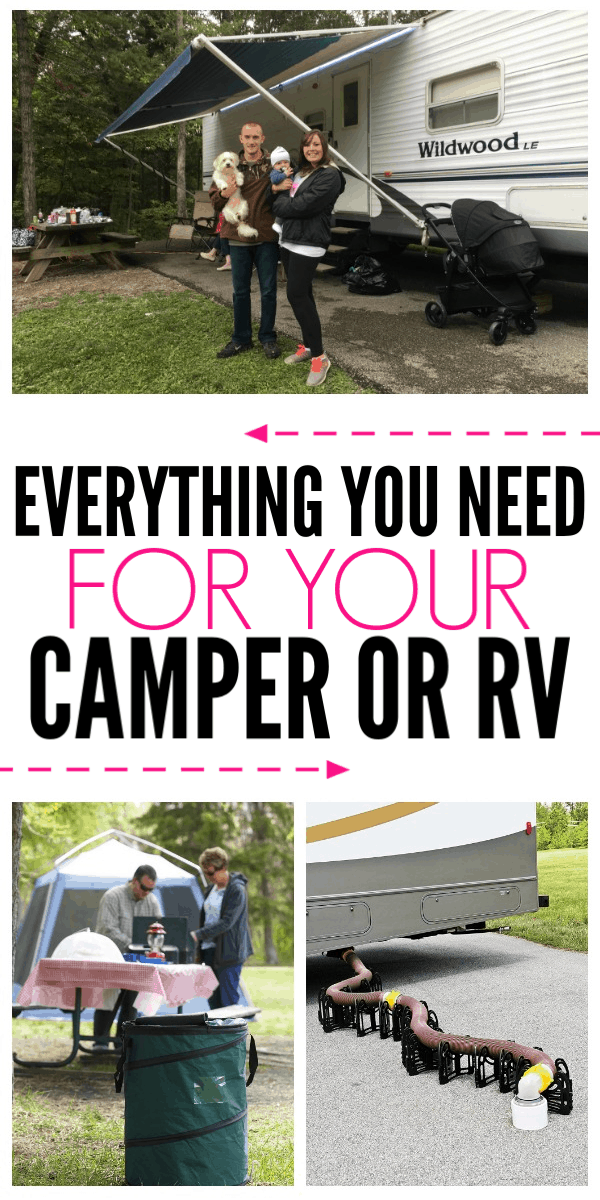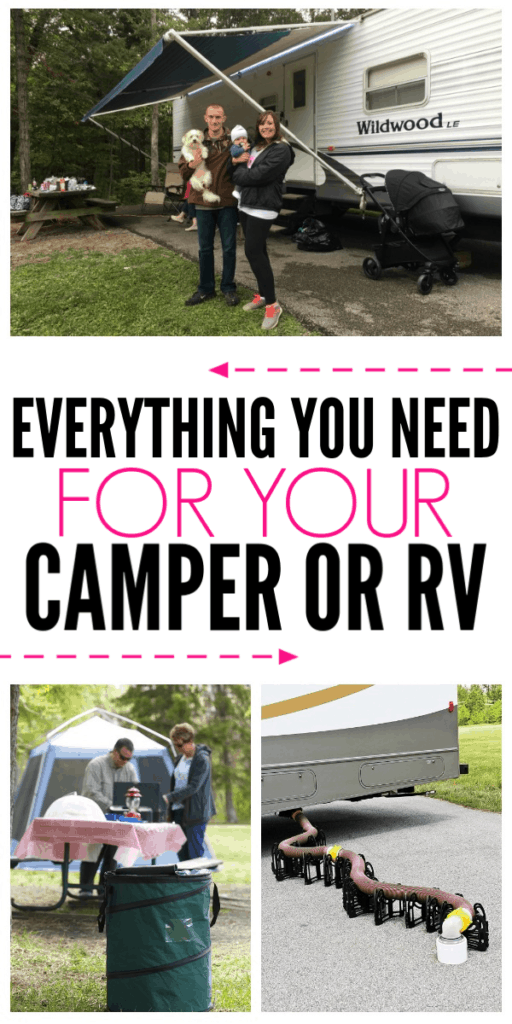 Camping Basics
Roasting Sticks – We have these extendable roasting sticks and they are the bomb! They are perfect for marshmallows or 1 hotdog at a time. They are super easy to store in a drawer since they are only about 12″ long when retracted! We have had them for 2 years now and they all are still working perfectly! I would still recommend you pick up some heavy duty roasting sticks as well at your local camping store, but these are also great to have!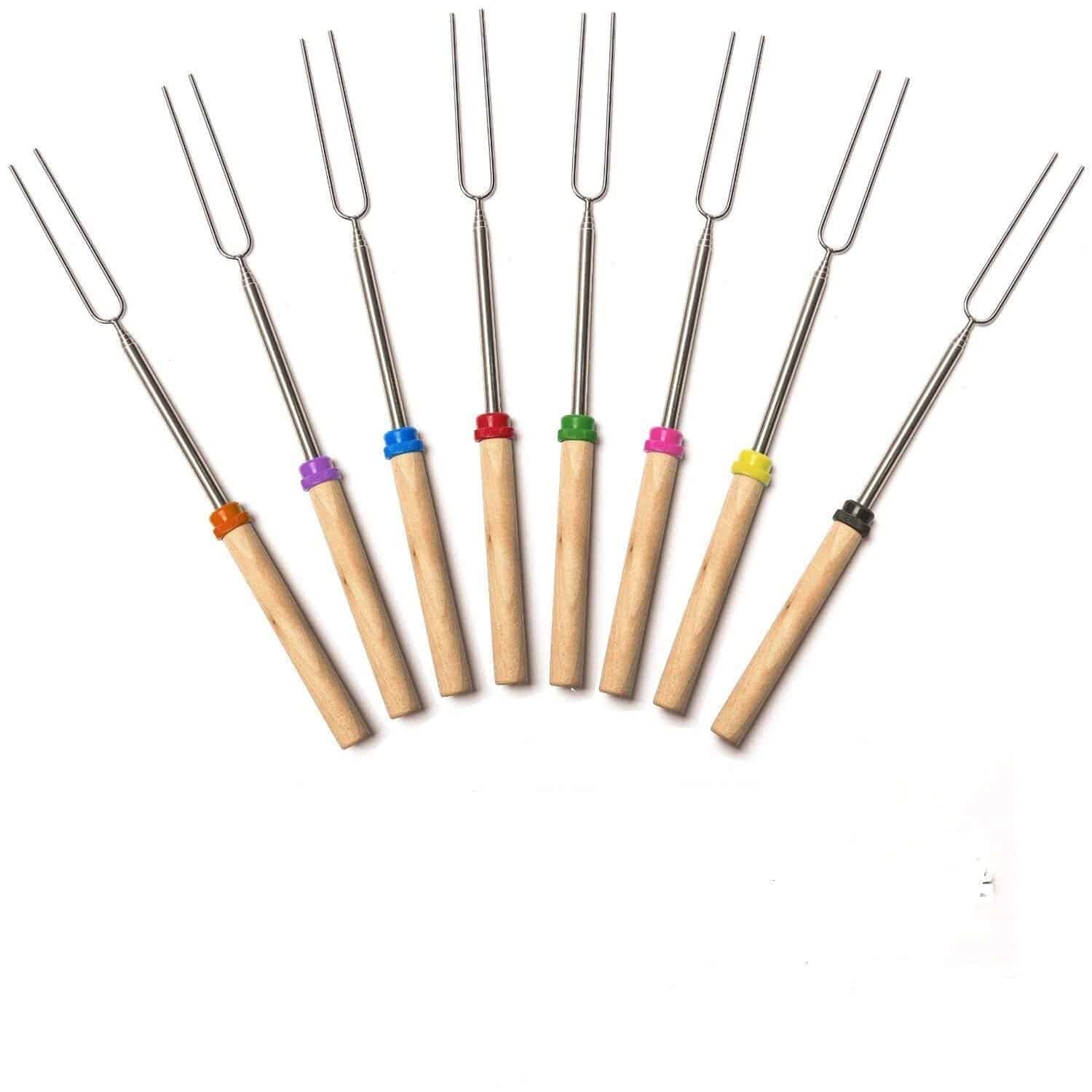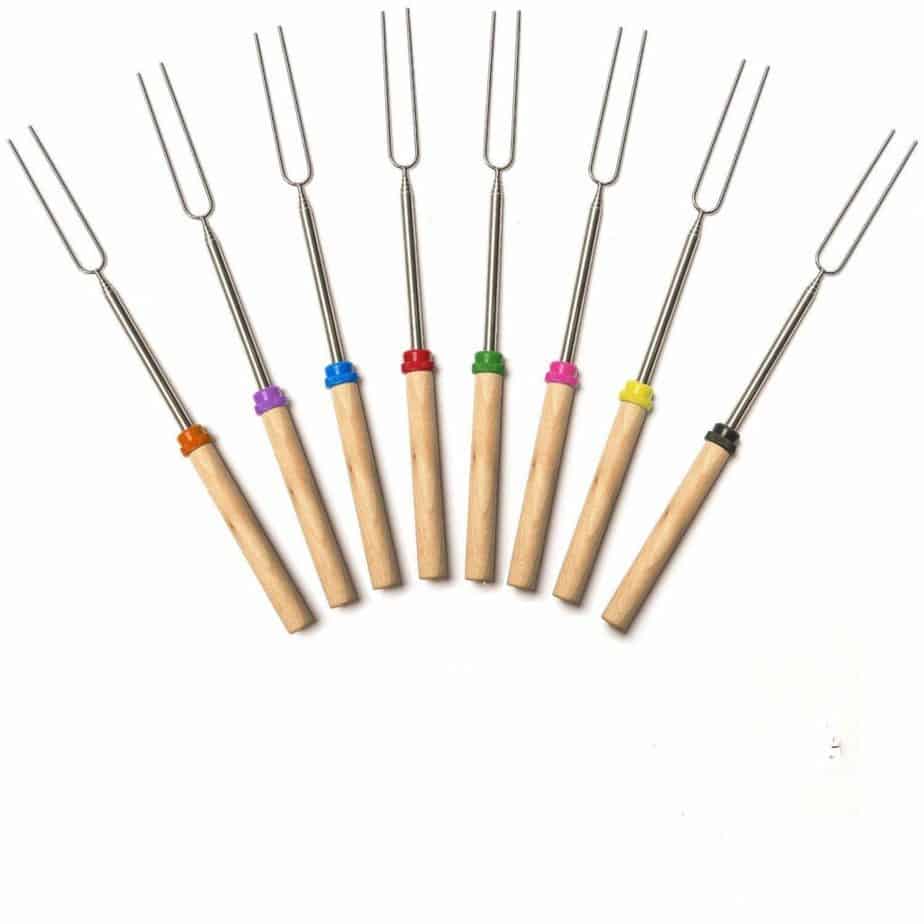 Flashlights or Collapsible Lanterns – Whether you are just sitting around by the campfire, walking through the woods, or headed to the shower house, at night you will need some source of light! We like to use collapsible camping lanterns. They are super bright and barely take up any room in the camper!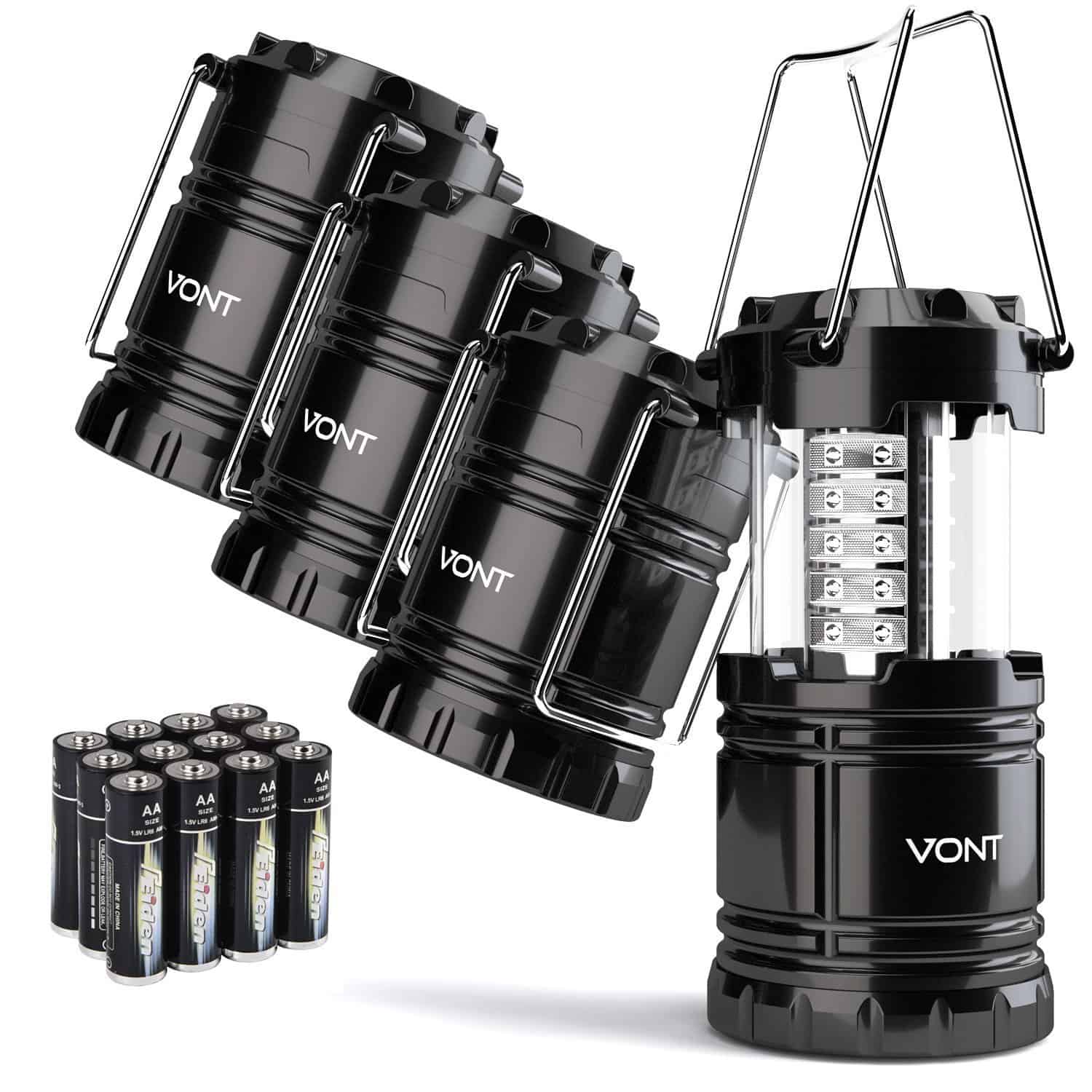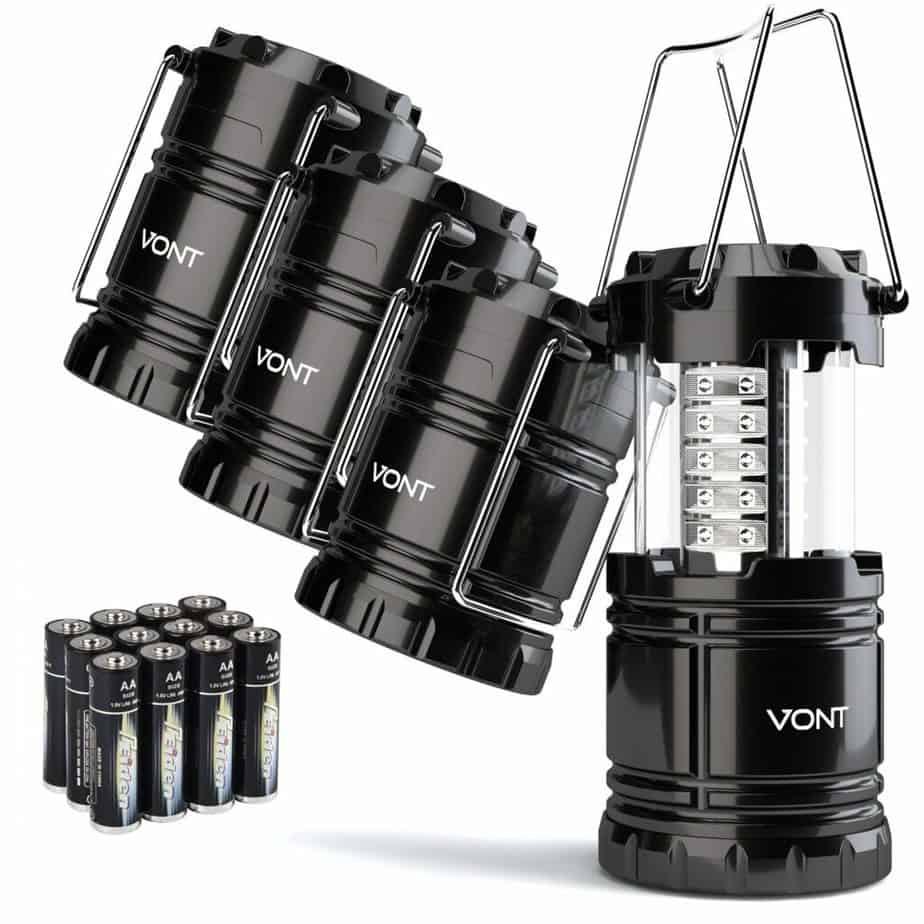 Pop Up Trash Can – Campground have racoons and you don't want to spend your morning picking up trash that they scattered around your campsite! We bought this Coghlans trash can and it has been a lifesaver for holding trash! It is sturdy and fits large heavy duty bags. Trust me, this is a must have camping item!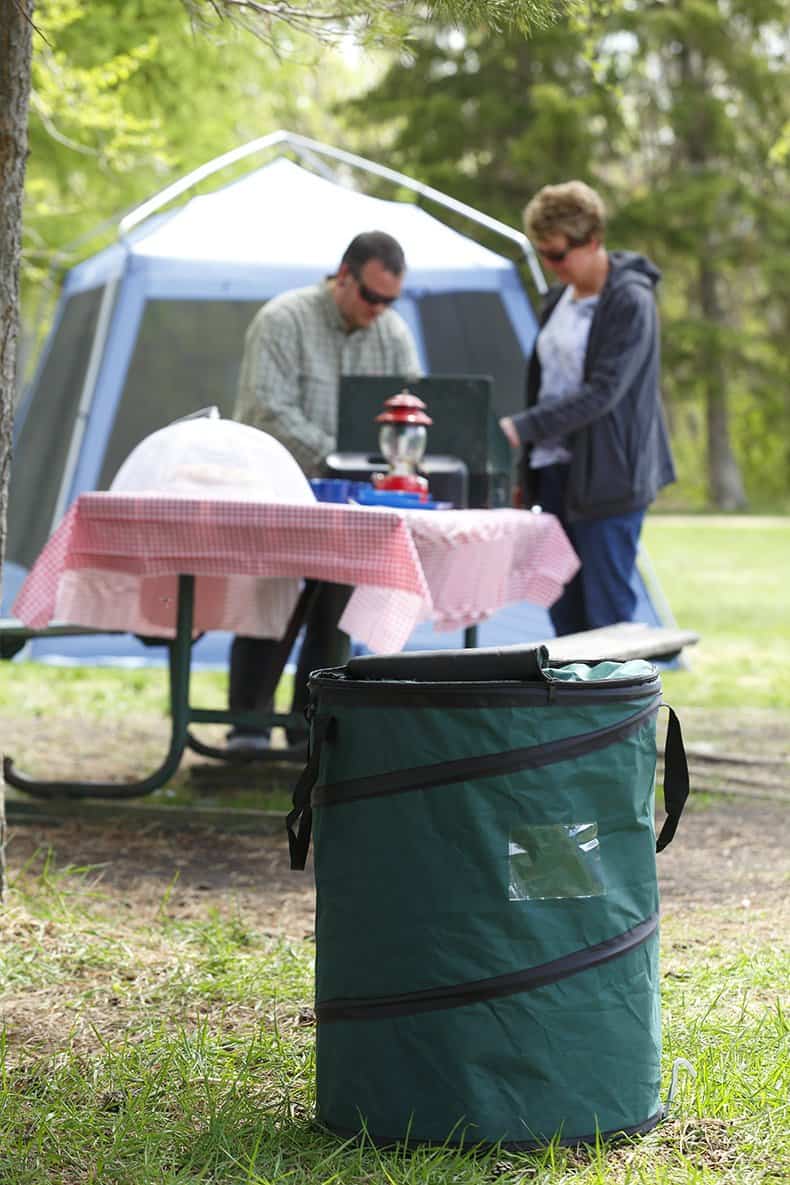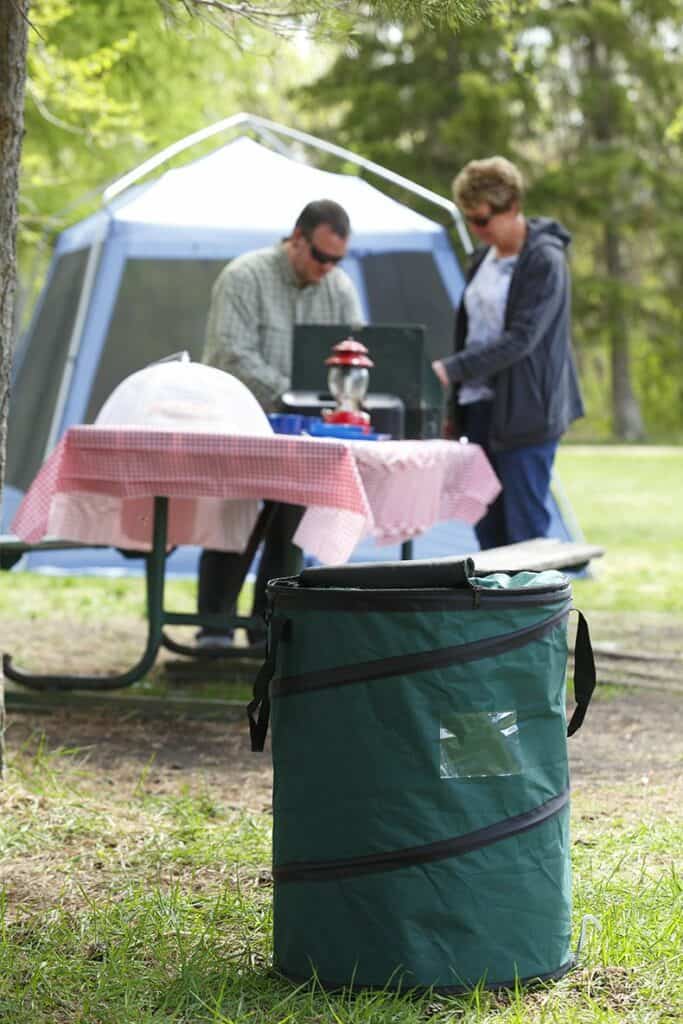 Coolers – If you're camping with your family, you will need probably 1 – 2 coolers for food and drinks. We prefer Coleman Coolers but one day plan to invest in an Ozark Cooler or Yeti Cooler.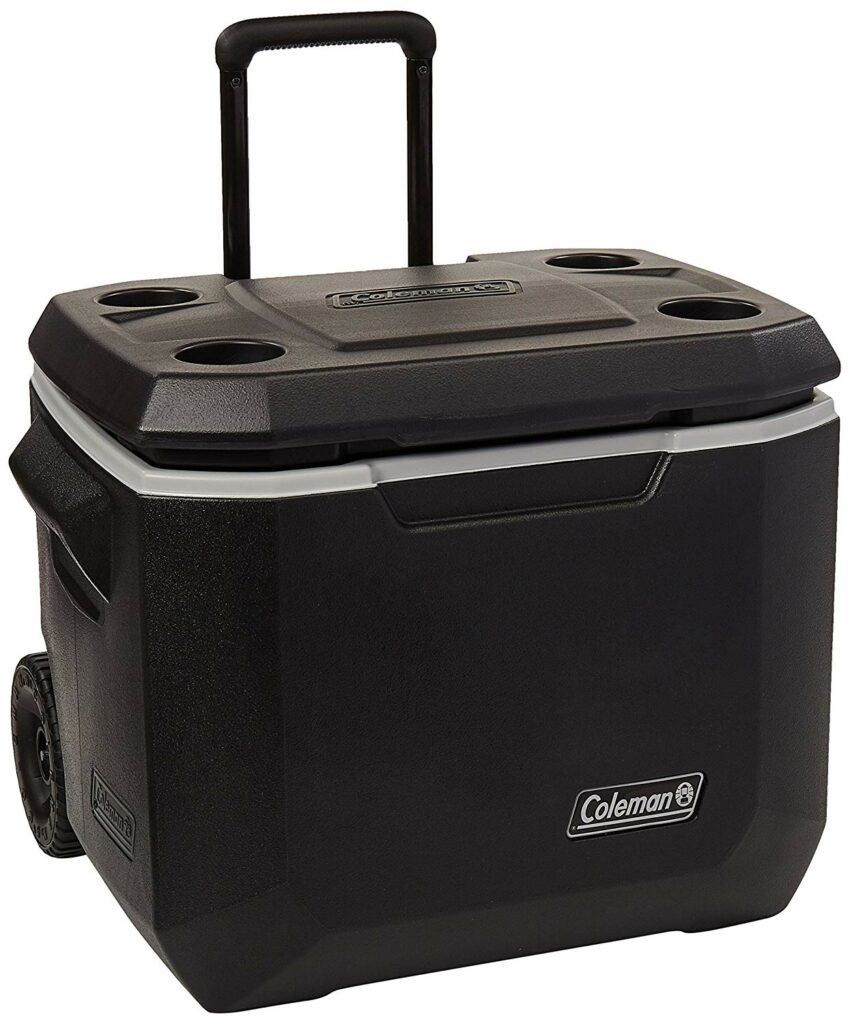 Camping Rug/Mat – Okay this isn't super necessary, but it does keep dirt from being tracked into your camper, making less work on you in the long run! We have this one and are extremely happy with it!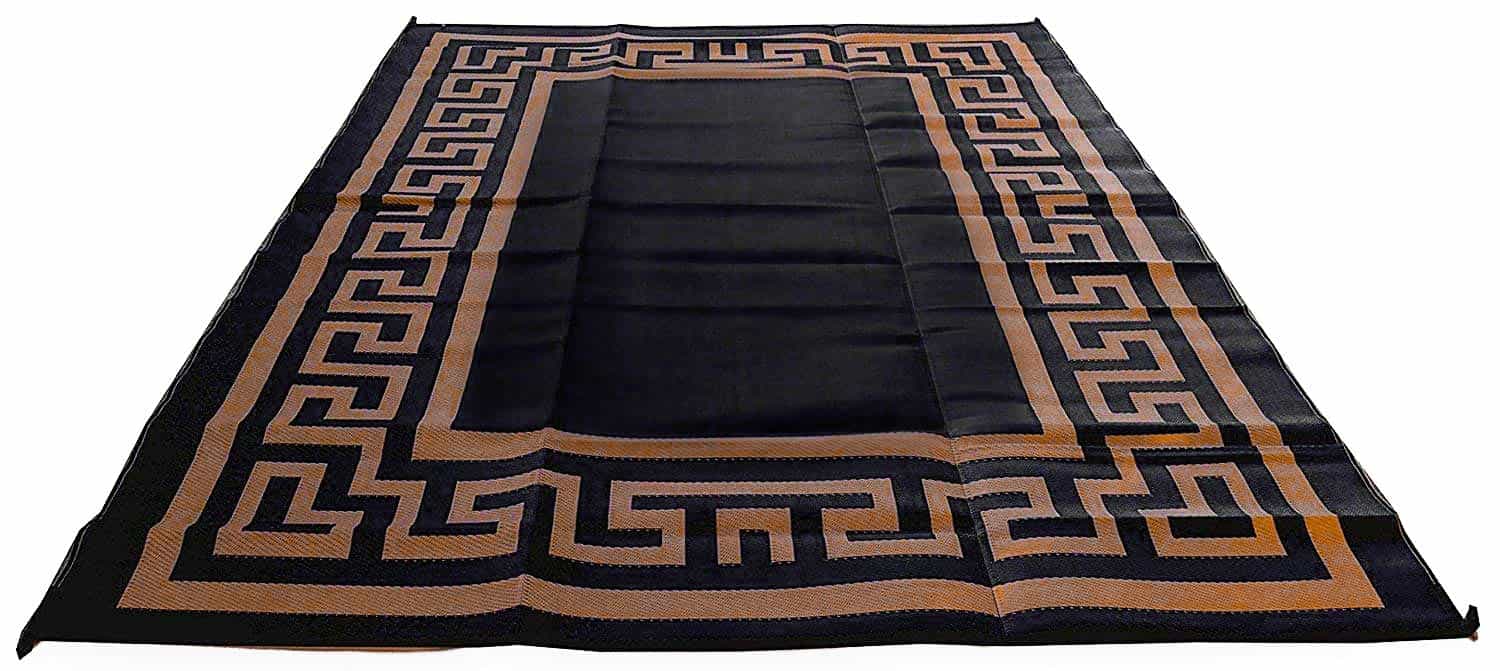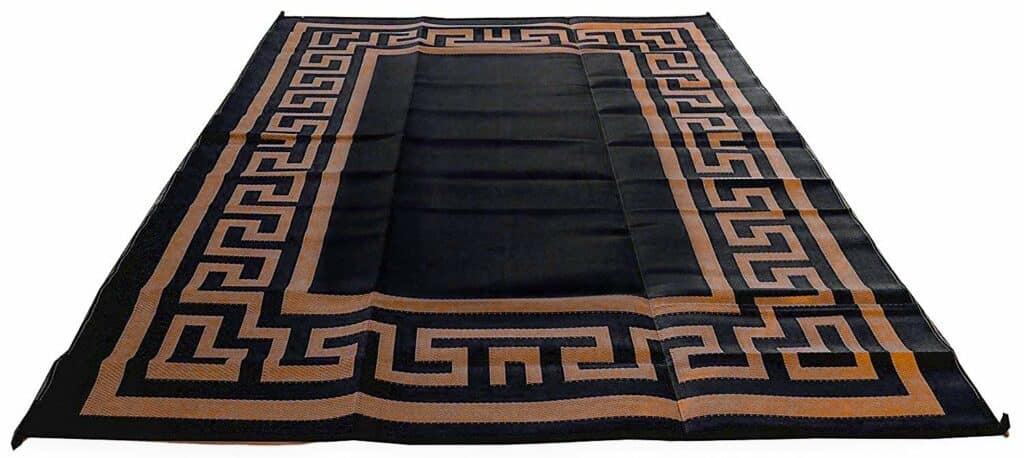 Extra Tables – Having an extra folding table is always a good idea. We use a regular folding table and a table with a sink.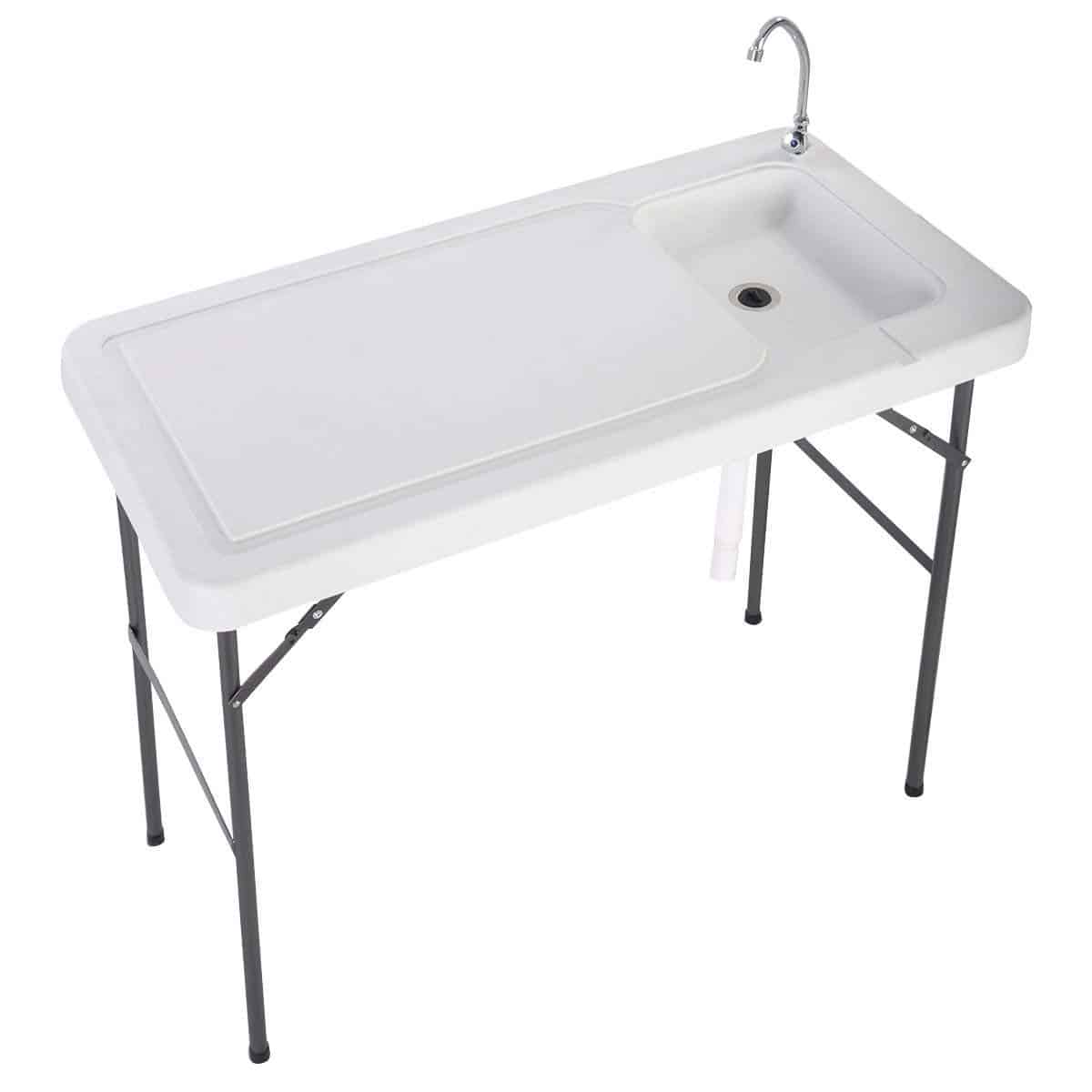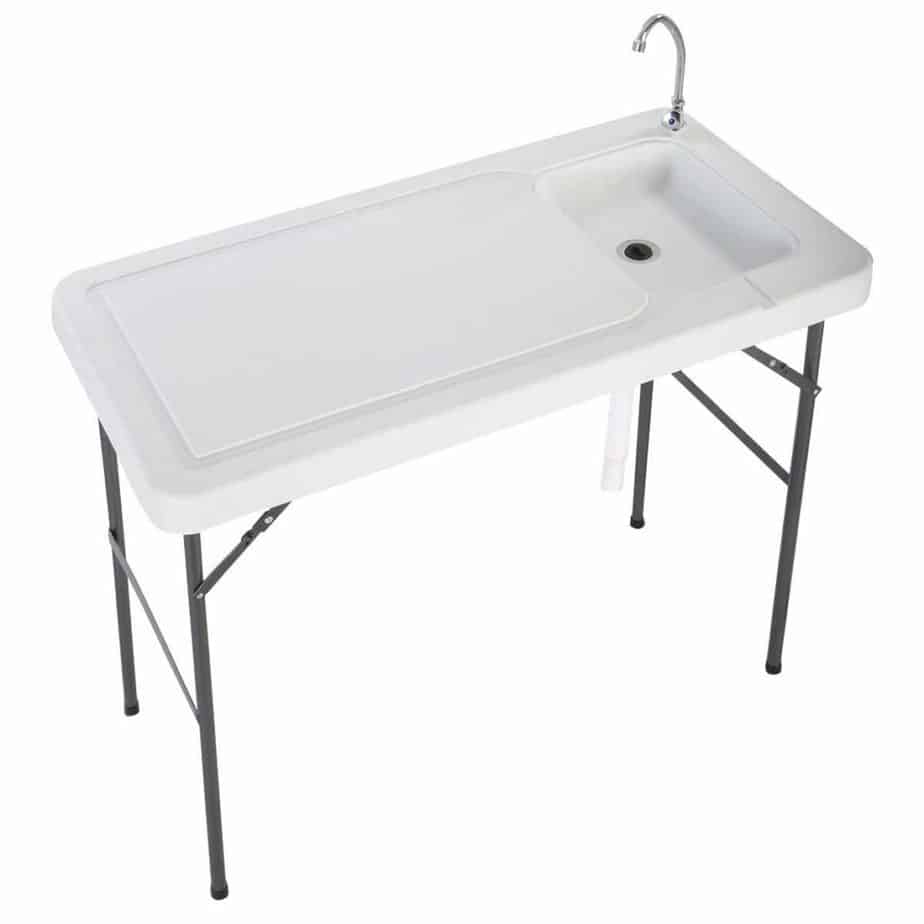 More Camping Basics You'll Regret Forgetting
Relaxing – What Camping Is All About
Most campers camp to get away from the busyness of life and to relax. More than likely, that is why you love camping or want to camp too! And the best way to relax while camping is in a great camping chair in the shade. While you can grab a basic camping chair anywhere, we have found that those are not that comfortable and usually only last one season. It is better in the long run to get a camping chair that you can curl up in with a good book or sit and watch your kids play in comfort! These are some of our favorites below that we use and love!
These heavy duty camping chairs are my favorite of all the chairs we have. They are very supportive, oversized and super comfortable! Plus the extra pockets and cupholders make them great to hold your phone and beverage!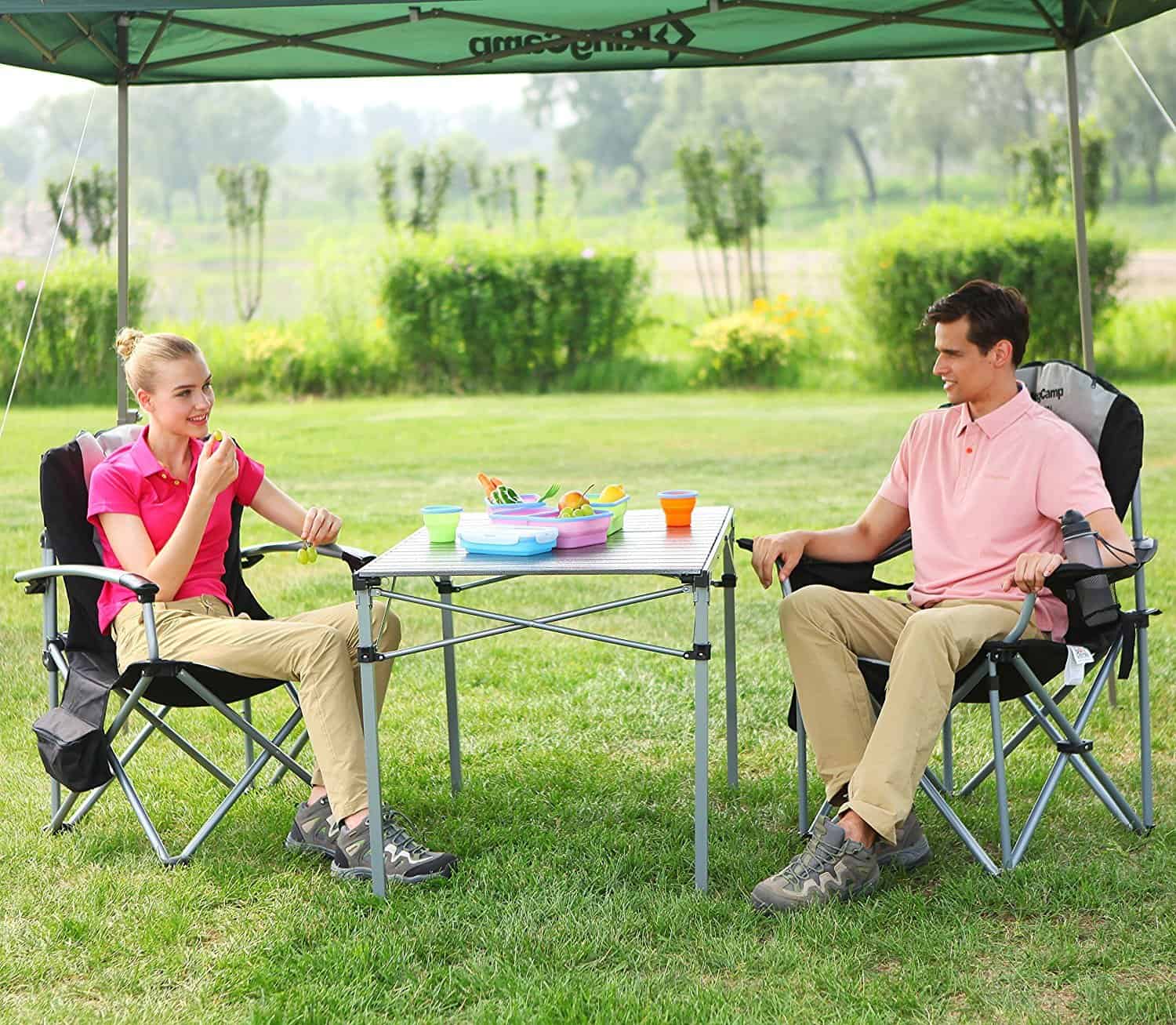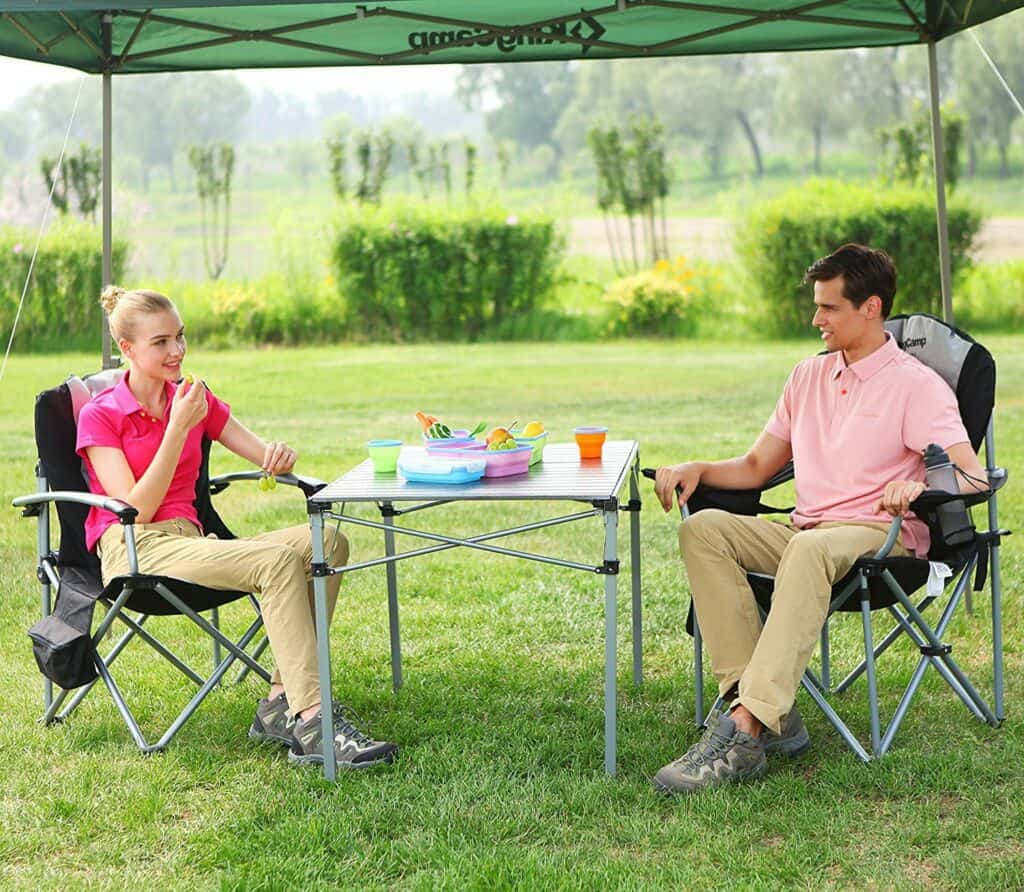 Zero Gravity Lounge Chair Recliners – We love these for sitting under the awning and watching football!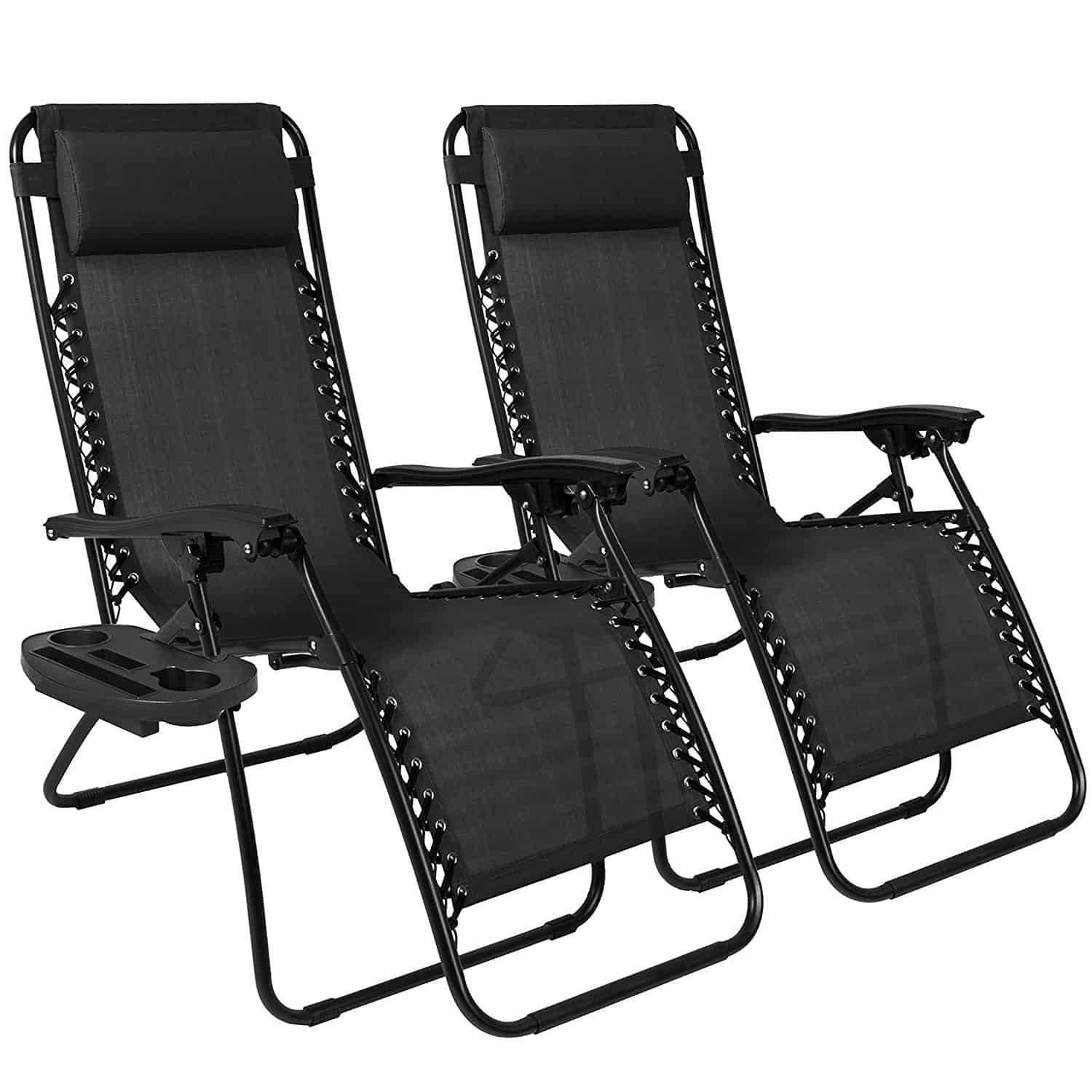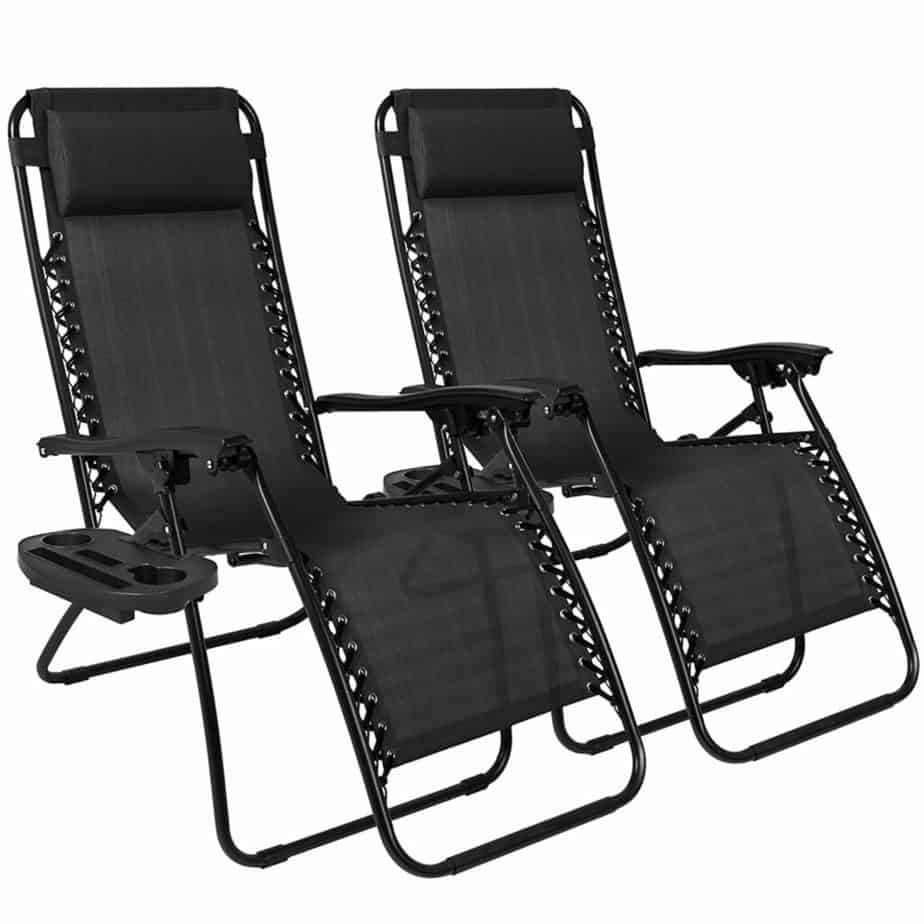 Inflatable Lounger – We don't have one of these, but I think they would be super fun to have! They are really small to store and can be used anywhere!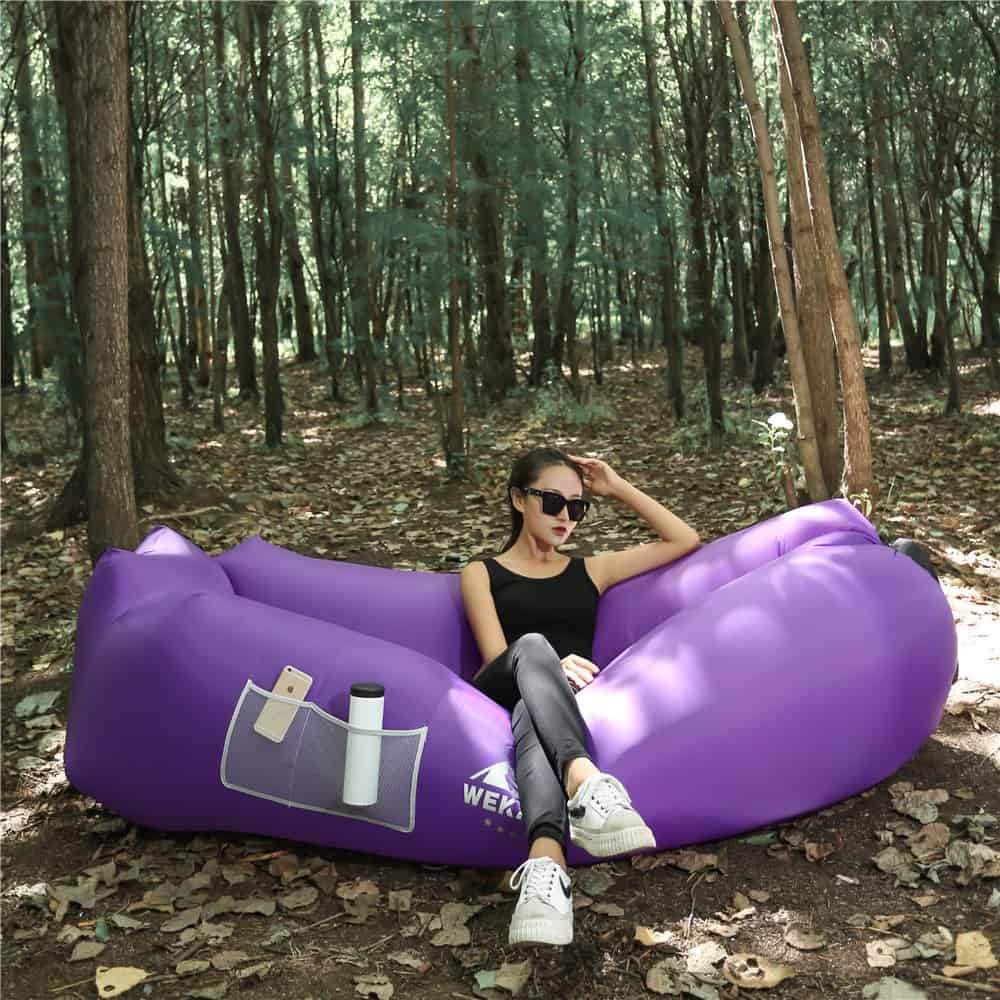 Portable Hammock – One of our friends has one of these and I must admit, I am super jealous and want one myself. There is no better way to relax while camping then swinging in a hammock!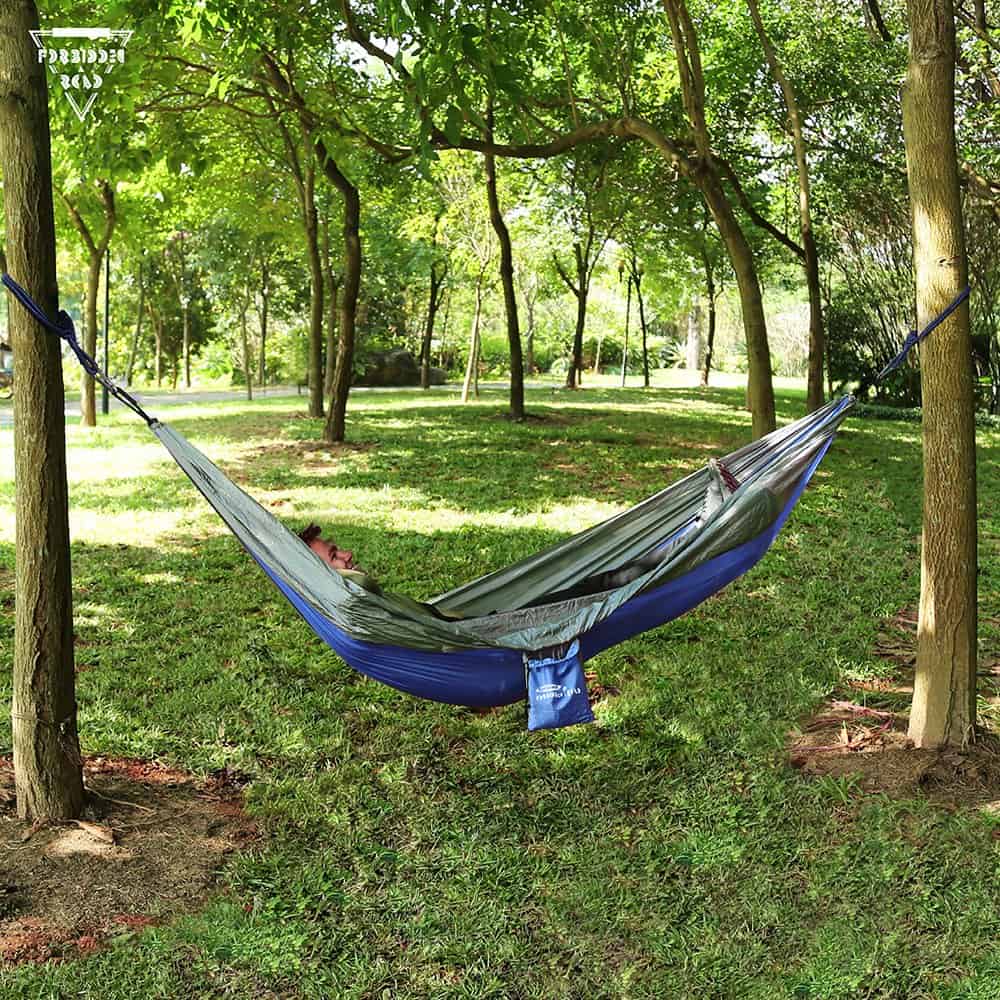 Durable Tent Canopy – While most campers have awnings, they usually never provide enough shade. That is why we always pack a tent canopy as well and these things are a life saver on hot summer days! They provide extra shade and are great to put over your picnic table or right up against your camper awning! A word of warning though, you can get these at almost any store that sells camping gear, but make sure you invest in a good one. You will be taking it up and down a lot, towing it all over the place and eventually, you will have a camping trip that involves a good windstorm. Make sure you invest in a good canopy from the start so you don't waste money buying them every camping season. This Coleman Canopy is a great choice!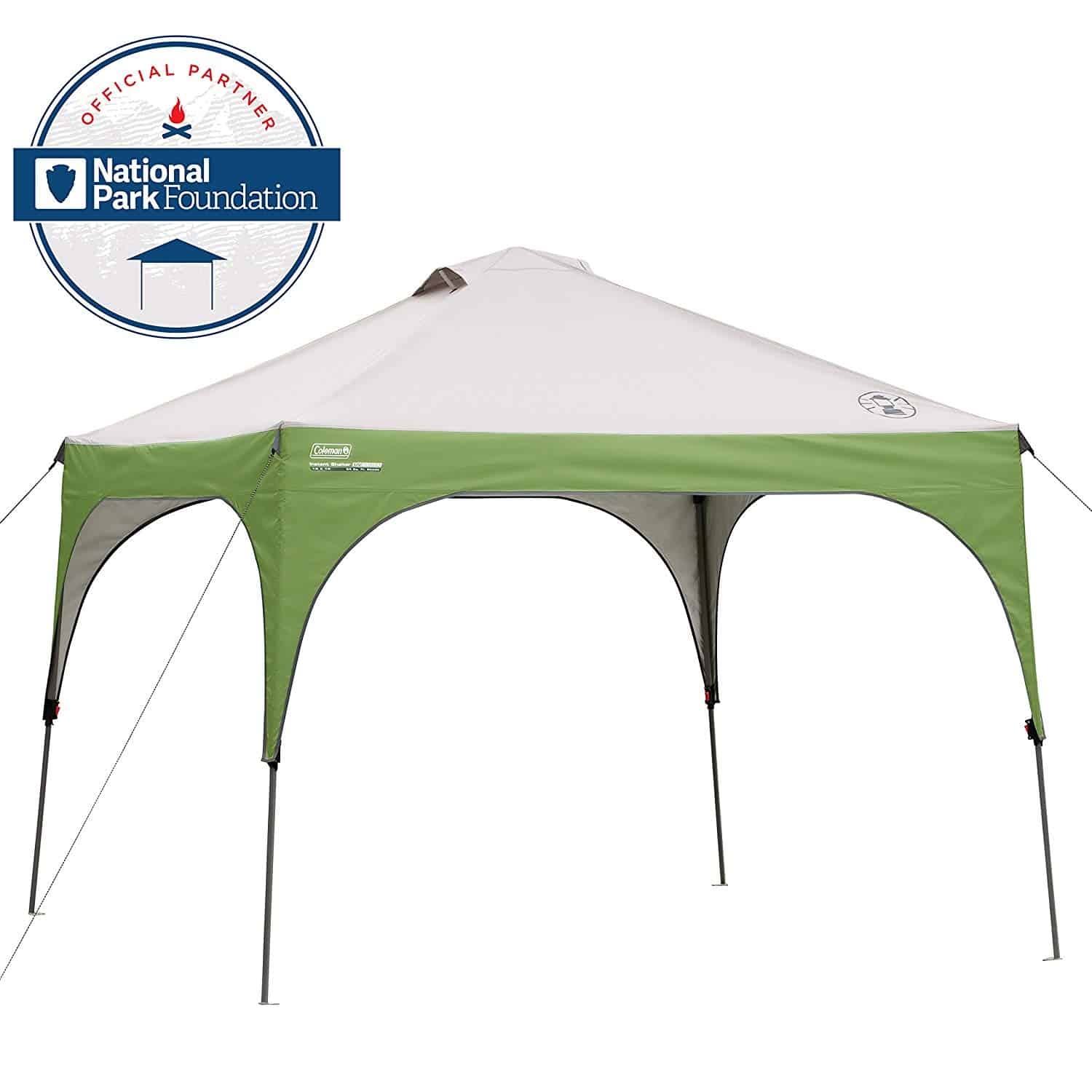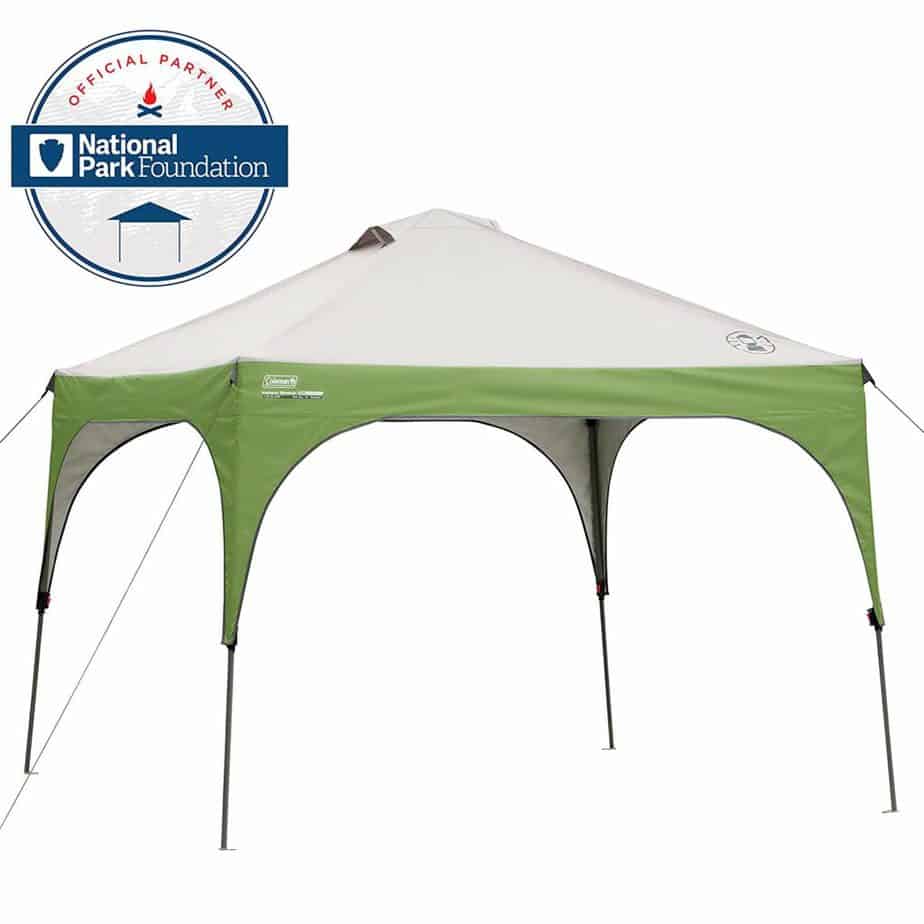 Bonus: This Sunwall add extra shade and is less than $15 dollars!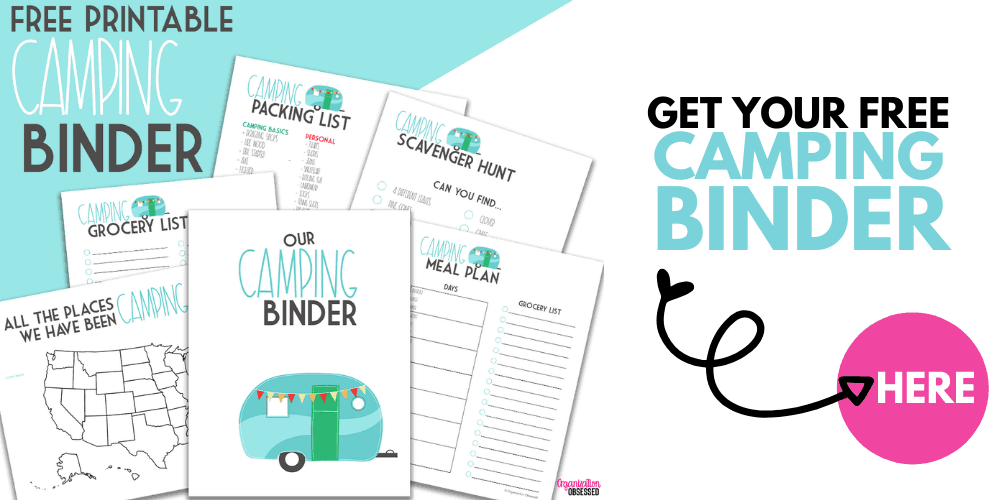 Cooking & Eating
When you go camping, most of your cooking and eating will be done outside. A good grill is a must have along with these other necessities!
Coleman Portable Grill – I cannot say enough great things about this grill! It is perfect for our camping trips! It folds down for easy storage and has a ton of grilling space. Plus you can hook it to smaller propane tanks. You need this grill!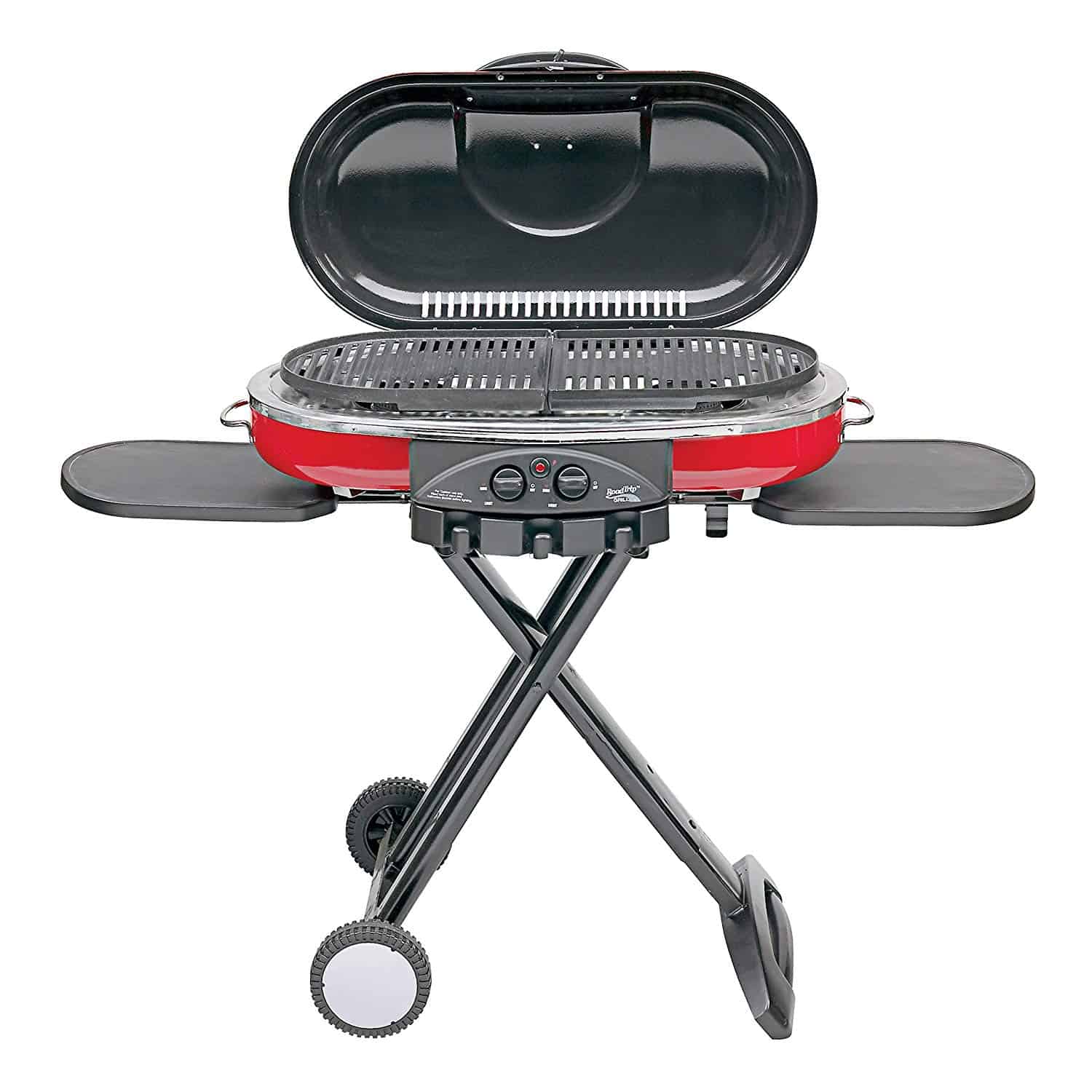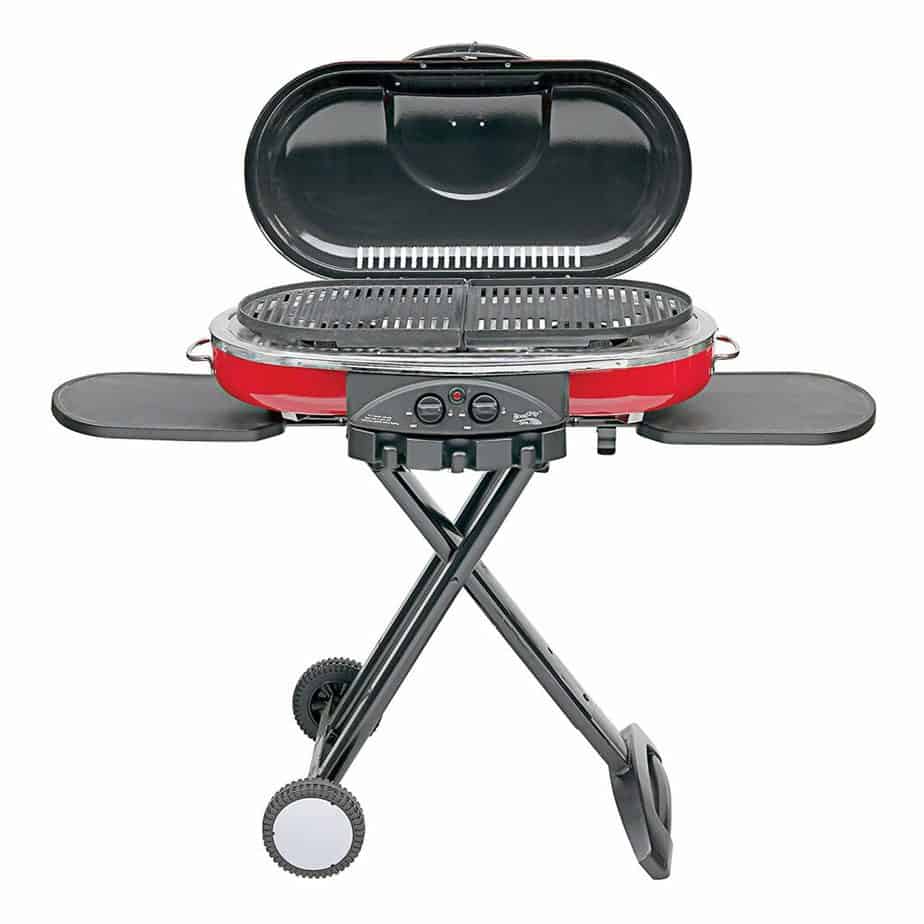 More tools for Cooking & Eating Outside
Keeping Your Camper Organized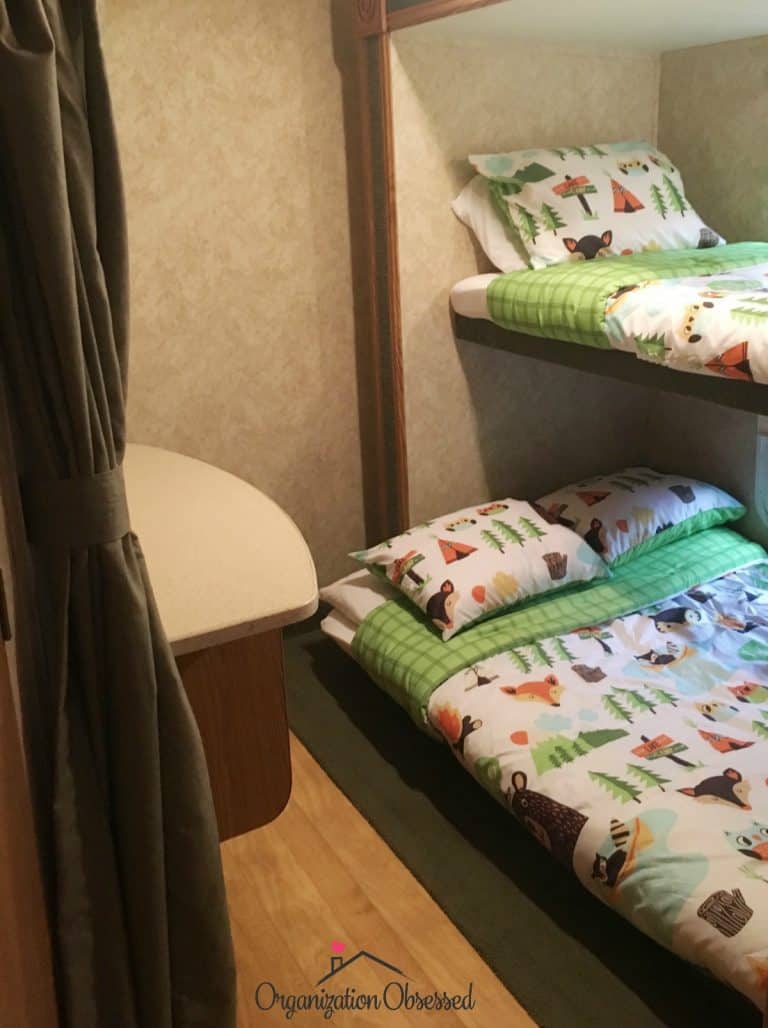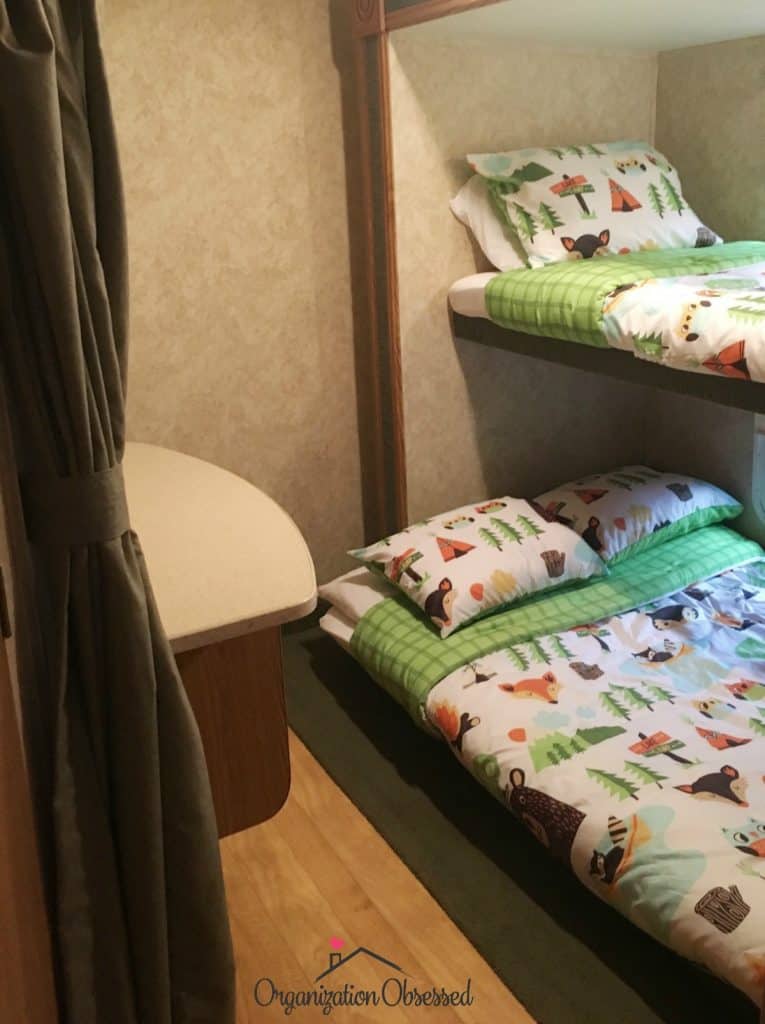 While I have a whole post dedicated to tips for organizing your camper, some of the necessities you need are:
Camping With Kids
We have a toddler, making camping extra eventful! Camping with a toddler can seem overwhelming, but I have found that there are some amazing products that make camping with kids super easy! These are some of our favorites!
Portable High Chair – These are a lifesaver when camping with babies! The clean up easy and pack up just like a camping chair.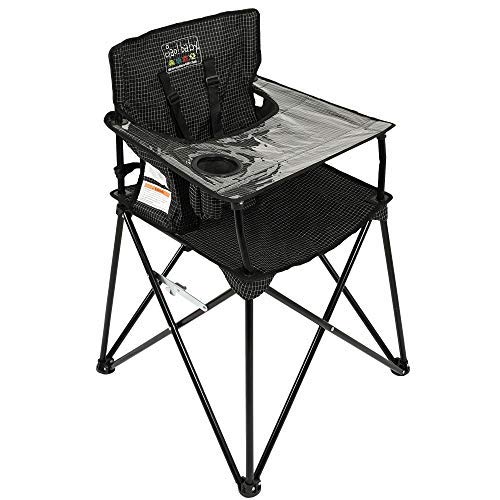 Kids Camping Toys – Your kids will be interested in lanterns, flashlights, and maybe even your axe. Keep them safe by giving them their own set of camping accessories and gear!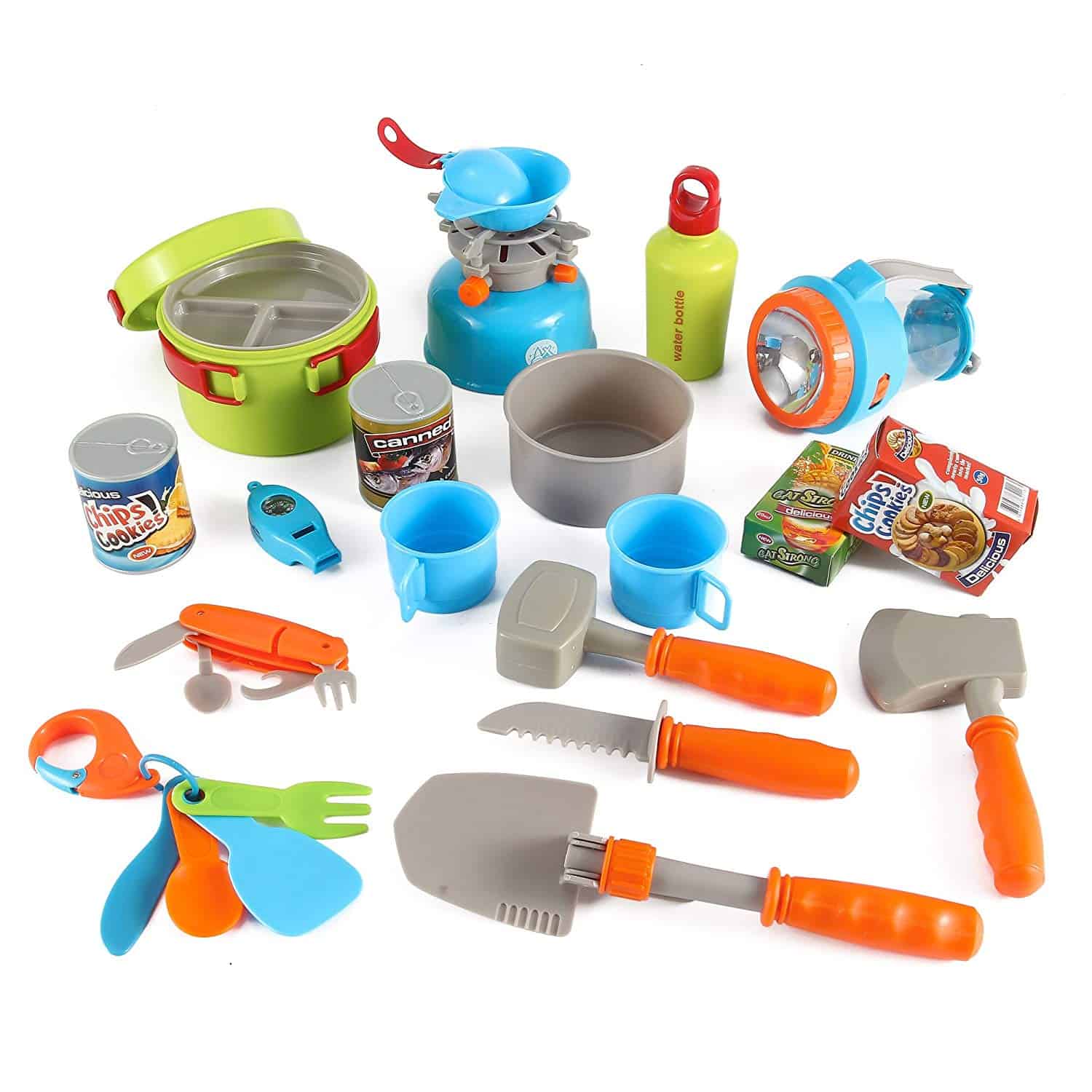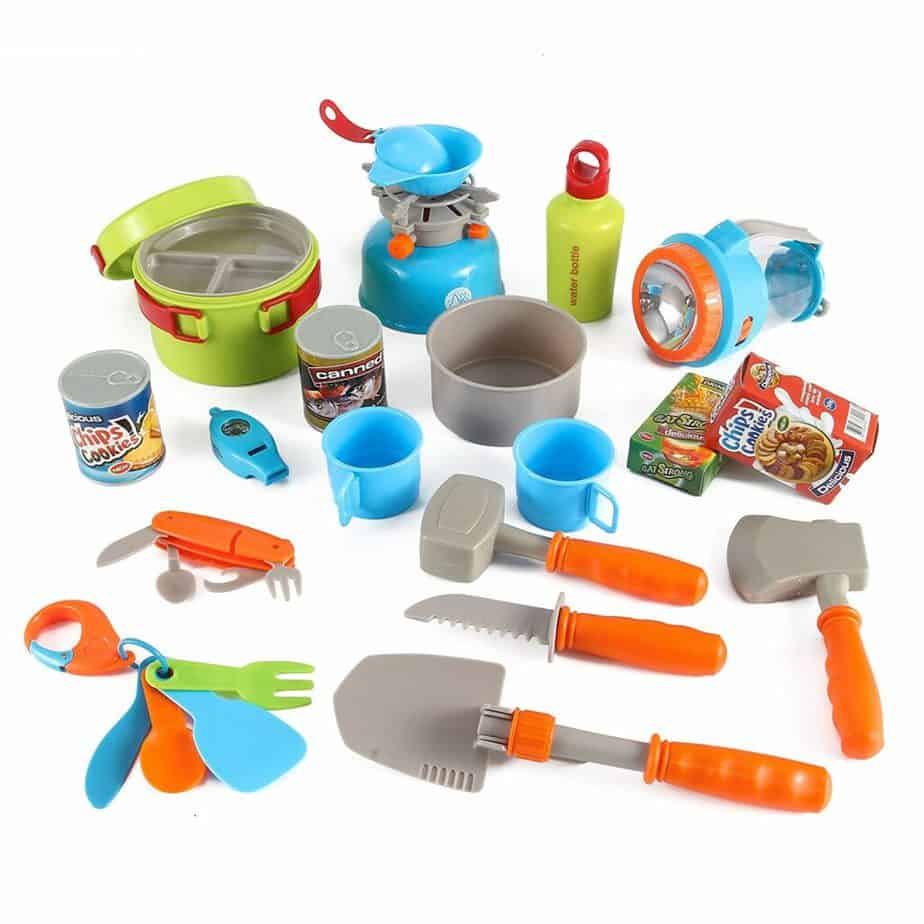 Kids Camping Chair – While they may not set in it much, having a kid sized camping chair is always good to have when you have young kids!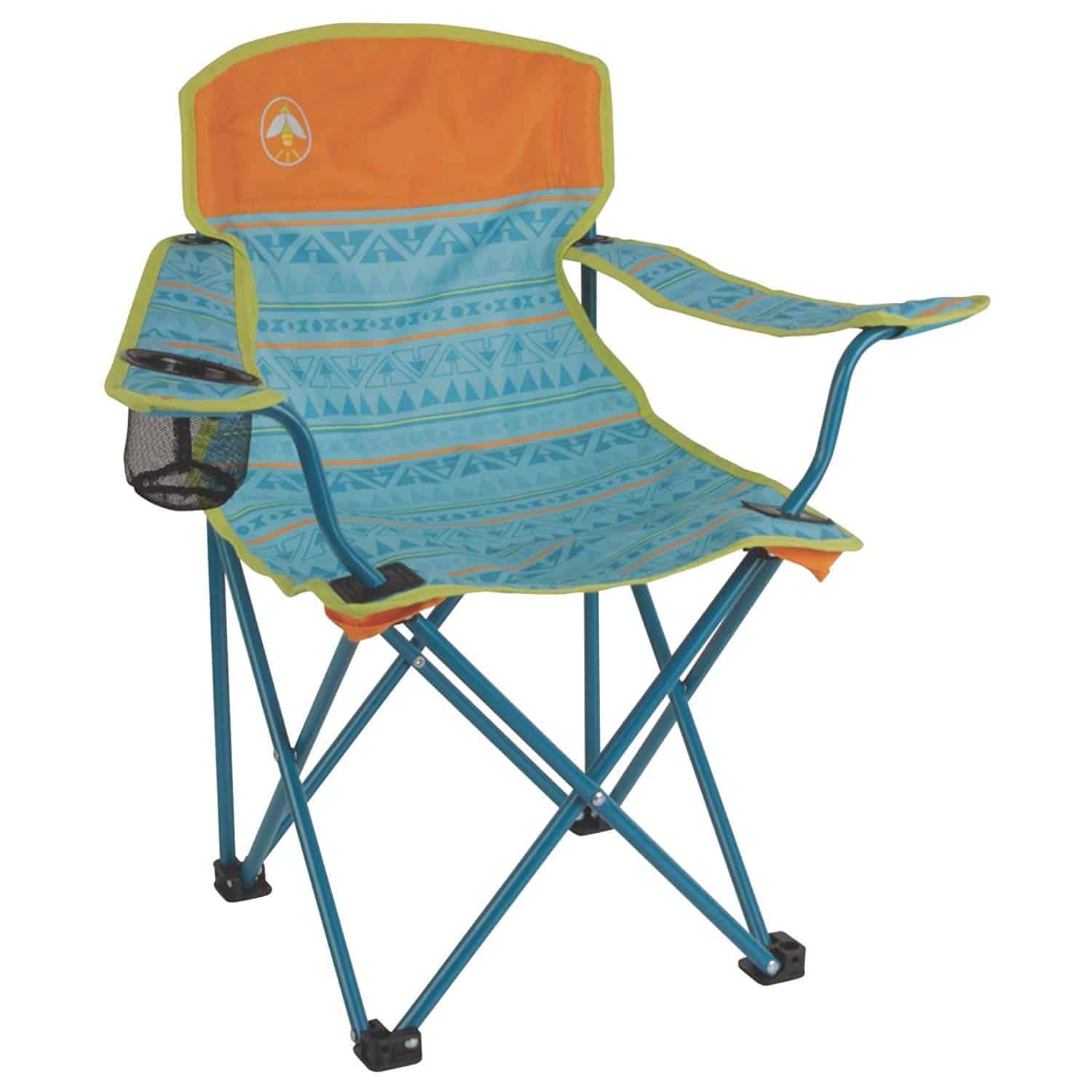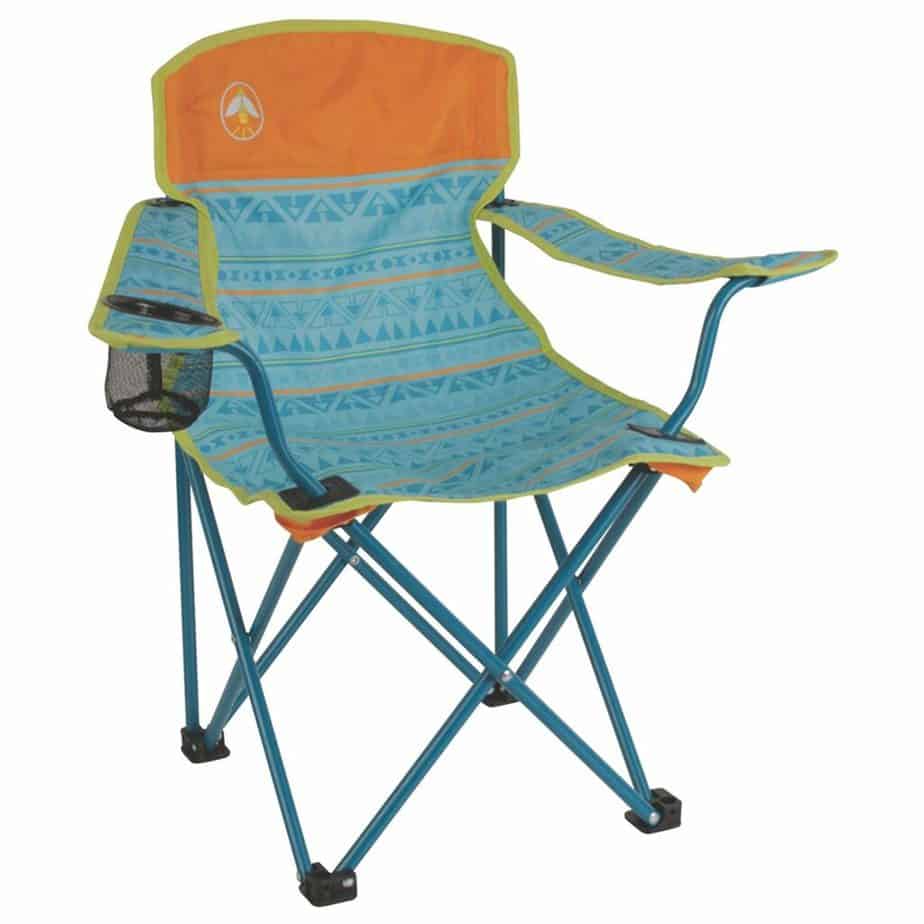 Camping With Pets
The Necessities for A Camper
Owning a camper comes with a lot of extra cost and must haves just to make the camper function. Below is everything you need to power your camper and hook water up to it during your next camping trip!
Power Cord – You may camp somewhere where your hookup box is further away then your camper cord will reach. In these cases, you need an extension. This is something you definitely want to have on hand before the problem arises!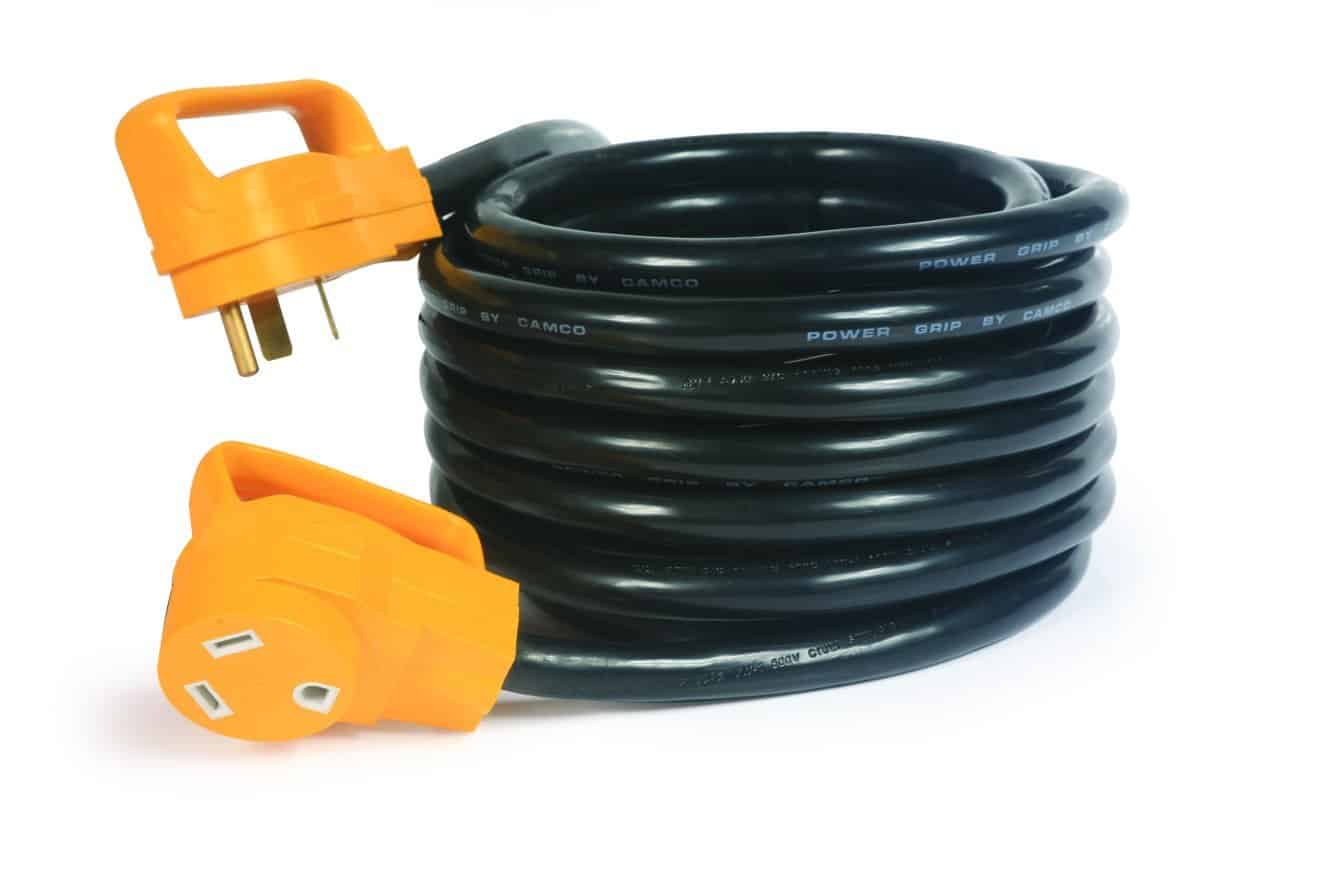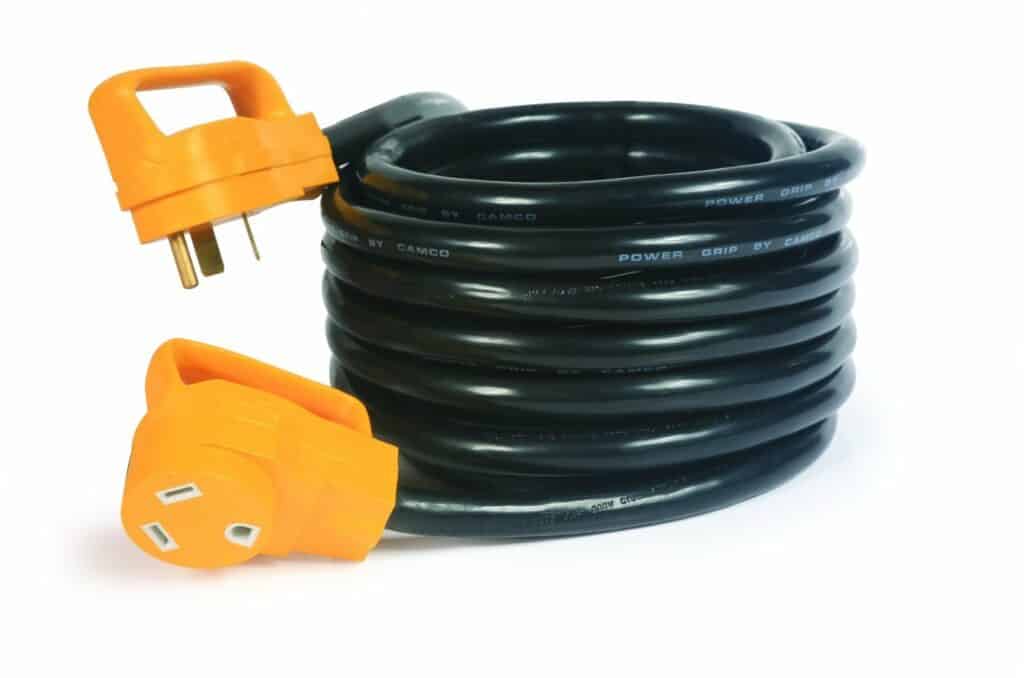 Fresh Water Hose – When putting water into your camper, you need a special kind of hose to do that called a fresh water hose. This is the only kind of hose you want to use for hooking your camper up to water.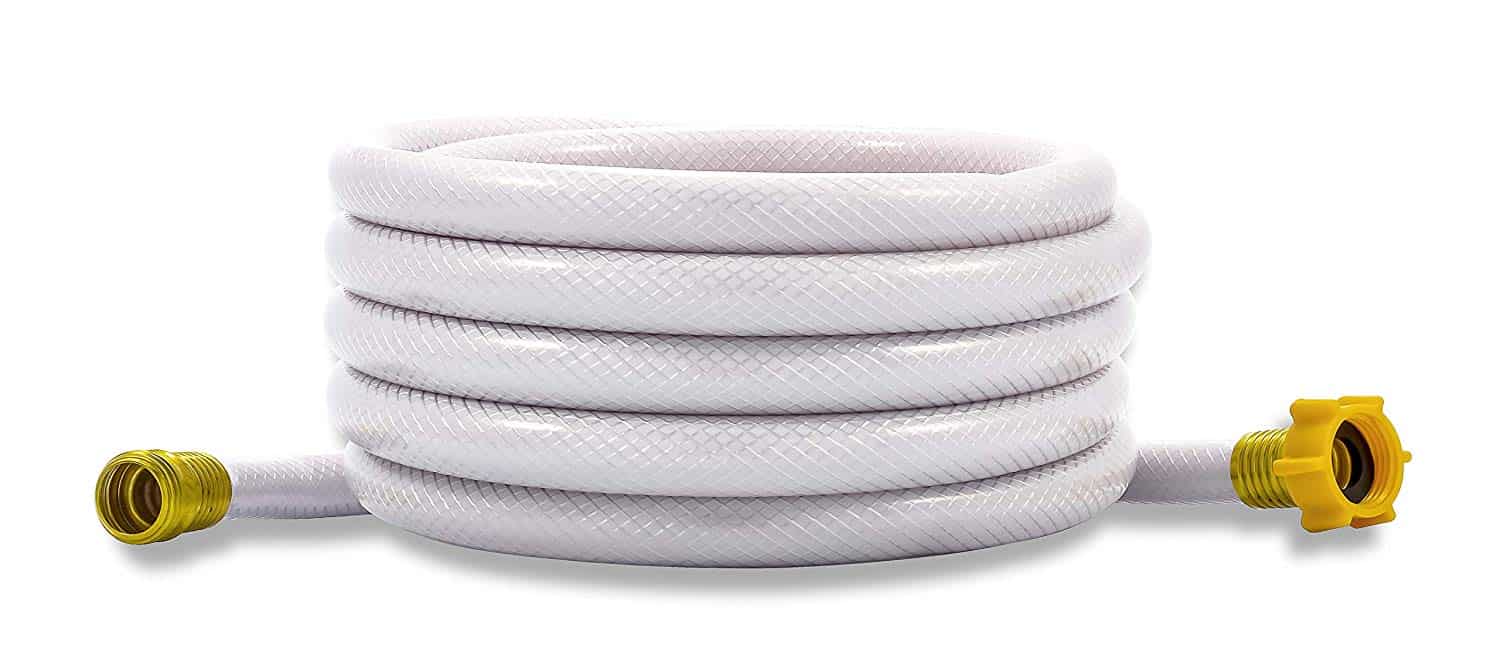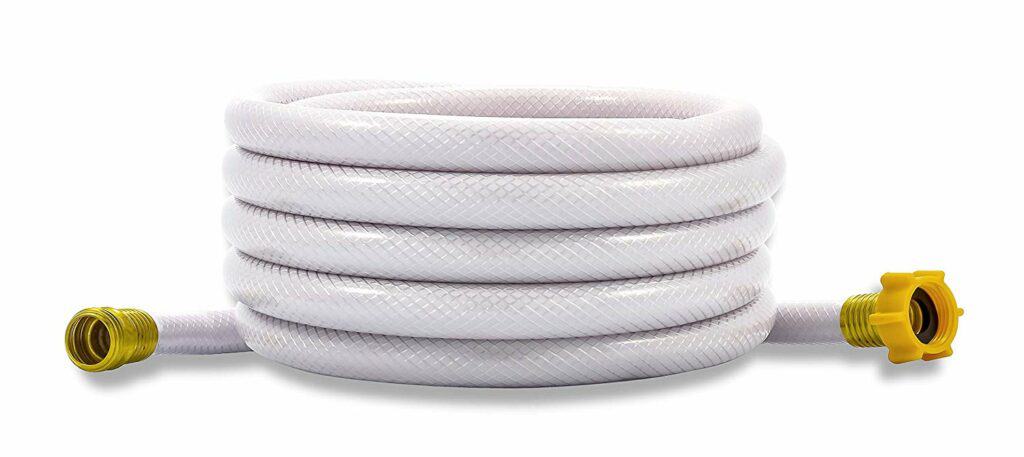 Water Filter – If you plan to drink any water out of your camper, it is a good idea to have a water filter in place! These go outside where you hook your fresh water hose up to your camper.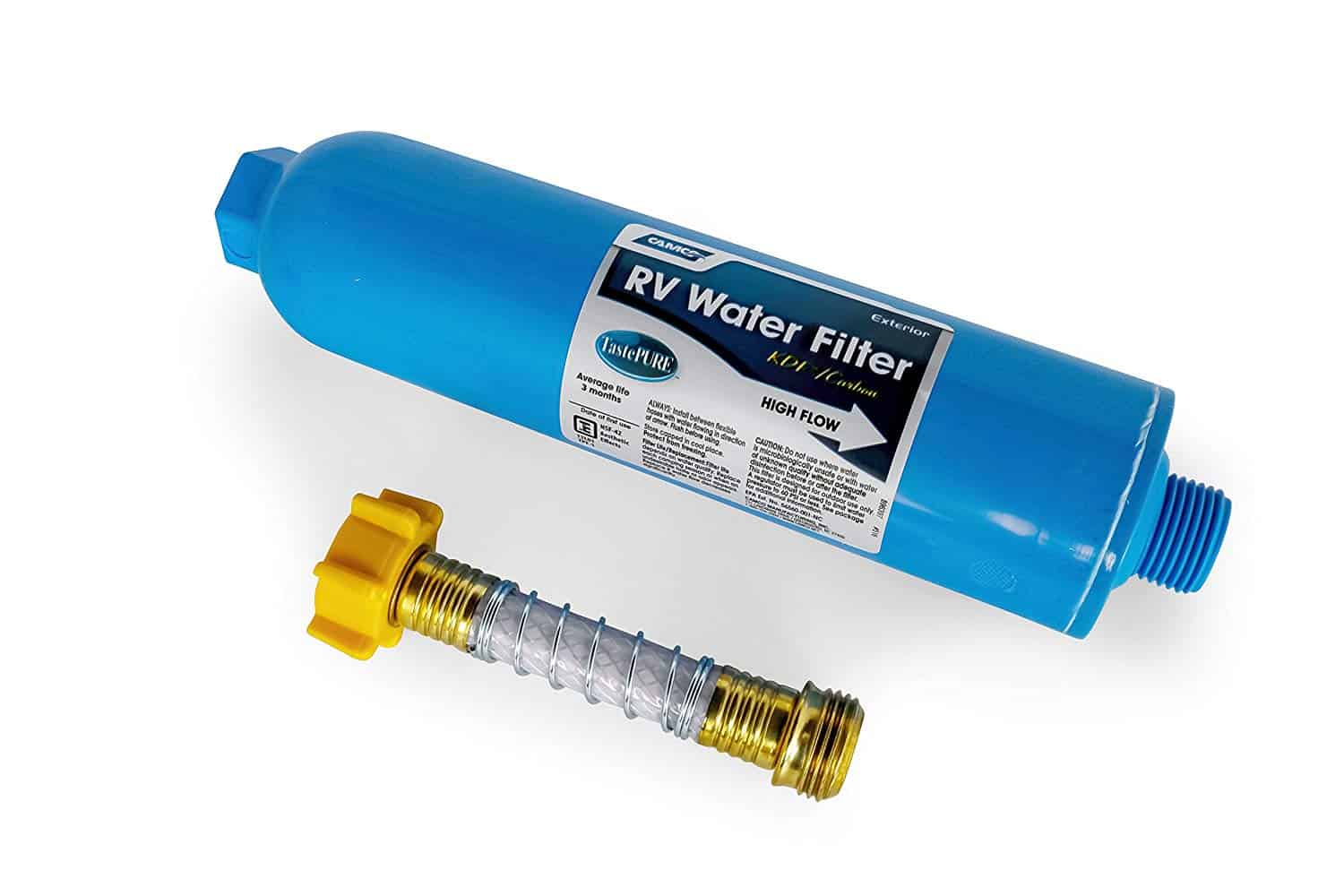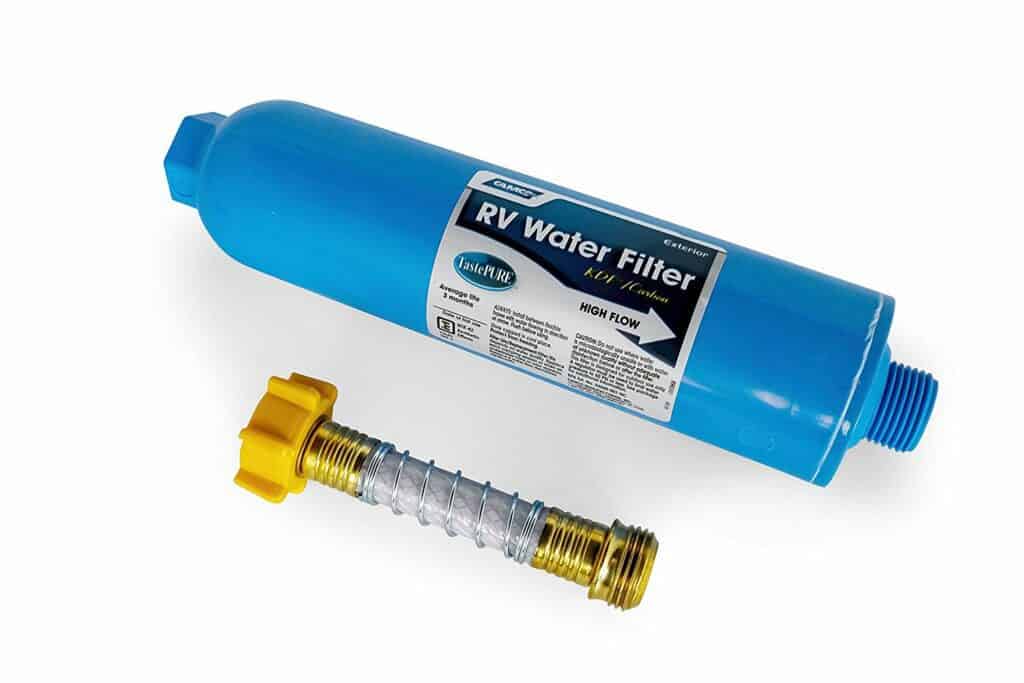 Levelling Blocks – You can use these in many ways for your camper. Use them under your levelling jacks or under your tires. A must have item you need before you ever hit the road!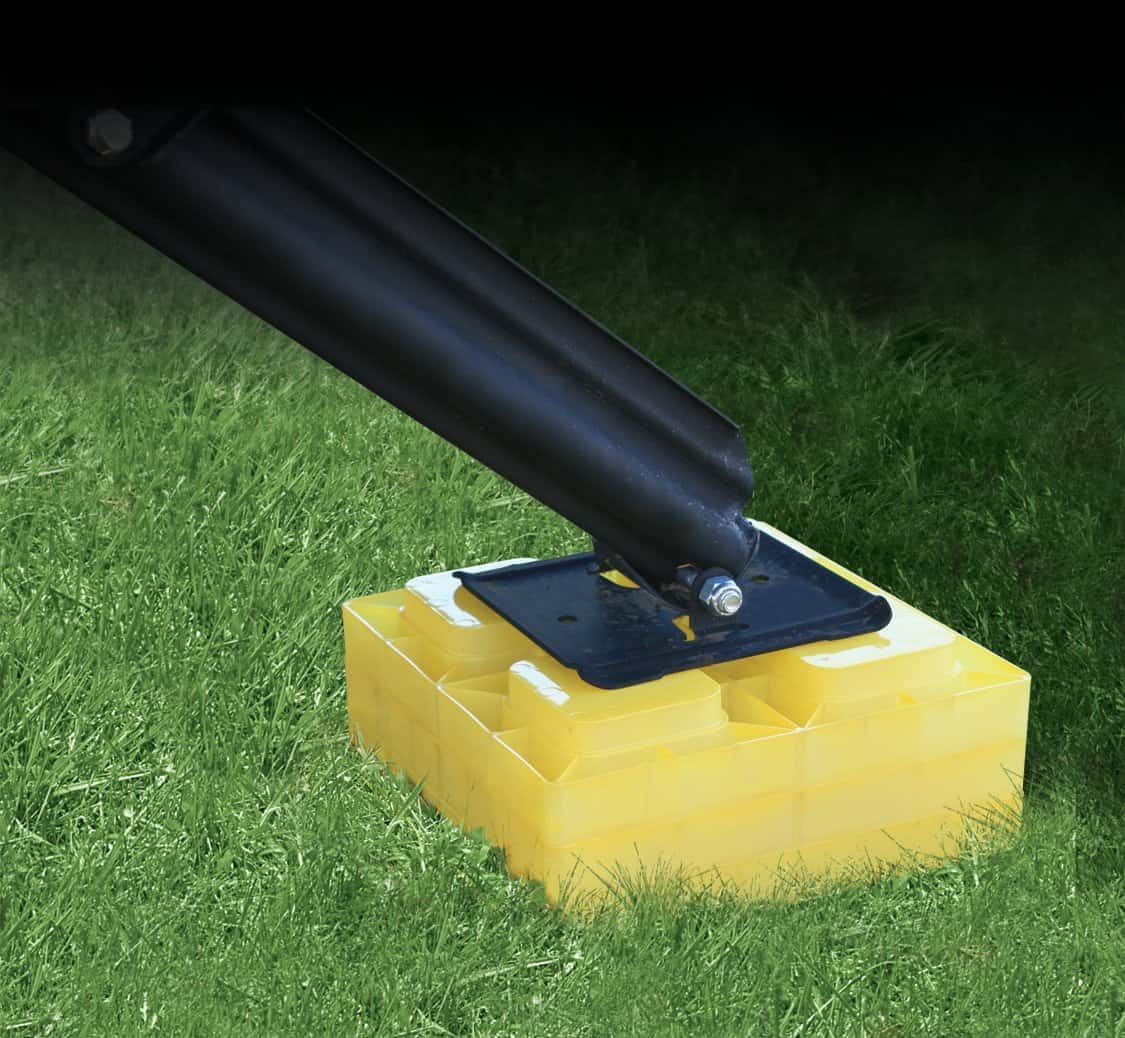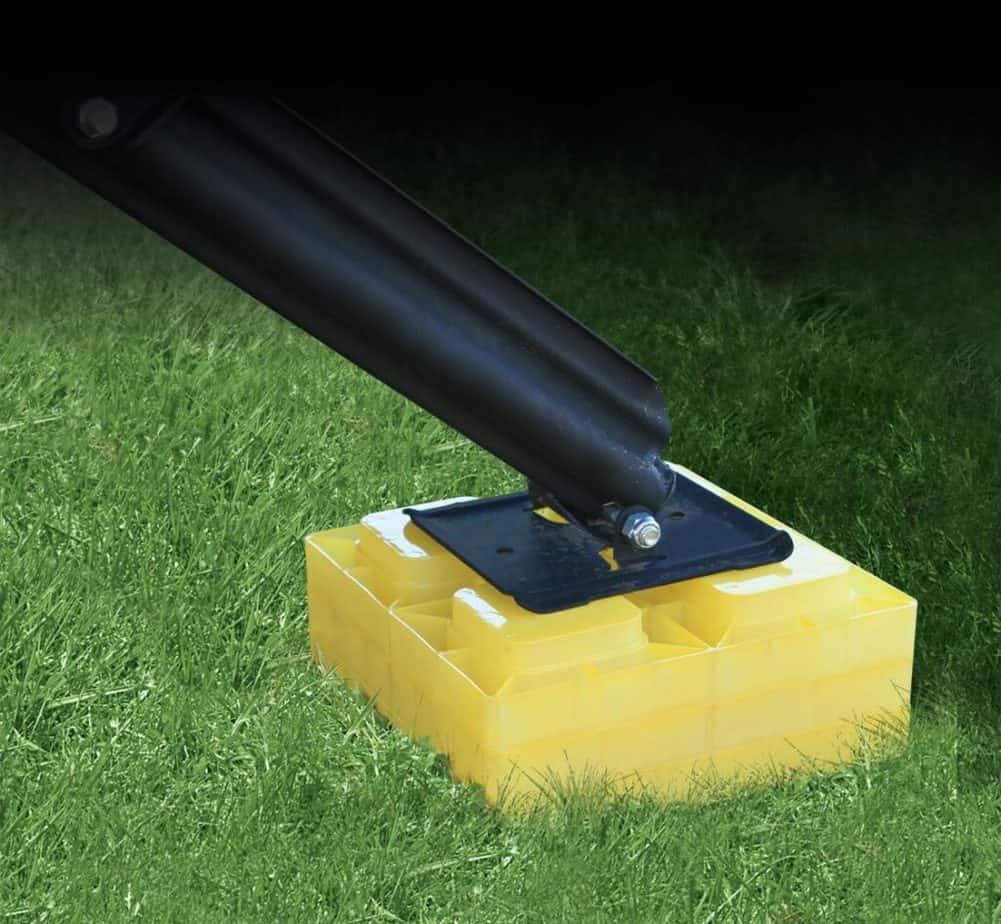 More Camping Necessities
The Dirty Job
The worst part about camping is going home and having to empty the black and grey tanks! Yuck! I usually leave this part to my husband hehe. While this job isn't necessarily hard, it does require a few tools.
Sewer Hose Kit – While you can get these in many sizes, I highly recommend having 2 hoses. You never know how far your hose will need to reach and you definitely do not want to come up short! We use this set!

Bonus Tip: You store your sewer hose in your bumper and if your camper does not already have bumper caps, you will want to order a set of these!
Sewer Hose Support – If you are lucky enough to camp at a campground with a full service hookup, you will need a set of Sewer Supports. Use these so that all of your waste makes it to the dump. If it gets stuck in your hose, your camper will start to stink, and no one wants that!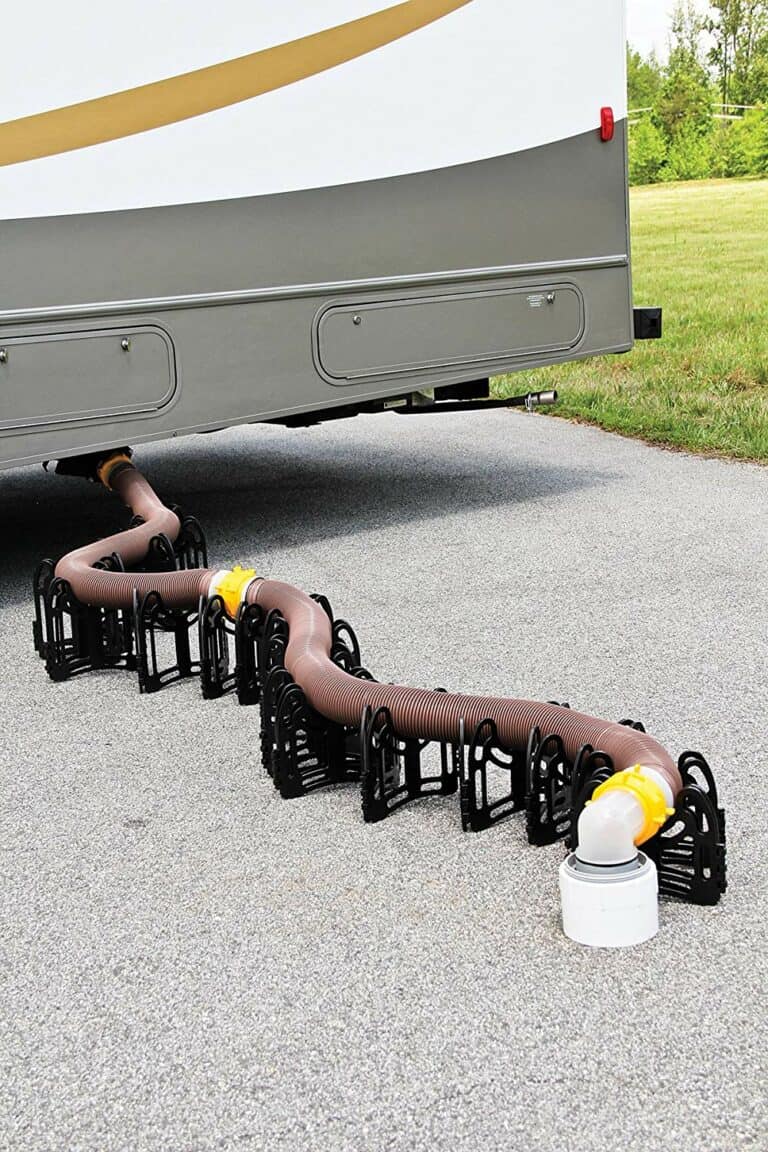 Sewage Tank Rinser – My husband says this is a camping must have when it comes to emptying your sewage tank without getting dirty. You hook it to the camper's dump sewage connection and then hook your hose up to it to flush out your sewage tank without getting dirty in the process.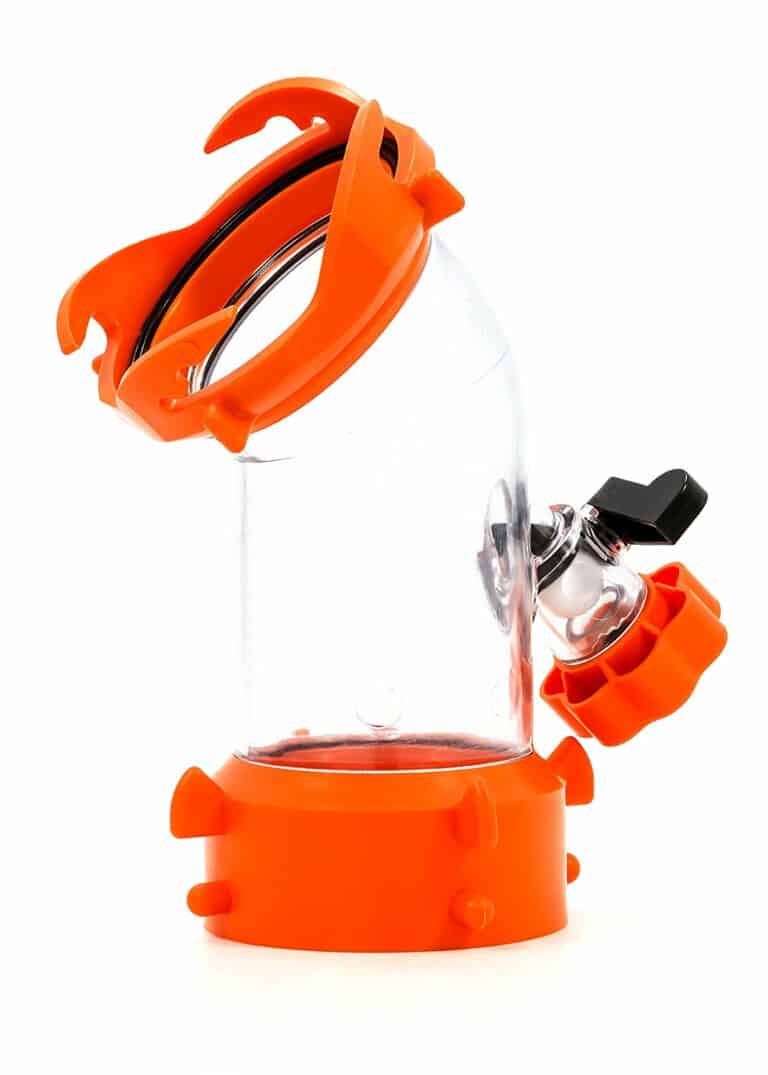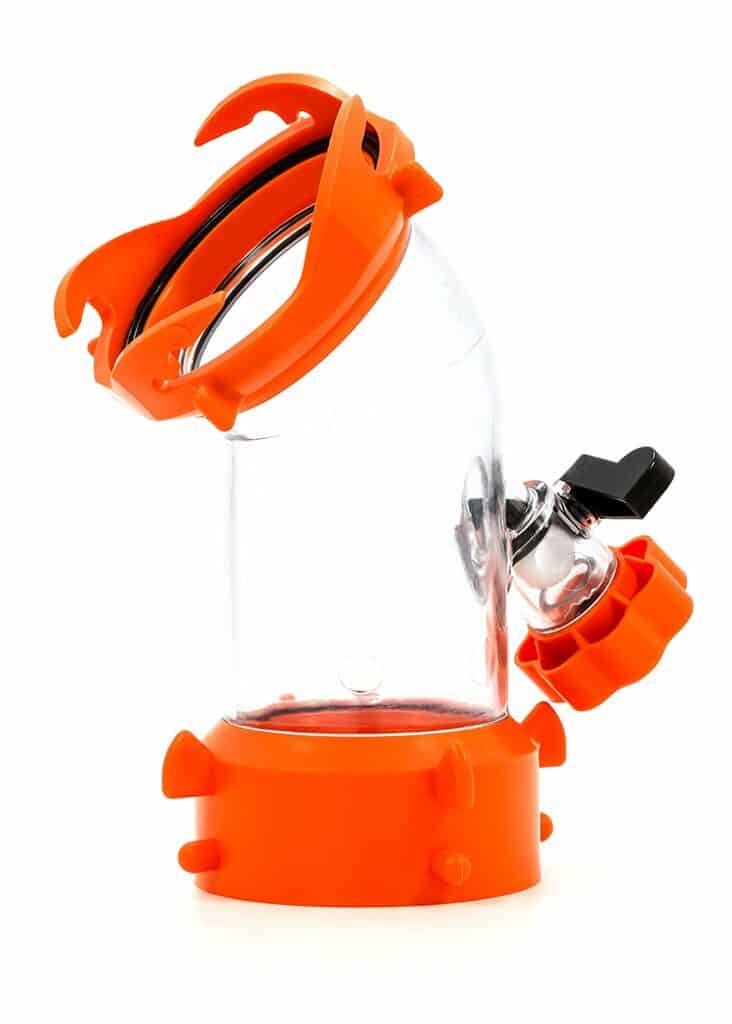 Portable Waste Tank – This is not something we have invested in yet, but they are pretty important to have. You can use them to empty your grey water into and then take it to the dump station. Because believe me, your grey water tank will be overflowing every. single. day.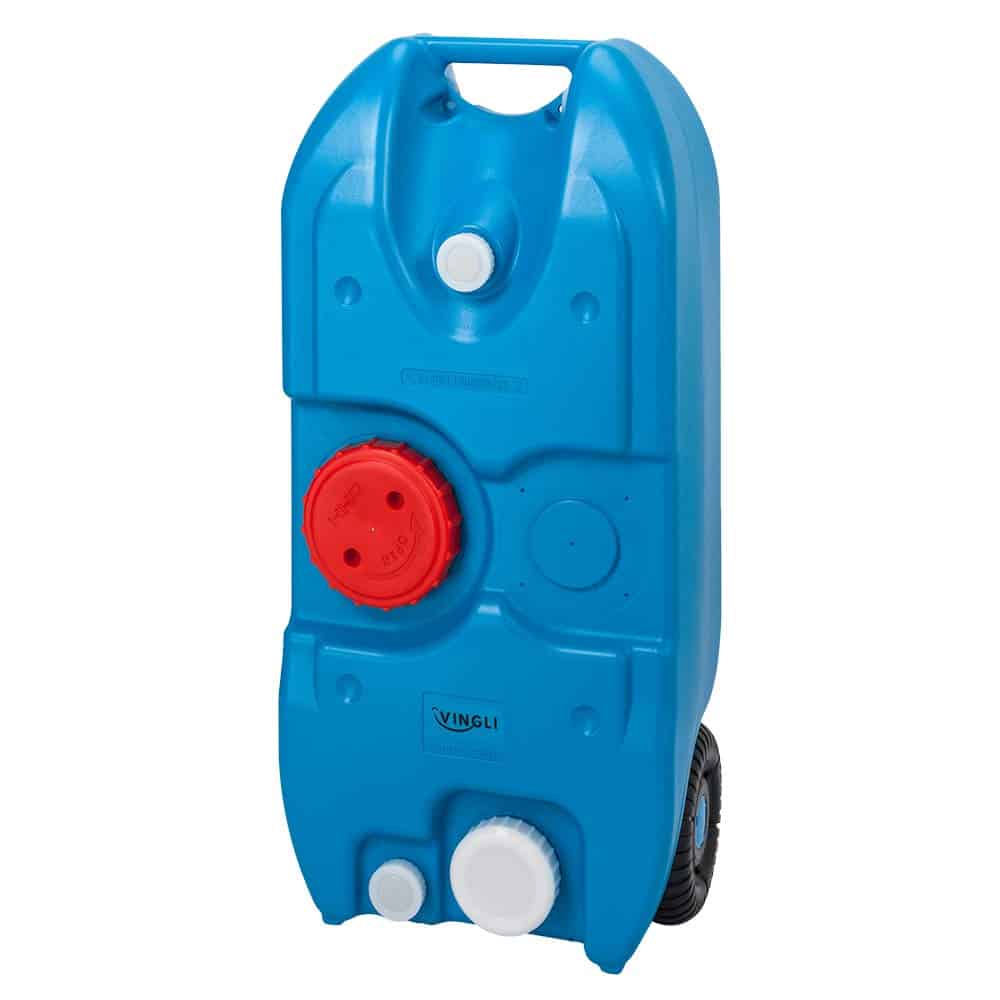 Tank Deodorizer – After you flush your black and grey water tanks, you will want to drop one of these tank deodorizers into your black tank and flush it with a gallon of water. We also pour a gallon of bleach in the tank. This will keep odors from the tank from coming back up into your camper.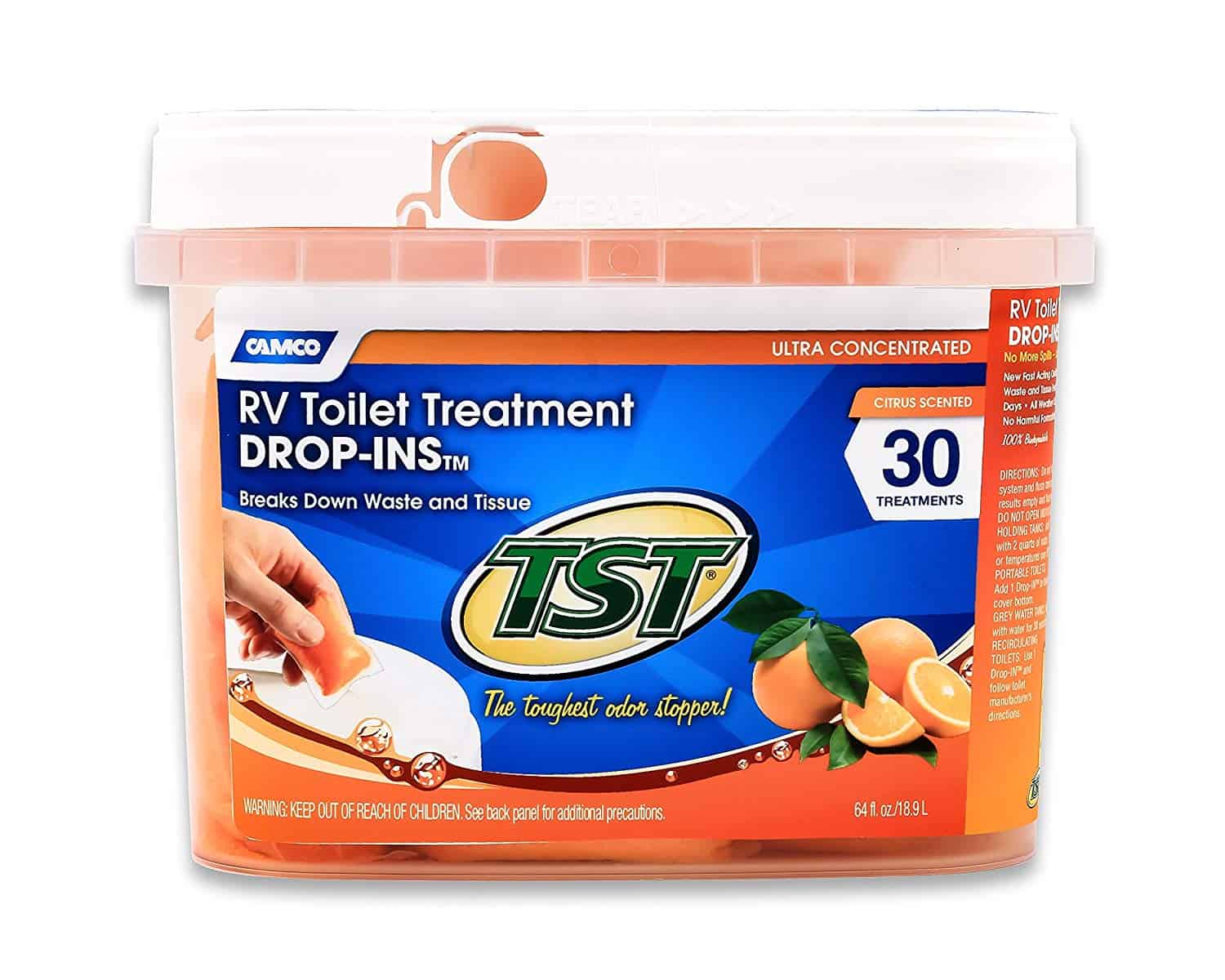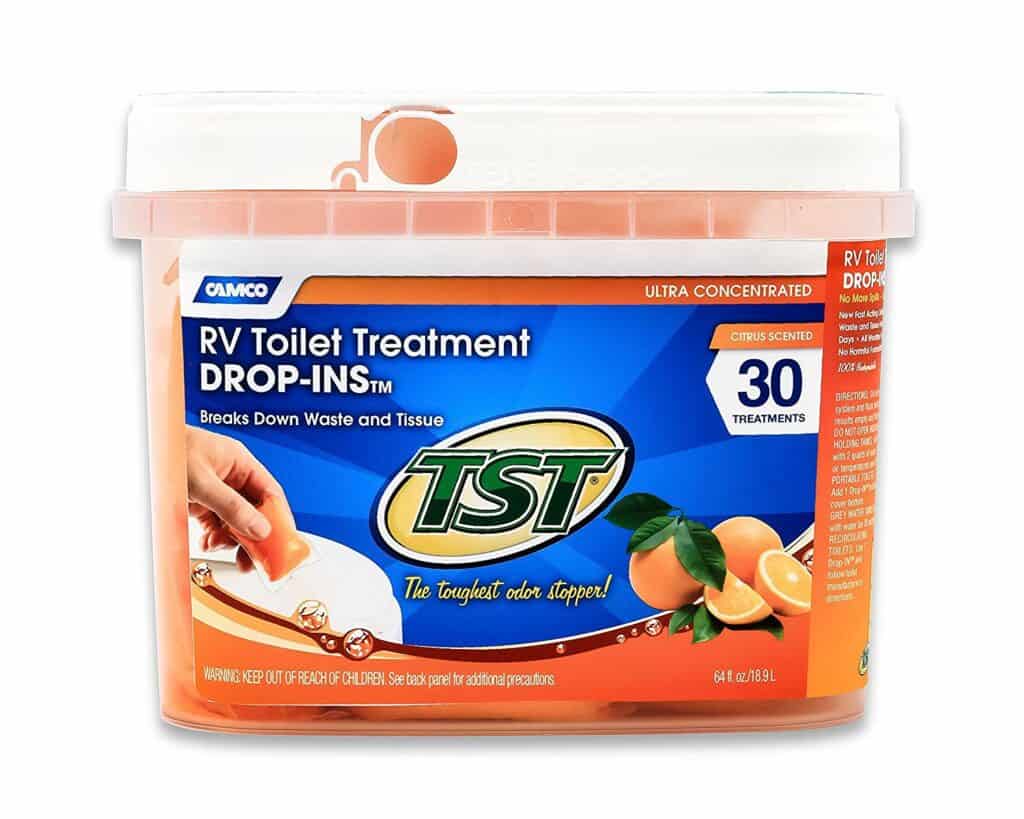 Grey Water Odor Control – You will also need to pour gray water oder control down your drains once you have cleaned out the black and gray tanks. We use this solution and are very happy with it!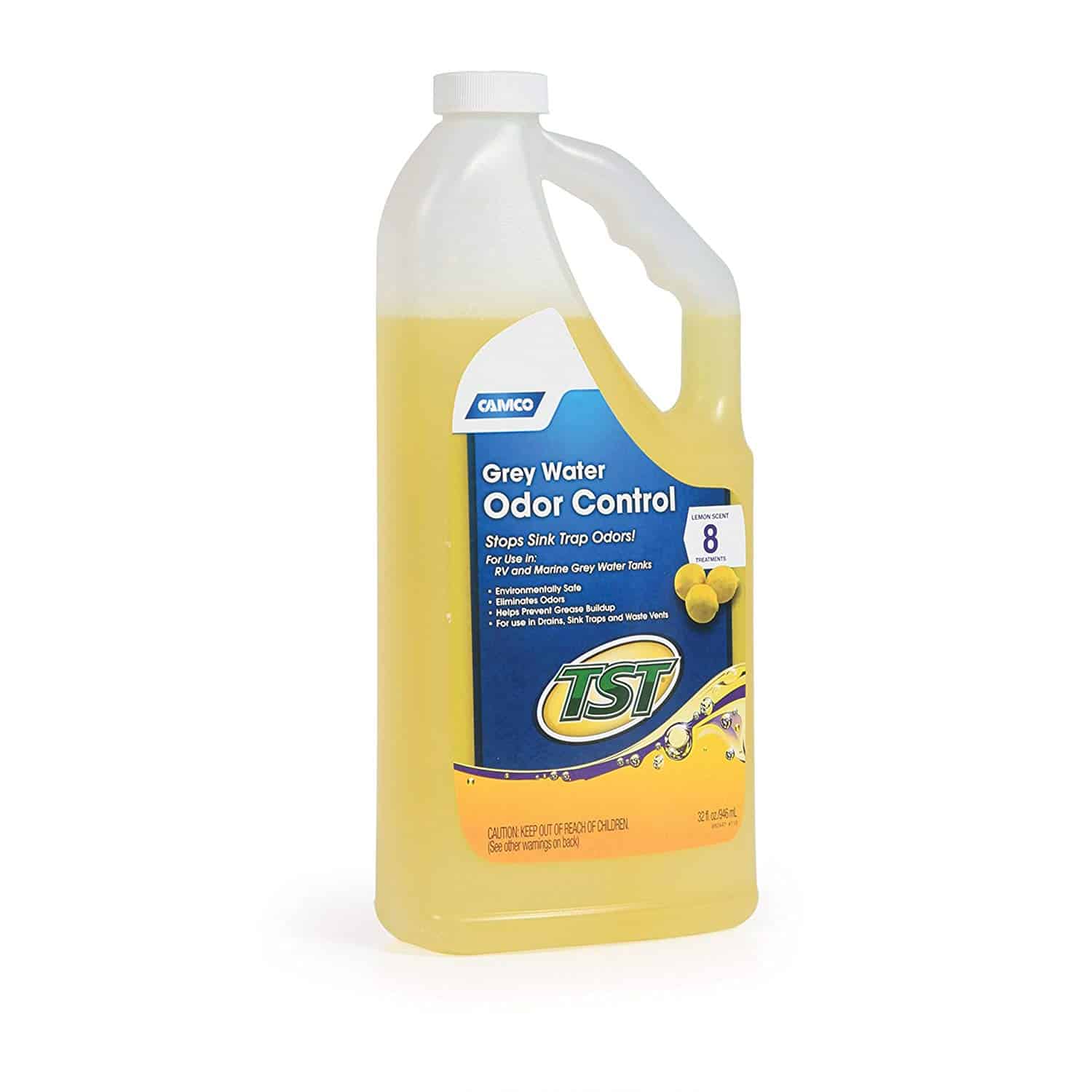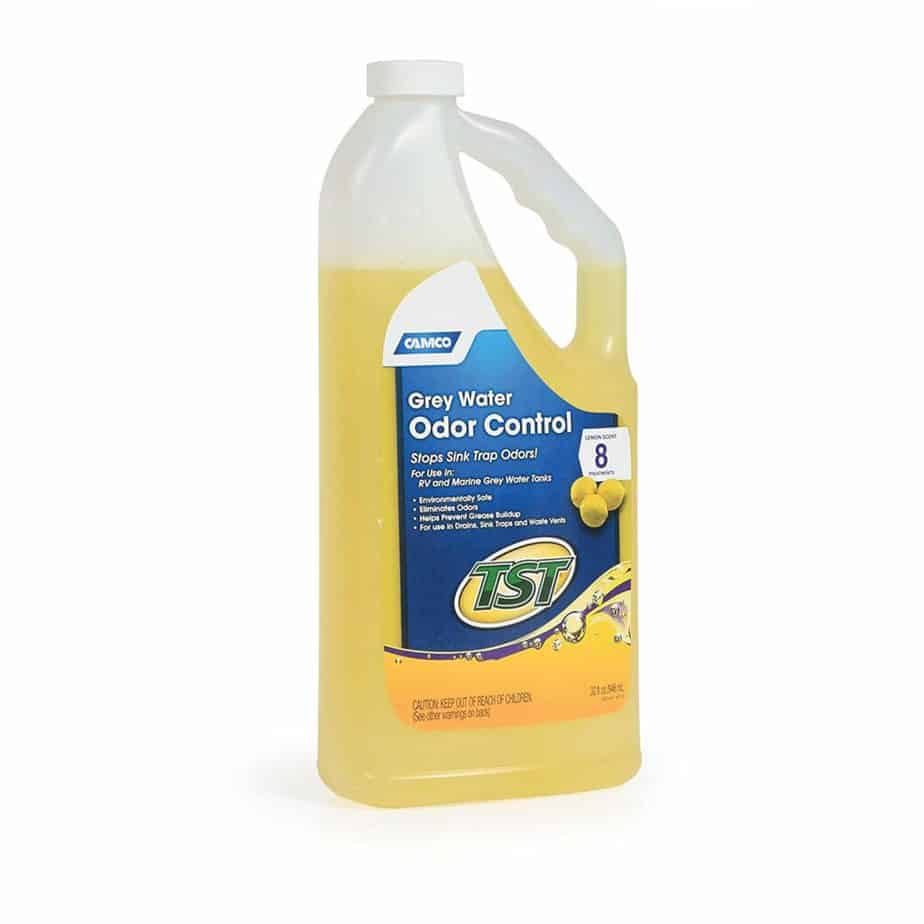 Extras
An Extra Key – Unless you want to have a really funny story about how your husband had to crawl through the storage door under your bed, lift up the bed while your baby is asleep on it, and unlock the camper door…. you may want to have a spare key hidden outside the camper.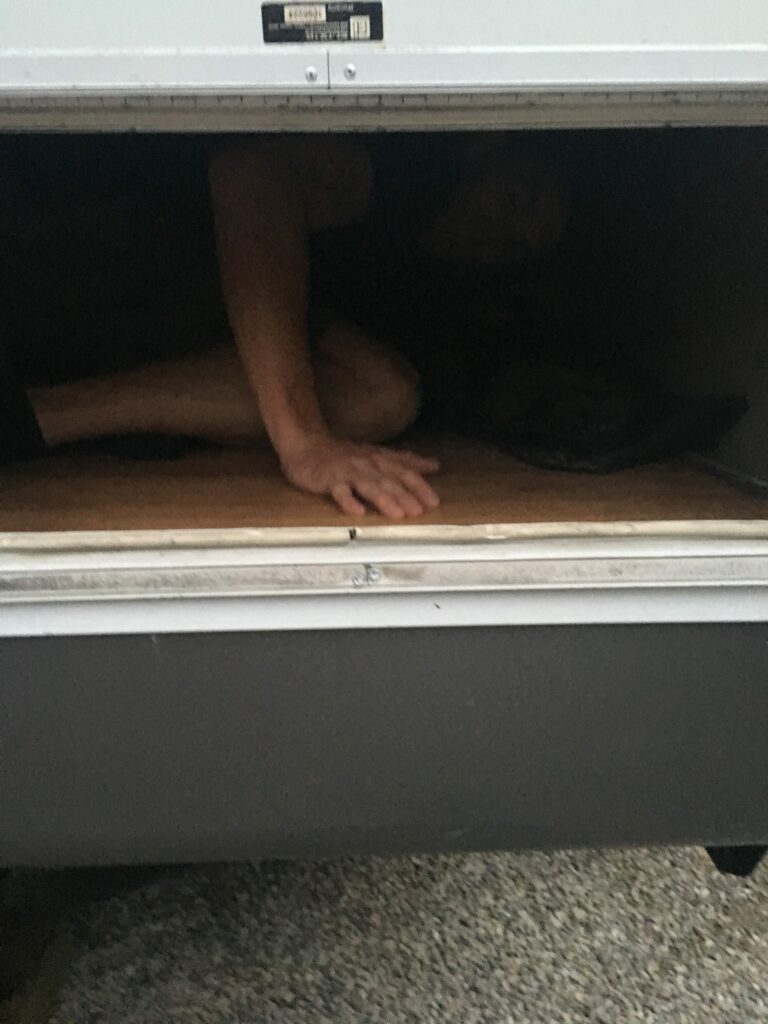 Shew, that was a long list! There is a lot that goes into owning and using a camper or RV, but they are totally worth it with all the fun you have! Are you ready ready for your next camping trip? Or do you have any suggestions for other "must have" camping items? Comment below!